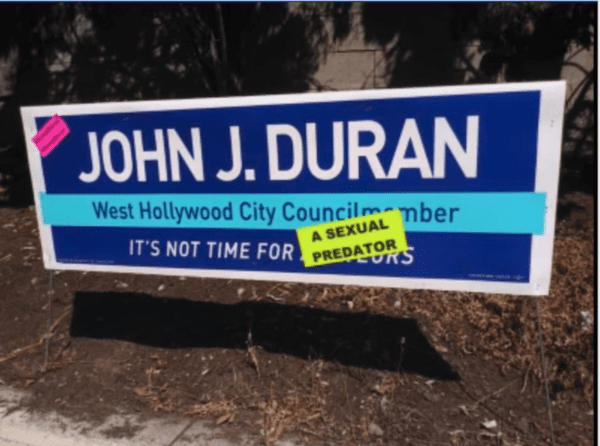 His campaign signs saying "It's Not Time for Amateurs" have been defaced to read "It's Not Time for a Sexual Predator," "It's Not Time for a Developer's BITCH," and "It's Not Time For a Liar."
And now the word is circulating that another candidate in the West Hollywood City Council election is considering filing a complaint against incumbent John Duran alleging sexual harassment and inappropriate comments by him during city-related meetings.
With ballots being put in the mail on Monday for voters to choose candidates whose City Council campaigns during the COVID-10 pandemic have been unusually subdued, it looks as if the candidate who has bragged that West Hollywood is a sex-based city and that he has a more active sex life than any of his fellow Council members is once again having to face questions about his sexual conduct.
WEHOville has confirmed that Marco Colantonio has reached out to Mayor Lindsey Horvath and City Attorney Mike Jenkins to learn what steps are required to file a complaint about Duran. Colantonio is one of the seven challengers in the race for two Council seats occupied by Duran and John Heilman.
In an email message to Horvath that WEHOville obtained access to, Colantonio wrote: "After a good deal of soul-searching, I decided to avail myself of your offer to connect me with the necessary protocols for filing complaints against Councilmember Duran for sexual harassment, inappropriate comments, and conduct during meetings at City events. I assert predatory and demeaning comments were directed to me during meetings with Councilmember Duran when I had applications on file and I believe Mr. Duran used and abused his power and influence to degrade, intimidate, and sexually harass me."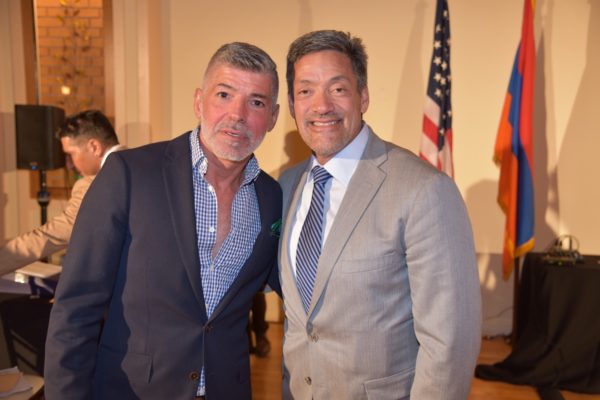 Colantonio is said to have wanted to file his complaint so that his accusations are investigated before the Nov. 3 election. Apparently Jenkins has not yet responded. WEHOville reached out to Jenkins who replied that he could not reveal information regarding a personnel matter. WEHOville also reached out to Horvath, who did not respond.
Colantonio, who has been reluctant to share details of his complaint with WEHOville, said the lack of response from Jenkins "is the appearance of a cover-up and the potential delay of an investigation until the election is over, which concerns me. This, perhaps to ensure that incumbents, John Heilman and John Duran (the largest recipients of developer donations) are returned to office."
Jenkins has been reluctant to take steps against Duran in the past. At the Council's March 4, 2019, meeting, Jenkins said he was troubled with the idea of drafting the resolution censuring Duran that the other Council members demanded given that recent allegations of sexual misconduct by Duran had not been proved. Then-Councilmember (now Mayor) Lindsey Horvath reminded Jenkins that some past allegations actually had been documented by an independent investigator looking into complaints of sexual harassment by Ian Owens, Duran's former City Council deputy. While the investigator could not corroborate Owens' accusations of sexual harassment, he did report that Duran made inappropriate comments to city staffers. Jenkins said that case, which the city settled with a payment to Owens of $500,000, was not something he wanted to revisit.
"I have been a supporter and friend of John Duran through his ups and downs, speaking on his behalf and also against his actions, so there is no personal animus, only a desire for decency and fairness," Colantonio told WEHOville. "On September 10, 2020, in a telephone conversation with Mayor Lindsey Horvath, I discussed my personal feelings and concerns regarding interactions with John Duran at City events and in meetings discussing City issues. Mayor Horvath offered to connect me in confidentiality should I choose to go forward."
This is Colantonio's first run for a seat on the City Council. He is a real estate property manager and real estate agent. He has served on the city's Disabilities Advisory Board and expressed interest in serving on other boards and commissions to which those sitting on the City Council appoint the members.
John Duran has been the most controversial member of the West Hollywood City Council since Valerie Terrigno, the city's openly lesbian mayor, who resigned in 1986 after being convicted of embezzling and misappropriating money in her role as CEO of Crossroads Counseling Center, an agency for the poor and homeless in West Hollywood.
Yet, as WEHOville has previously reported, despite allegations by City Hall employees and members of the Gay Mens Chorus of Duran's sexually inappropriate contact with them, despite stories by WEHOville of Duran's efforts to use his position as mayor in soliciting sex from gay men on Grindr, of his being censured by the City Council for his conduct (which led the Los Angeles Times to liken his behavior to that of Harvey Weinstein and Donald Trump) — despite all of that Duran has amassed more than $218,819 in campaign contributions (mostly from real estate development interests.)
And he has been endorsed by leading state politicians like Assembly member Richard Bloom, Insurance Commissioner Ricardo Lara and Secretary of State Alex Padilla.  Also on his endorsement list are local residents active in civic life like Ed Levin, Jimmy Palmieri, Josh Kurpies, John Altschul, and James Duke Mason, to name a few of his many city commission and board appointees. And then there are well known local business owners and residents like Allegra Allison.
The West Hollywood Chamber of Commerce's Political Action Committee is said to be struggling to decide whether to endorse Duran, who has portrayed himself as the most business-friendly member of the City Council and who has been the major recipient of donations from the real estate interests who are members of the Chamber. One of the PAC members is Ted Green, a lobbyist whose clients have included the controversial AKA Communities development at 8500 Sunset Blvd. Green is said to have made clear at a recent PAC meeting with candidates that he was unhappy that Larry Block, another challenger, has brought up another issue of Duran's, which is his failure to have paid taxes over many years, resulting in major debt in the form of tax liens.
The Chamber will host a candidates forum on Oct. 6 and its PAC will announce shortly thereafter who it is endorsing. That forum is being paid for by the City of West Hollywood, which subsidizes the Chamber in various ways despite the fact that its PAC endorses candidates for the City Council and spends money to promote the election of those it endorses.
UPDATE: An earlier version of this story noted that Yogurt Stop owners Marta Knittel and Shoshana Joseph.endorse John Duran for re-election. However they say they no longer do, and the story had been updated to reflect that.