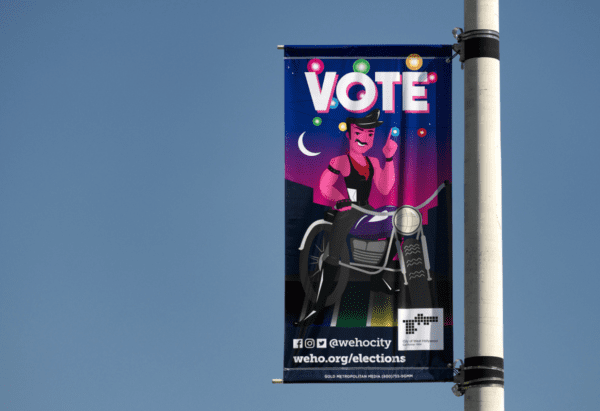 The City of West Hollywood has proclaimed October 2020 "Get Out the Vote Month," something it is promoting with light pole banners and a virtual "Election Information Town Hall" via Zoom on Oct. 13.
The 85 light pole banners are created by West Hollywood-based artist Miguel Andrisani, also known as Migs, and feature a selection of original "Vote" artworks with illustrations of people who embody three ways to vote: by mail, by ballot drop-off, and by vote center. In 2018, Andrisani created a triptych installation at West Hollywood City Hall called "I See You WeHo," based on former poet laureate Kim Dower's poem "I Sing The Body West Hollywood," which was transformed into a video ode to the city.
During the Town Hall, voters will be provided with information such as:
How to vote-by-mail
Where to drop off your vote-by-mail ballot
How to track your vote-by-mail ballot
Where to vote in person
Safety measures being taken at vote centers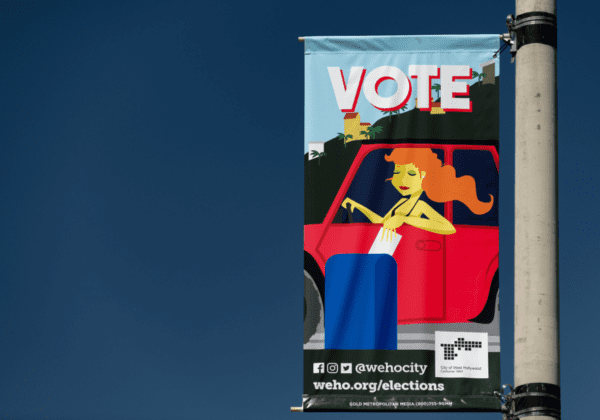 Those interested in joining the meeting, which will take place from 5  to 6 p.m., can register here.   The requested passcode is 316676.  Or you can participate by calling in to (669) 900-6833.  The webinar ID number is 916 8908 1074.
The City of West Hollywood's municipal election will be held on Nov. 3, the same date as the general election for county, state, and federal offices and measures. In addition to voting to choose candidates to fill two West Hollywood City Council seats (a list of qualified candidates is available at www.weho.org/elections), residents will be voting on a proposal to raise the sales tax by 3/4 of 1% to provide additional funds for public health emergencies, to address homelessness, help retain local businesses/jobs, support senior and health-related services, keep public areas clean and safe, repair potholes/streets, maintain community safety, and provide other city services.
The deadline to register to vote in the election is Oct. 19. The city is encouraging residents to check their voter registration status at lavote.net/vrstatus.
While Nov. 3 is the election date, there are many ways to vote early. Postal mail-in and ballot-drop-off voting will begin today, with ballots expected to arrive in voters' mailboxes soon.. Many L.A. County in-person vote centers will begin operating on Oct. 24.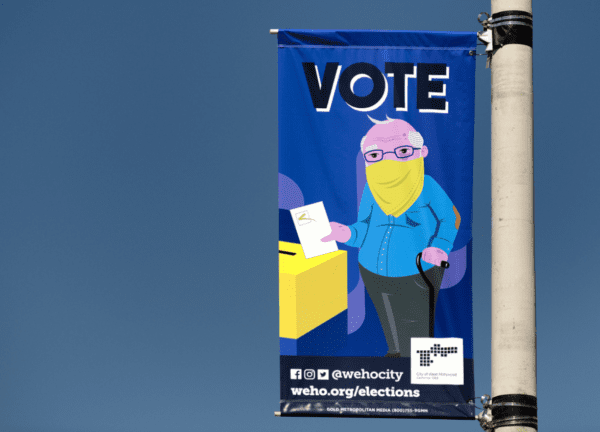 Dropping a Ballot Off at a Drop Box or Vote Center
West Hollywood has worked with L.A. County to establish three ballot drop box locations in West Hollywood. They are bright yellow and clearly marked. They feature safety and security features, such as 24-hour electronic monitoring. Locations are as follows:
West Hollywood City Hall, located at 8300 Santa Monica Blvd. (Ballot drop box located behind City Hall, off of North Sweetzer Avenue)
West Hollywood Library, located at 625 N. San Vicente Blvd.  (Ballot drop box located on the west side of the street, in front of the library)
Plummer Park, located at 7377 Santa Monica Blvd. (Ballot drop box located in front of the Plummer Park Community Center)
Voting In-Person at a Vote Center
Traditional neighborhood "polling places" have been replaced in Los Angeles County by vote centers, which allow LA County residents (which includes West Hollywood residents) to vote at any vote center location over an 11-day period. Select vote centers will be available Oct. 24. All vote centers will be available beginning Oct. 30.
All Los Angeles County voters will have 10 consecutive days as well as Election Day (Nov. 3) to vote in-person at a vote center.
In the City of West Hollywood, there will be a vote center at Plummer Park's Fiesta Hall, located at 7377 Santa Monica Blvd. This vote center will be open from Oct. 30 to Nov. 3.  Additional vote center locations can be found online.  The early vote centers will be open from 10 a.m. to 7 p.m. daily from Oct. 24 to Nov. 2 and from 7 a.m. to 8 p.m. on Nov. 3.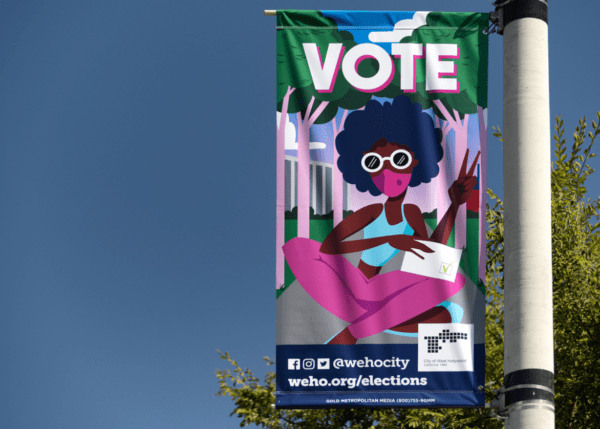 All Vote Centers have made health and safety is a priority and will follow state and county public health and safety guidelines, such as:
Voters must use facial coverings and gloves (coverings and gloves will be made available if needed);
Wiping and sanitizing all surfaces and ballot marking devices after each voter;
Enforcement of social distancing of six feet or more; and
Election workers will wear protective gloves and masks.
The city is encouraging every eligible voter to have a vote plan with the following tips:
Check your voter registration status or register to vote at lavote.net/vrstatus or call (800) 815-2666;
Decide how you would like to vote: vote by mail; drop off a ballot at a ballot drop box or a vote center; vote in-person at a vote center;
Educate yourself about the issues and then vote as soon as you receive your ballot;
Encourage your friends, family, and neighbors to vote or register to vote;
Assist those who need help with their mail-in ballot or offer to take a homebound senior to a vote center; and
Track your ballot. You can sign-up to receive personalized text messages, emails, and/or automated voice messages on your vote-by-mail ballot (whether sent by mail or dropped off at a ballot drop box or vote center) by subscribing to Where's My Ballot. This is a free service available to all registered voters that provides updated information about where your ballot is and when you can expect to receive it.
In California, you are eligible to register and vote if you are:
A United States citizen;
At least 18-years-old;
Registered where you currently reside;
Not currently in state or federal prison or on parole for the conviction of a felony; and
Not currently found mentally incompetent to vote by a court.