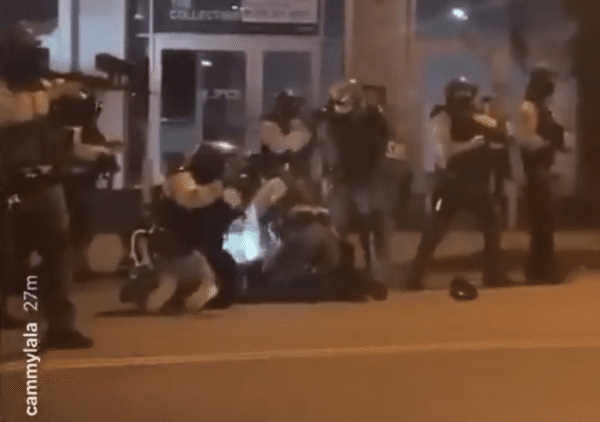 The City of West Hollywood has released its official explanation of the incident on Sunset Boulevard on Sept. 25 in which a Sheriff's deputy was videotaped slamming his riot shield into the ankle of a demonstrator laying on the street.
In a press release, the city notes that residents likely were interested in learning more about the incident and the demonstration overall at tonight's City Council meeting, which had to be  cancelled because technical issues make it impossible to give everyone access to the virtual meeting.  The next City Council meeting is scheduled for Oct. 19.  The deputy's assault of the protestor has been widely publicized, with the video of the assault posted on most social media platforms and reported by numerous news outlets.
The city's statement notes that there is a "use of force" investigation of the deputy seen slamming the riot shield into the protestor, and it says that "use of force of any kind is rare in the City of West Hollywood."
However, a report from the West Hollywood Sheriff's Station that was on tonight's Council agenda appears to contradict that.  It shows a tripling over the past 10 years in uses of force by deputies and resultant injuries that must be reported under LASD policy. There were 49 such incidents in 2010, with 16 of them resulting in injuries. But there were 153 last year, with 48 of them involving injuries. So far this year there have been only 40 (with seven involving injuries), that low count might be a result of the enormous decline in reports of crimes because of the COVID-19 pandemic.
The Sheriff's Department reports that only four of those 965 incidents where deputies used force (323 of which resulted in injuries to suspects) led to an investigation of a deputy's action. One of those involved an incident in 2015 in Universal Studios, which the West Hollywood Station also patrols and which may be the location of other reported uses of force.
The demonstration on Sunset Boulevard was one of two that took place in West Hollywood that night, both attracting people protesting a recent decision by a Louisville, Ky., grand jury not to prosecute a police officer who shot and killed a Breonna Taylor, a Black woman, during a botched raid on her apartment in search of her former boyfriend. 
The statement from the city attempts to rationalize the arrests of demonstrators and the seizure of pickup trucks in which protestors were riding. It notes that a flyer promoting the protest depicted a man throwing a Molotov cocktail and that the demonstrators wore homemade shield, helmets, and body armor and carried umbrellas.
Demonstrators have begun to wear protective gear such as helmets because of violent attacks by law enforcement officers across the country during protests of police brutality, a number of which have occurred in Los Angeles. And now demonstrators sometimes carry umbrellas to protect themselves because law enforcement officers have begun to use rubber bullet and pepper sprays and other gases.  In some people, such sprays have been found to cause pulmonary edema, respiratory arrest, vomiting and allergic reactions as well as permanent damage to the tissues of the eye, persistent symptoms of asthma and traumatic brain injury from the projectiles used to deploy the chemicals. Research shows that using these weapons does not deescalate tensions during protests, but can actually lead to more violence.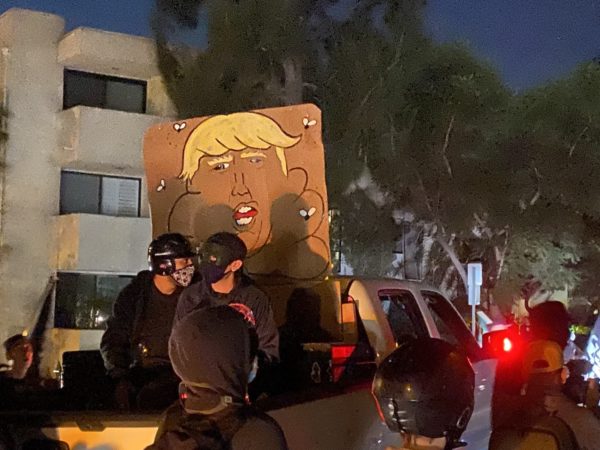 The rationale for using pickup trucks in the demonstration is unclear.  The city in its statement noted that the pickup trucks in the Sept. 25 protest were the same ones involved in a protest on Sept. 24 in Hollywood.  It said deputies stopped the trucks to "protect safety for protestors, community members, and the commercial area."  The organizers of a demonstration the same night as the Sept. 25 protest that began on De Longpre Avenue in West Hollywood urged marchers to walk behind two pickup trucks and had cars driving alongside them, saying that was a way to protect themselves from an attack by drivers upset by the protest.  They cited the same Sept. 24 protest in Hollywood noted by the city in which two vehicles, one a pickup truck, drove into the demonstrators, injuring one so seriously she had to be taken to the hospital.
The city's statement says that "on Friday, September 25 the City of West Hollywood and its contracted law enforcement partner, the Los Angeles County Sheriff's Department, received notice about a protest to be held that evening in the City of West Hollywood. Dubbed 'Justice for Breonna Taylor,' the protest flyer portrayed a man throwing a Molotov cocktail bomb and the words 'Absolutely No Peace Police' were circled at the bottom of the flyer.
"Many demonstrators arrived that evening in West Hollywood carrying homemade shields, wearing helmets, and donning body armor and body padding while carrying umbrellas. As the crowd made its way down Santa Monica Boulevard from La Cienega Boulevard, there were marchers who began to vandalize buildings and storefronts with graffiti and etching into glass windows. At last count, a total of 65 acts of vandalism were counted.
"As activities progressed during the evening, the Los Angeles County Sheriff's Department made a decision to declare an unlawful assembly and disperse the crowd.
"The protest included two trucks leading the crowd with numerous protestors sitting and standing in truck beds. The same two trucks had led a protest through the streets of a neighboring area east of the City of West Hollywood's boundaries on the previous evening, Thursday, September 24. One driver had been detained and released by LAPD officers after a short chase and altercation.
"When these two trucks arrived on Sunset Boulevard on the night of Friday, September 25, Sheriff's personnel were given an order to stop the two trucks for a number of traffic violations with the aim of removing the trucks from crowds in order to protect safety for protestors, community members, and the commercial area.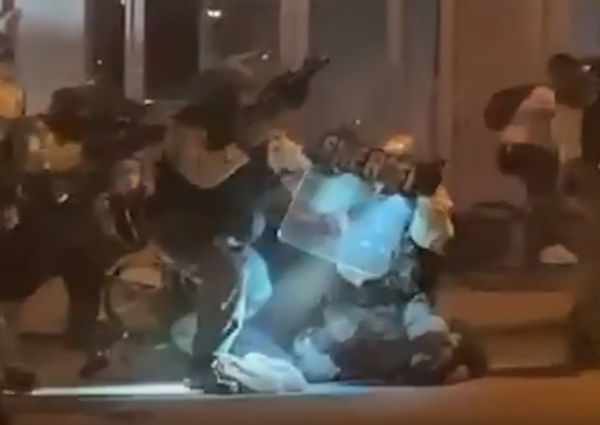 "Once the vehicles were stopped, Sheriff's Deputies approached one truck and asked the occupants of the truck bed to get out. As one person got out, a second person that had just exited the truck violently shoved a Deputy to the ground.
"Sheriff's Response Team (SRT) Deputies immediately surrounded the group and arrested them. At the same time, numerous protestors began encroaching upon the Deputies and SRT members employed pepper balls and noise-making devices to push oncoming protestors back. This was effective; most protestors immediately left the area.
"Both vehicles were impounded and several arrests were made. Charges included reckless driving, unsecured passengers in a truck bed, taking over the streets, battery on a peace officer, attempt to free a suspect from police custody, resisting/obstructing deputies, and failure to disperse.
"During the arrests, a Sheriff's Response Team Deputy was seen striking one of the suspects on the ankle with the shield he was holding. As with all uses of force, a use of force investigation has been initiated and the Deputy in question will be held to answer for his actions. SRT Deputies are typically selected because of demonstrated maturity, discipline, and ability to carry out orders with the highest levels of integrity in an emergent situation.
"The City of West Hollywood has, for decades, served as a safe and supportive gathering place for activists to hold nonviolent demonstrations to express rage against injustice, to raise awareness, and to bring forward social change and reform. The City is also a regular gathering spot for many large-scale events and celebrations, including Pride festivities and Halloween Carnaval. These demonstrations and events have a long history of safety, security, and peacefulness. During 2020, the City has been the site of many peaceful demonstrations that have included as many as 25,000 participants, without incident.
"Public safety is always the City's number-one priority. The City of West Hollywood and its contracted law enforcement partners have an obligation to maintain peace and to protect demonstrators, residents, businesses, and visitors. While the City of West Hollywood passionately embraces the exercise of first amendment rights of peaceful assembly and freedom of speech, it also takes very seriously its important role in safeguarding neighborhoods, protestors, and community members.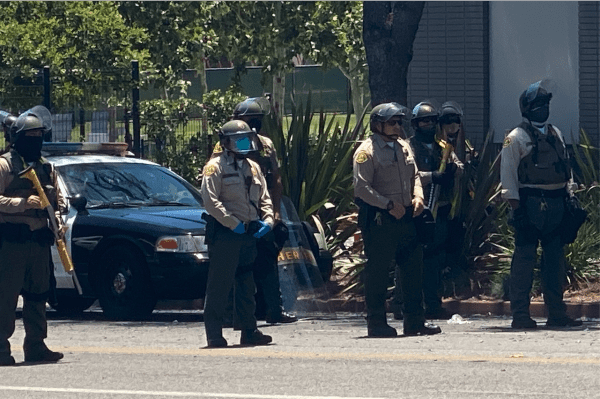 "Use of force of any kind is rare in the City of West Hollywood. In its oversight of public safety, it is the City's view that any decisions made and actions taken on Friday, September 25 were based solely upon protecting people and property in the City of West Hollywood from the sort of lawlessness that had been demonstrated the prior night, Thursday, September 24, just east of the City's boundaries.
"The City is deeply committed to community engagement and it encourages community members to take part in the upcoming West Hollywood City Council meeting and public comment period in order to more fully engage in this important discussion about public safety in West Hollywood."