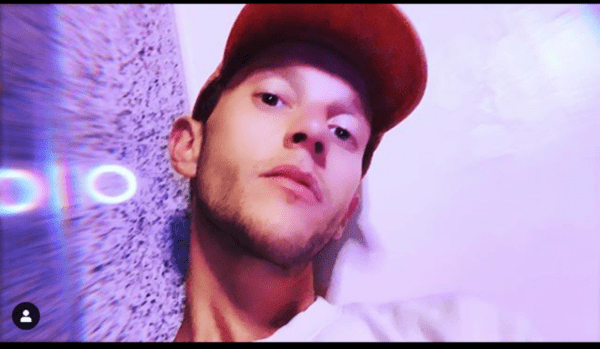 Friends and family are searching for Taylor Tassin, who moved to Los Angeles from Louisiana to follow his passion for music and hasn't been seen or heard from since early September.
Tassin, 27, is a young gay man who at one point lived in Hollywood and became friends with a number of West Hollywood residents. In July he began working in  Los Angeles for Bentley Records, a record label based in New York City.  And, under the name Tailer Stark, he recorded a number of songs of his own that can be found on Soundcloud.
In a post on his Facebook page on Aug. 20, he wrote about the challenge of trying to make it in Los Angeles, especially during these times:
"Hey you guys, the struggle in LA is soo real out here.🤯  I know I'm not the only one whom can relate when I say as a beginner in the industry, it feels like we are losing the position we've worked so hard for. The accomplishments still are meaningful, they always will be, but myself and I know a handful of other artists just getting out there are scared to death that their dreams will never be actualized due to the current circumstances of the nation. Please show US some love by sharing, reposting, commenting, liking, supporting THIS POST because I want all the young artist out there to know that our dream IS NOT DEAD. 
"💯💯✊☀️This is only the beginning. We will rise united. We all want that one person who believes in us, wants to see us succeed, and will do what it takes to see someone with talent perform at their best. So with that being said please do all of the above. And also mentioned in the comments, tag your favorite artist, your up-and-coming champions. Alone we stand no chance, together we can do anything. God is love, Tailer Stark❤️💕 "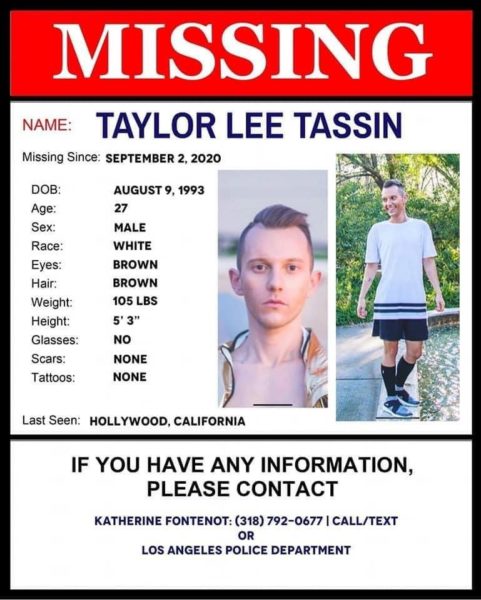 Tassin's sister, Katherine Fontenot, said her brother had been missing since the beginning of September. "We are very concerned for his safety," she wrote in a Facebook post.  "He is sweet and kind hearted and would not hurt anyone . He is suicidal and in a bad mental state last we talked to him.  I have filed a missing persons report but he usually does not get any trouble with the law so I don't think this will help locate him. I live in Louisiana and am at a loss. He has been homeless for several months now in the Hollywood area.  The last known address we have for him is  1201 Beverly Green Drive, LA, CA 90035. I am terribly worried for his safety."
Fontenot said that the last place where Tassin is known to have been sighted was in Santa Monica on Sept. 11. 
Other relatives of Tassin and his friends have posted similar items on social media.  Tassin is white and stands 5'3″ and weighs 105 pounds.  He is Caucasian.  Anyone with information about his whereabouts is asked to call or text Katherine Fontenot at (318) 792-0677, or call the Los Angeles Police Department at (213) 972-2981 and reference case #200615328.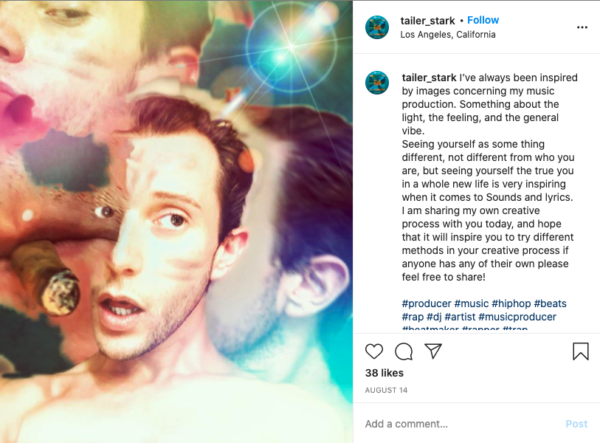 Other posts about Tassin describe a quiet young man who struggled to deal with the fact that his father had killed himself and Tassin's mother when Tassin was only six years old. He was raised by his aunt and uncle. "Taylor was always very quiet and kept things to himself," wrote one person. "He had seen therapists throughout his early childhood. Taylor's depression went unnoticed and untreated through his early adult life.  Taylor is very friendly and loved meeting new people. Always smiling and always very polite. He then begin to discover he had a passion for music which is what led him to the West Coast. Unfortunately, he was unable to make ends meet and his mental health worsened over the years."
The message they all want to share with Tassin is that his sister wants him to come and live with her. She misses him and wants him back in her life. And most important, she wants to know that he is okay.