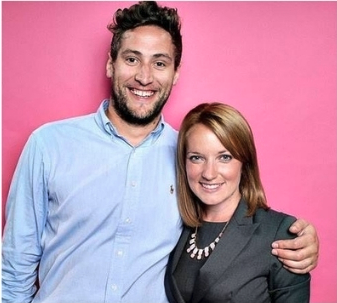 West Hollywood Mayor Lindsey Horvath has endorsed John Erickson in his race for a seat on the City Council.
Erickson is one of nine candidates in the race for two City Council seats currently occupied by John Heilman and John Duran. Horvath also has endorsed Heilman for re-election.
"I couldn't be prouder to endorse John Erickson for West Hollywood City Council," Horvath said in an announcement of her endorsement. "From overcoming the impacts of COVID-19 and reimagining public safety to stopping over-development and protecting renters, Erickson is the person I trust to serve the people of West Hollywood with me.
"A social justice activist with a proven record of accomplishment, Erickson represents a new generation of leaders – a tireless worker, innovative thinker, and problem solver. Whether it's his leadership at Planned Parenthood, the ACLU, or the City's Planning Commission, Erickson invests 200% in everything he undertakes.
"As we confront the challenges of our time, we need Erickson's experience, integrity, and new ideas on the City Council. "
This is Erickson's first race for a seat on the City Council. He currently is vice chair of the city's Planning Commission, to which he was appointed by John Heilman. Erickson is public affairs director at Planned Parenthood Los Angeles. In the past, Erickson served as deputy to then-City Councilmember Abbe Land, a close ally of both Heilman and Horvath.
If Erickson and Heilman are both elected they are likely to form a majority with Horvath on issues such as real estate development and extension of the Metro line into West Hollywood.  Council member Lauren Meister has differed with Heilman and Horvath on some of those issues and was initially elected by residents concerned about over development in West Hollywood.  Development also was a concern raised by D'Amico in his 2011 campaign for a seat on the Council in which he defeated Horvath. D'Amico said he saw the city being overdeveloped and said it needed new voices on the Council.
He since has shifted on those positions and endorsed Heilman and Duran for re-election in 2017.  D'Amico also joined Horvath and Heilman at Erickson's May 27 virtual campaign launch event. D'Amico has not yet stated which candidate he supports in the upcoming Nov. 3 election.  Councilmember Meister also hasn't made an endorsement.