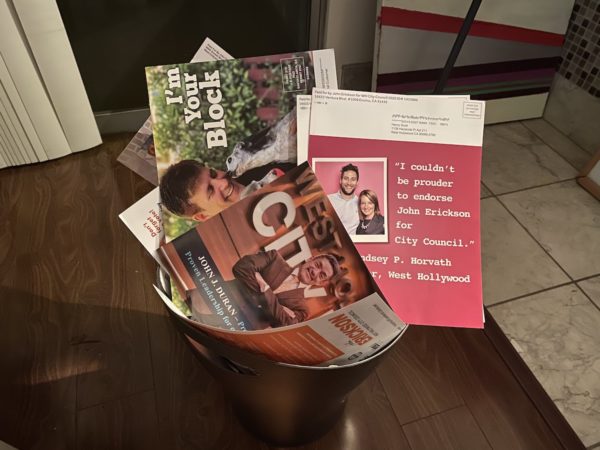 It's trash time!
If you live in West Hollywood and are a registered voter, you have been finding your mailbox packed with glossy sheets of paper promoting various candidates and propositions on the ballot in the Nov. 3 election.  Warning:  Much more is coming.
Campaign mailers — not an environmentally friendly way to get the word out– are tools that oddly are still being used in this digital age by people running for local offices. Candidates running for national and state offices have embraced social media and text messaging (which a few of the nine candidates in the West Hollywood City Council election actually are also using a bit.)
So far, the biggest users of paper and postage to promote their campaigns are City Councilmember John Duran and challengerS John Erickson and Sepi Shyne.  This writer has now received three mailers from Duran, three from Shyne, and four from Erickson. John Heilman, the other incumbent in the race, also has sent out one paper campaign flyer, as has challenger Larry Block . 
But you also will soon be receiving, if you haven't already, some sketchy campaign flyers that purport to represent certain groups and causes and that state their endorsements for specific candidates. In fact,  those groups don't exist. it's all a "pay for play" scheme that has been called out by media organizations such as the Sacramento Bee and the late San Diego Free Press (it closed in December 2018), in a story appropriately headlined as "Slate Mailers and Other Weapons of Mass Deception."
Citing a study — "The Stealth Campaign: Experimental Studies of Slate Mail in California" — published in 2001 in the Journal of Law & Politics, the Free Press wrote: "Here's the deal: slate mailer campaigns are most effective with voters who are less engaged and informed. And best of all, for campaigns with limited budgets, they're cheap."
So what mailers should you be throwing directly into the trash? (Use the recycling bin please.  If the candidates aren't environmentally conscious, you should be.) 
One that has already arrived in many mail boxes brands itself as the "Senior Citizen Voter Information Guide,"  prepared by the "Coalition for Senior Citizen Security." It endorses Joe Biden for president and Kamala Harris for vice president. Then it offers a list of other endorsements ranging from Myanna Dellinger and David Berger for superior court judge to David Vela for the L.A. County College District 3 seat and winds up endorsing Larry Block and John Erickson, both candidates for seats on the West Hollywood City Council. It also calls out propositions on the ballot, declaring yes on 15, 17, 19, and 22, and no on 20, 21, and 23.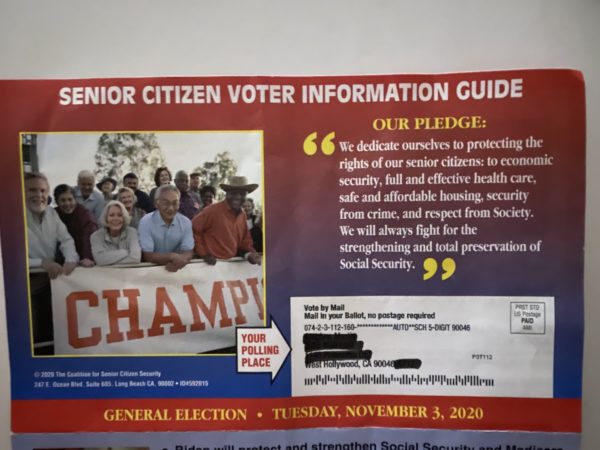 What voters aren't likely to know is that Joe Biden, Kamala Harris, and supporters of Proposition 15 are the only ones who didn't pay for the endorsement of the Coalition for Senior Citizen Security.  (Block paid $295 as did Erickson. The others, needing to reach a wider audience, paid much more).  If you're able to read the infinitesimally small type on the mailer, you'll learn that each of those who paid to play is identified with an asterisk.  That's a requirement of a state law that otherwise appears to be lax in governing such mailers.
The Coalition actually is a front created by Gould & Orellana LLC, a partnership of political consultants and financial advisors David L. Gould and Ingrid Orellana that is based in Long Beach, and Renee Nahum & Associates, a political campaign firm in Los Angeles whose president is the former political director of the Los Angeles County Democratic Party.  The Coalition's most recent filing with the California Secretary of State shows Nahum made $35,000 off that mailer and Gould & Orellana made $2,849. 
In a 2016 review of the Coalition for Senior Citizen Security on TrustLink,   a website where people rate the validity of organizations and businesses, a woman identified as Jenny writes that she can't find a website or even an active phone number for the Coalition.  
"Sketchy, eh? WHAT are they HIDING? I don't want this crap in my mailbox! WHO is behind this? WHAT BIG MONEY? I won't vote for anyone based on some flyer in my mailbox without knowing who is PAYING for this. Total rip-off scammers. The antithesis of democracy in action. I put a pox on 'em!"
So what's coming next?  A review of campaign finance documents indicates a lot of paper will be flowing your way. Some probably from Larry Levine, one of the county's most prominent "slate mailers." But you should know that none of the consulting firms behind the fake organizations are required to identify themselves on the mailer.
Here's a list of mailers coming from other political consultants along with  the West Hollywood City Council candidates they are endorsing  and what each candidate is paying for the so-called endorsement:
California Early Voter Guide:  John Heilman ($389.55)
California for Quality Education:  John Heilman ($300)
California Latino Voters Guide:  John Erickson ($300)
California Women Lead:  Noemi Torres ($150)
Californians for a Sustainable Future:  John Heilman ($146.20)
Coalition of Concerned Women Voters: Larry Block ($295), John Erickson ($295)
Coalition for Senior Citizen Security:  Larry Block ($295), John Erickson ($295)
Democratic Voters Choice:  John Heilman ($1,013.70)
Educate Your Vote: John Erickson ($623)
Our Voice Latino Voter Guide: John Erickson ($117)
Progressive Voter Guide: Larry Block ($331), John Erickson ($331)
Voter Newsletter:  Larry Block ($1,000), John Heilman ($1,000)
CORRECTION: An earlier version of this story said that Renee Nahum is the political director of the Los Angeles County Democratic Party. In fact, Renee Nahum is the party's former political director. The story has been updated to reflect that.