The West Hollywood Chamber of Commerce's Political Action Committee has endorsed incumbents John Duran and John Heilman and challenger Larry Block, three candidates running for two seats on the City Council.
"We were extremely impressed with the commitment to West Hollywood and the candidates' convictions about what they believe is best for the future of West Hollywood," stated Ted Green, president of Green Public Affairs & Campaigns, a West Hollywood-based lobbyist. "It was a tough decision with so many talented individuals and we hope that those candidates not elected remain actively engaged in West Hollywood's civic affairs."
Heilman, who has been on the City Council since the incorporation of West Hollywood as a city in 1984, has routinely received the WeHo PAC's endorsement, as has Duran, who has been on the Council for almost 20 years and is running for a sixth term of office. Block, owner of a local retail store called the Block Party, was an unsuccessful candidate in the 2015 City Council election.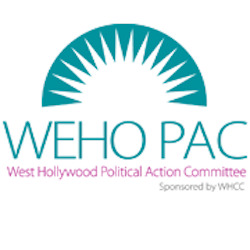 Duran is known for his support for local businesses and for being a major recipient of campaign donations from real estate developers and their lobbyists. He was one of the two City Council members (John D'Amico was the other) who supported the controversial 8500 Sunset project where the developer, for whom Ted Green was a lobbyist, turned apartments into expensive short-term rentals. Green apparently voted for Duran's endorsement, given that he complained at an endorsement meeting about Larry Block calling out Duran for his tax liens.
Duran is the most controversial candidate in the election, having been censured by his fellow Council members and criticized in an editorial by the Los Angeles Times after several young gay men alleged sexually inappropriate touching and other behavior by Duran while he chaired the Gay Men's Chorus of Los Angeles. He also was sued for sexual harassment by his former City Council deputy, and has been accused of using his title as Mayor of West Hollywood in soliciting sex on apps like Grindr. Despite public protests of that behavior and Duran's relationship with Ed Buck, a white man known for donating to City Council and other candidates and notorious for his soliciting drug-induced sex from young Black men, Duran has continued to be embraced by real estate development interests and many gay community leaders.
The Chamber's political action committee is comprised of five members of the Chamber of Commerce.  The chair is Ted Green.  Other members are Keith Kaplan, a real estate agent; Sherri Franklin, an urban design developer and Weho cannabis license recipient; D.J. Moore, an attorney with Latham & Watkins, a law firm that represents developers of a number of projects in West Hollywood and whose members have been major donors to Duran's campaign; and Nick Rimedio, general manager of the La Peer hotel and chair of the Chamber of Commerce.
Among the other candidates endorsed by the PAC were Jackie Lacey, who is running for re-election as Los Angeles County District Attorney. Lacey's challenger is George Gascon, a former San Francisco district attorney. She has gotten the support of deputy and police unions but is opposed by Black activists and those pushing for police reform because of her reluctance to prosecute law enforcement officers for misconduct. A somewhat less controversial candidate endorsed by the Chamber PAC is Scott Svonkin, who is running for re-election to the Los Angeles Community College board of trustees. Scott Svonkin, a former West Hollywood City Council deputy who is said to have gotten into altercations with coworkers while in that job, has been accused of intimidating and physically threatening a member of the L.A. Community College Board of Trustees, which reprimanded him for that, and of assaulting a candidate for the San Gabriel School Board. A full list of the Chamber PAC's endorsement can be found online.
The nine City Council candidates answered a questionnaire and then were interviewed by the PAC members. An announcement of the endorsements says they " … considered which candidates are best prepared to help the residents and businesses of West Hollywood survive the COVID-19 health and economic crisis. The WeHo PAC endorsements reflect who best can ensure West Hollywood remains a premiere city to live, work and play."
A political action committee is organized for the purpose of raising and spending money to elect and defeat candidates, with most PACs representing business, labor or ideological interests. Open Secrets explains that PACs can give $5,000 to a candidate committee per election … They can also give up to $15,000 annually to any national party committee, and $5,000 annually to any other PAC. PACs may receive up to $5,000 from any one individual, PAC or party committee per calendar year." That greatly exceeds the limit of $1,000 that an individual can donate to the election campaign of a candidate for West Hollywood City Council.
While the Chamber's PAC works to get particular candidates elected to the City Council, the City of West Hollywood also provides funding to the Chamber, allocating money for it sell bus fare cards, mediate commercial landlord/tenant disputes, and do other things.