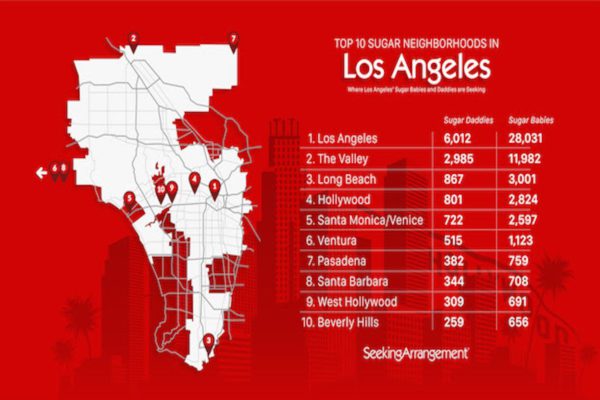 City Councilmember John Duran famously (or infamously) declared that West Hollywood is a "sex-based city," although city officials and the West Hollywood Travel + Tourism Board would argue that it is a tourism- and nightlife-based city. (After all, the hotel room tax is the single largest source of city tax revenue.)
However, sex in West Hollywood does generate some revenue, although not revenue the city is able to tax. Seeking Arrangement, the sugar baby and sugar daddy dating website, ranks West Hollywood as No. 9 in its list of the "Top 10 Sugar Neighborhoods" in Greater Los Angeles.
Seeking Arrangement was founded by MIT grad Brandon Wade in San Francisco in 2006 and is headquartered in Las Vegas. Seeking Arrangement describes itself as a place to find relationships "where Sugar Babies enjoy a life of luxury by being pampered with fine dinners, exotic trips and allowances. In turn, Sugar Daddies or Mommas find beautiful members to accompany them at all times."
"Every successful relationship is an arrangement between two parties," says the Seeking Arrangement website. "In business, partners sign business agreements that outline their objectives and expectations. Likewise, romantic relationships can only work if two people agree on what they expect, and what they can give and receive from each other."
Brandon Wade elaborated on his concept of relationships in a 2014 essay published by CNN that sparked controversy because he described love as "a concept invented by poor people."
The New York Times published a story about Seeking Arrangement calling out the way Seeking Arrangement differs from more traditional dating sites. "… if eHarmony or Match.com is a chatty social mixer, Seeking Arrangement is a down-and-dirty marketplace where older moneyed men and cute young women engage in brutally frank transactions. They're not searching for longtime soul mates; they want no-strings-attached 'arrangements' that trade in society's most valued currencies: wealth, youth and beauty. In the cheesy lexicon of the site, they are 'sugar daddies' and 'sugar babies'."
Seeking Arrangement says its site, which has 14 million active members in the United States, shows that there are 309 active sugar daddies in West Hollywood and 691 sugar babies. WeHo likely would rank higher than No. 9 if the Seeking Arrangement report hadn't combined all cities in the Valley into one community (which ranks No. 2) or combined Santa Monica and Venice, which rank No. 5.