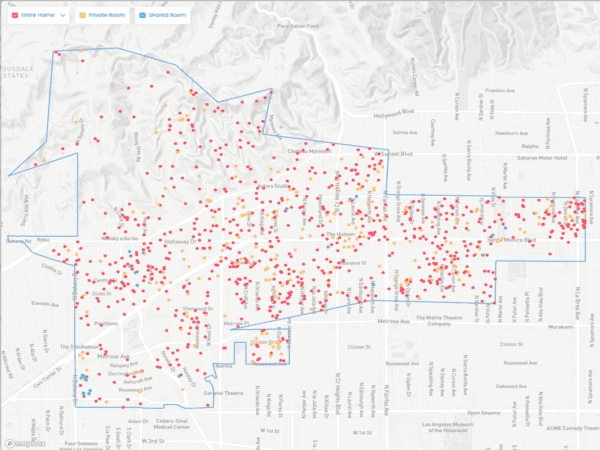 West Hollywood's illegal short-term rental market, and the legal one, are stumbling their way to recovery according to information about Airbnb listings compiled by AllTheRooms.com, a site that provides analysis of the short-term rental market.  ATR's data covers listings in the City of West Hollywood but also includes a small number of rentals in the hills above the west side of West Hollywood's Sunset Boulevard
ATR reports that the occupancy rate for Airbnb short-term rentals fell from a high of 52% in February to 8% in April, as people became more aware of the COVID-19 pandemic. But the good news is that last month that occupancy rate was 34%.

VRBO, another short-term rental platform monitored by ATR, showed a similar pattern, with a peak occupancy rate of 31% in March 2019 then went up and down until it hit 30% in February 2020, at which point it plummeted to 1% in April before climbing to 17% in September.
But while the occupancy rate has increased, the number of short-term rental units on Airbnb has plummeted to 524 in September from a high of 831 units in January 2019.  In September of this year there were 59 VRBO units available, down from a two-year high of 136 in September 2019.
Perhaps as evidence that the "supply and demand" theory is true,  the average nightly rental rate has soared.  ATR reports the average rate climbed from $188 a night in April to $349 in July among Airbnb rentals.  It drifted down to an average of $294 a night in September. But that still is higher than the $277 average rate in August 2019, the highest in that year.   For VRBO, the average rate in September was $575 a night.  The highest average rate in the past two years was $714 a night in July 2019.  The low was $187 in May.

Another slow increase has been in the average number of nights booked, which fell to a two-year low of two nights in April from a high in July 2019 of 17 nights among Airbnb units. In September the average grew to 10 nights. For VRBO units, the high was an average of 10 nights booked in March 2019. That fell to zero in April and has climbed back to an average of five in September of this year.
The data shows that many West Hollywood residents and/or property owners are likely violating a city ordinance that bans short-term rentals (defined as those for fewer than 31 days) unless you actually own the property or condo you are renting and you are present while the guest is staying there. Anyone wanting to make such a rental must obtain a license from the city and pay a tax on the rental revenue. 

The City Council in July granted an exception to owners of apartment buildings within the Sunset Specific Zone on Sunset Boulevard in order to settle an expensive lawsuit brought by the owners of the 8500 Sunset apartment tower, which had been renting expensive apartments for as few 31 days. 
Such apartments also are being rented in the rent-stabilized apartment building at 8911-8917 Cynthia St.   That building is owned by Paul Kalt of the Kalt Group, which also owns The Conservatory, an upscale restaurant and bar on the northeast corner of Santa Monica Boulevard and Sweetzer, and owns or manages other WeHo apartment buildings. Empty apartments are being rented through a business called StayTony, which specializes in corporate rentals.  Four of the rent-stabilized units in the 12-unit building are listed on the StayTony website, with monthly rents ranging from $5,500 for a one-bedroom to $7,000 a month for a two-bedroom apartment.
Residents of the building have complained about having short-term guests there but to date the city doesn't appear to have enforced its short-term rental ordinance in that situation.