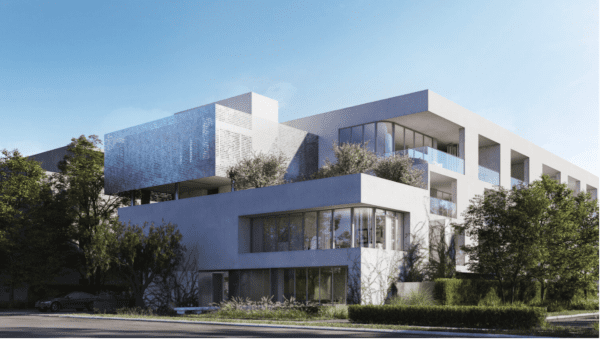 While the project isn't yet completed, the developer of the apartment building at 838 N. Kings Rd. already is advertising units for rent.  One bedroom can be rented for $6,750 to $11,500 a month. The rent for a two-bedroom unit is $17,000. There are 25 apartments, ranging from 703 to 1856 square feet in size.
That would put the building, branded as Astéras Kings, on the very high end of rentals in a city that promotes its commitment to affordable housing but also is the third most expensive for renters in Southern California. That is according to a report by Rent Café, which cites a survey that found the average monthly rent in West Hollywood is $2,856. Santa Monica has the highest rent, according to the survey, at $3,929 a month, followed by Marina del Rey at $3,512 a month. Those figures do not include rents paid for affordable-housing apartments or those in subsidized non-profit housing corporation buildings.  (The city requires that all developers of projects with 10 or more units make 20% of them affordable units or pay a fee into the city's Affordable Housing Trust Fund.) But they do include the relatively low rents paid by some older tenants who lived a long time in apartments covered by the city's rent stabilization ordinance.
A quick search online shows the rents at the Astéras King building, which has 25 apartments, are even more expensive than those at 8500 Sunset Blvd.  In that property's East Tower, which has 809 units, a studio  goes for $3,910 to $5,080. One-bedroom apartments rent for $5,220 a month to $6,690.  And two-bedroom apartments are on the market for rents ranging from $7,060 to $13,085 a month. In the adjacent West Tower, AKA Communities offers short-term rentals (31 days or longer, with a few for only five days).  Recent rates for a one-bedroom unit in the West Tower range from $295 to $375 a day, or $9,145 to $11,625 a month.
The developer of Astéras King is Darmos Properties, owned by Demitri Darmos. Amenities available to renters of apartments at the Astéras include:
A 24-hour attended concierge lobby
A private film screening room
A heated spa pool with sundeck lounge
A rooftop terrace café and bar
A fitness studio
A pet washing station
Car detailing
There also are other services including access to a private suite while you're waiting for your plane to depart from LAX, personalized shopping services, global travel arrangements, private jet and yacht charters, and access to awards shows, film premieres, theater, sporting events, fashion shows, and private art exhibits.