UPDATE: Oct. 15, 8:22 a.m. The latest ballot return count from Political Data Inc. shows that 10% of West Hollywood registered voters have returned their ballots, up from 6% in yesterday's count. That is a total of 2,836 ballots.
West Hollywood voters are sending in their ballots, but slowly. As of today, 28,924 ballots have been mailed to those West Hollywood residents already registered according to Political Data Inc.'s voter tracking website. As of this afternoon, 6% (1,804) have been returned to the Los Angeles County Registrar-Recorder/County Clerk to be counted.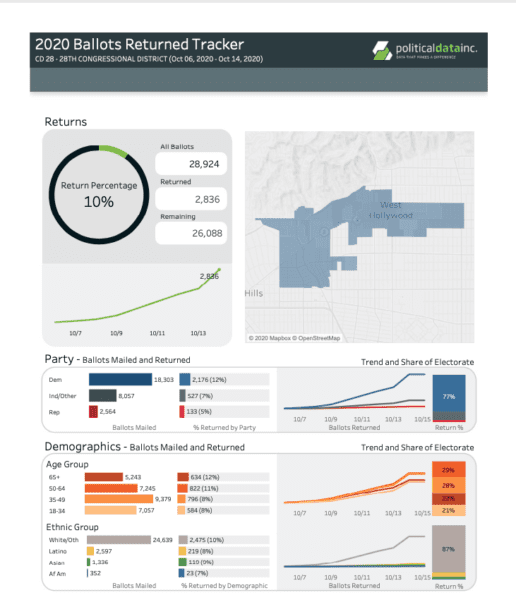 That may be good news for those running for City Council — they have even more time to campaign before all the ballots in the Nov. 3 election are submitted.
The vast majority of those registered to vote in West Hollywood identify as Democrats according to the Political Data tally.  It shows that 18,303 (63%) of those registered identify with that party. There currently are 2,564 residents registered as members of the Republican Party, which is equal to 9% of the city's registered voters. The 8,057 registered as Independent or with one of the many other small parties, make up 28% of the electorate.
As the attached chart shows, those 65 or older count for 5,243 of registered voters (18.1%).  Those in the 50 to 64 age range make up 7,245 of registered voters (25%).  Those in the 35 to 49 age range total 9,379 (32.4%), and those from 18 to 34 total 7,057 (24.3%). 
The vast majority of West Hollywood's registered voters identify as white or choose an identity other than Latino, Asian, or Black, which are the other categories counted. They amount to 24,639, or 85%, of all registered voters.  Latino people make up 9% of the registered voters (2,597), Asians constitute 1,336 (5%), and Black people count for 352 of the registered voters (1.2%).
Those who aren't sure whether they have registered to vote can check that online. And, in addition to returning the ballot by mail (it must be postmarked by the Nov. 3 Election Day), you also can drop off your ballot at three locations in West Hollywood. There are ballot drop-off boxes on Sweetzer Avenue south of Santa Monica Boulevard and just behind City Hall, in front of the L.A. Public Library at 625 N. San Vicente Boulevard, south of Santa Monica, and outside the Plummer Park Community Center at 7377 Santa Monica Blvd. The city is warning residents not to drop off ballots in other boxes that might be labeled as "official" because they are not, and it is possible your vote won't be counted.
There also are several places in and near West Hollywood where you can vote in person (wearing a face covering of course) beginning Oct. 30. They are:
The Kimpton La Peer Hotel. 627 N. La Peer Drive, on the lobby rooftop. It is open from 10 a.m. to 7 p.m. from Oct. 30 until election day, when it is open from 7 a.m. to 8 p.m.
Laurel Elementary School. 925 N. Hayworth Ave. in the auditorium. It is open from 10 a.m. to 7 p.m. from Oct. 30 until election day, when it is open from 7 a.m. to 8 p.m.
Fairfax Senior Citizen Center, 7929 Melrose Ave., in the auditorium. It is open from 10 a.m. to 7 p.m. from Oct. 30 until election day, when it is open from 7 a.m. to 8 p.m.,
Iranian American Jewish Federation, 1317 N. Crescent Heights Blvd., in Sapper Hall. It is open from 10 a.m. to 7 p.m. from Oct. 30 until election day, when it is open from 7 a.m. to 8 p.m.,