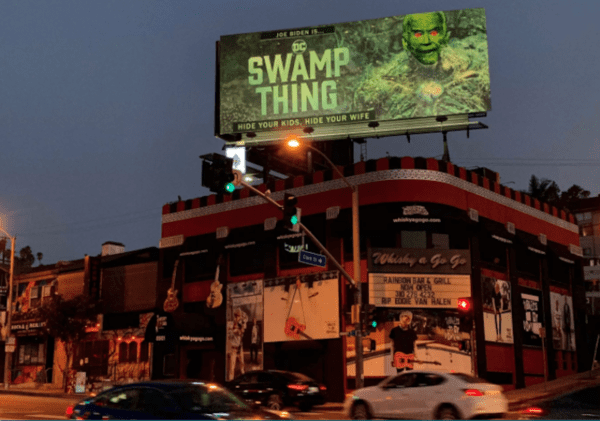 Street artists who are said to be part of The Faction, a right-wing collective, have defaced a billboard above the Whisky a Go Go nightclub on Sunset Boulevard in an attack on presidential candidate Joe Biden.
The billboard was an advertisement for "Swamp Thing," a DC Comics television show on the CW network. Working overnight on Wednesday, the vandals replaced the image of the Swamp Thing, a humanoid/plant elemental creature created by writer Len Wein and artist Bernie Wrightson, with a freaky image of Biden. They also replaced the wording on the billboard, which read "Deep water, deep secrets," with the slogans "Joe Biden is…Swamp Thing," and "Hide your kids, hide your wife."
Newsweek reports that Donald Trump Jr., the president's son, said: "Whoever made this billboard nailed it. Joe Biden spent 47 years in Washington, D.C., enriching his family, exporting the jobs of American workers and selling out our country to the Chinese Communists. There is no bigger 'Swamp Thing' in American history than Joe."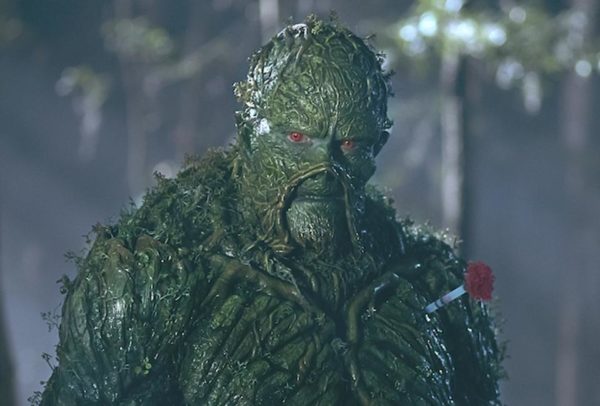 The Biden image has been removed from the billboard.  This isn't the first time The Faction has defaced billboards and other property in and near West Hollywood.  In January last year, artists said to be associated with The Faction defaced a billboard on the northeast corner of La Cienega Boulevard and Holloway Drive that was promoting Bill Maher's HBO show "Real Time." The artists replaced Maher's image with a blank face and changed the slogan "The Whole Truth and Nothing But" to read "The Whole Narrative and Nothing But." Narrative has become a term used to describe the practice of combining verifiable facts, half-truths and misinformation to promote political interests.
Sabo, another right-wing street artist said to be associated with The Faction, claimed responsibility in June 2017 for defacing signs for the City of West Hollywood's WeHo Pedals bike share program with promotions of a new book by controversial right-wing propagandist Milo Yiannopoulos, a gay man.
Sabo on on his website describes his mission as "kicking liberals in the teeth." He was the featured guest at an event last year at Fiesta Cantina, the Santa Monica Boulevard bar and restaurant, that was put on by the Log Cabin Republicans, a gay Republican organization that has endorsed Donald Trump's re-election and whose members include local residents such as Ben Coleman, a former Public Safety Commissioner, and Jim Arnone, a Los Angeles lawyer with the Latham & Watkins law firm who represents real estate development interests doing business in West Hollywood.