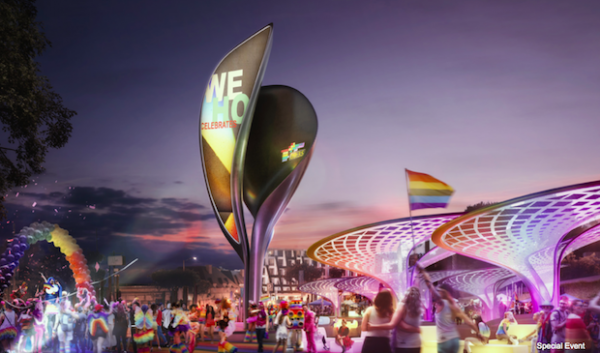 With a unanimous vote Thursday night, West Hollywood's Planning Commission approved creating a new three-member subcommittee to critique billboards designs on the Sunset Strip as well as provide input for creating policies regarding billboards.
Officially called the "Sunset Arts and Advertising Project Subcommittee," the committee will review all new billboard projects as well as upgrades to existing billboards. Also, if a new building has billboards integrated into its design or an existing building that already has a billboard is being remodeled, the committee will critique the entire building.
The city is in the process of expanding the number of billboards on the Sunset Strip and will allow many existing billboards to either enlarge or convert to digital billboards. An estimated 30 separate projects will come before this subcommittee in the next two years, according to Bryan Eck, the city's acting longrRange planning manager.
Previously, critiques of billboards were handled by the Planning Commission's three-member Design Review subcommittee, which currently consists of Commissioners Rogerio Carvalheiro, Sue Buckner and Lynn Hoopingarner. However, potential recusals have forced the creation of this new subcommittee.
Carvalheiro, an architect by trade, has a conflict of interest because he recently began consulting work related to billboards and therefore must recuse himself from all billboard-related projects. Meanwhile, Buckner lives on Shoreham Drive, just above the Sunset Strip, and must recuse herself from any project within 500 feet of her home.
That leaves Hoopingarner as the only Design Review subcommittee member who will not have to recuse herself from consideration of an item involving a billboard. A single person on Design Review offering a critique of a billboard project is not sufficient, so the new subcommittee is being created to give proper feedback.
Commissioners Adam Bass and Stacey Jones will join Hoopingarner as members of this new Sunset Arts and Advertising Project Subcommittee.
A meeting day and time for this subcommittee has not yet been determined. The only thing certain is the subcommittee will not meet on Thursdays because the Planning Commission already meets on the first and third Thursday of the month, while the Design Review subcommittee meets on the second and fourth Thursday.
Whichever day of the week city staff ultimately determines this subcommittee will meet, those meetings will be done via the Zoom teleconferencing app until the coronavirus pandemic ends.
The creation of this billboard subcommittee may be premature, depending on the outcome of the Nov. 3 City Council election. Carvalheiro is Councilmember John Duran's appointee to the Planning Commission. If Duran fails in his re-election bid, that would mean Carvalheiro would not continue on the Commission, unless the person who wins that seat opts to reappoint Carvalheiro. Similarly, even if Duran wins re-election, he may choose to appoint someone other than Carvalheiro to the Planning Commission.
Bass put in an appeal to whoever wins the City Council seat to reappoint Carvalheiro.
"I will say this to whoever wins, give us Rogerio back. He's fantastic on this commission," said Bass.
Another option would have been to appoint two other Planning Commission members to the Design Review subcommittee, thus eliminating the need for the recusals. However, the commissioners felt both Carvalheiro and Buckner do a good job on Design Review.
As the owner of his own architectural firm (RCDF Studio) and an instructor of architecture at UCLA, Carvalheiro has been able to spot many potential problem areas early in the design process.