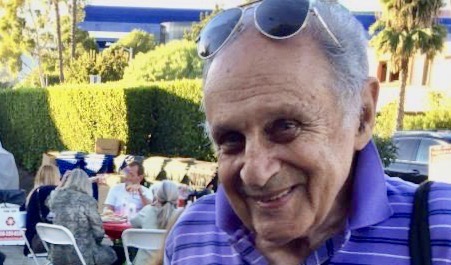 EDITOR'S NOTE: Martin (Marty ) Strudler, a longtime resident of West Hollywood who lived on Westbourne Drive, died last Thursday at the age of 91. The West Hollywood West Residents Association, of which he was a member and former president, has called out his successful career as an animation art director at Warner Brothers and Marvel Productions and his engagement in civic affairs. He had worked at Warner Bros. Animation from 1980 to 2002 and was head background designer, known for his work on Wizards (1977), Dungeons & Dragons (1983) and Muppet Babies (1984) among others. In the In Memory piece below, Carlton Cronin, a neighbor of Strudler's, shares his memory of a man he describes as introspective and thoughtful.
There are many people who knew Marty better than I knew him, even though we became acquainted in the long ago haze of local history, in the beginnings of the city.  We most often met at meetings of the West Hollywood West Residents Association when that citizens group could easily command an audience of at least a hundred residents at any City Council meeting, to make its desires known. Marty was president of WHWRA at least once and, when the organization produced  a monthly newsletter, Marty provided cartoons to enliven the black and white pages.
Although a quiet, introspective man, Marty retained that New York City edge that quickly identifies those born within its environs.  I found him to be a person given to careful thought before speaking, a trait not often noticeable today.  Moreover, that quality required listeners to actually pay attention. Only twice I visited his home.  It was a place conducive to conversations held in lowered tones, only eyebrows raised in disagreement.  Marty was at just about every event in the West End of the city, an observing, contemplative presence yet full of strong beliefs for the betterment of the city and its residents.
Marty was an early proponent of bicycles in the city and this was his prime mode of transport.  After witnessing a near miss on San Vicente between Marty and a speeding car, I found a couple of reflective vests for him to wear – and he wore them 'til they faded. 
If I were to offer a response to his passing it would be that we will miss his quiet, warm humor and his dedication to the city and we residents. We could always count on Marty. Sure, a quiet voice reverberating strongly in the halls of our city's history but certainly a loss in our chorus.