EDITOR'S NOTE: The following is an op-ed written by a candidate in the Nov. 3 election for one of two seats on the West Hollywood City Council. WEHOville has invited each of the nine candidates to submit up to two op-eds to explain to West Hollywood residents his or her stand on local issues .
Vote the Incumbents Out!
Ibsen first said, "A thousand words leave not the same deep impression as does a single deed." The original quote was plagiarized and paraphrased into what we know now, "A picture is worth a thousand words." I've been running a campaign ad with a picture of a Godfather-esque John Heilman pulling the strings that control West Hollywood politicians. This graphic is not intended to mock or malign but convey what most West Hollywood insiders know about how our city government has been run for nearly 40 years.
Hopefully, voters will "get the picture" and not re-elect John Duran to another term on City Council. The man John Heilman is about to cut loose in the picture in my ad was the cause of a Council deputy sex scandal costing WeHo nearly $1 million and was formally censured as Mayor after sexual harassment allegations that got him thrown off of the board and out of the Gay Men's Chorus of LA. We don't need elected officials who consider offering sex, talking sex, and marginalizing people by excusing it as business as usual, in West Hollywood.
John Heilman has maintained a stranglehold on local government with a vice-like grip on the West Hollywood City Council, stacking the deck to control the majority vote and direct the city manager to do his bidding for nearly 40 years.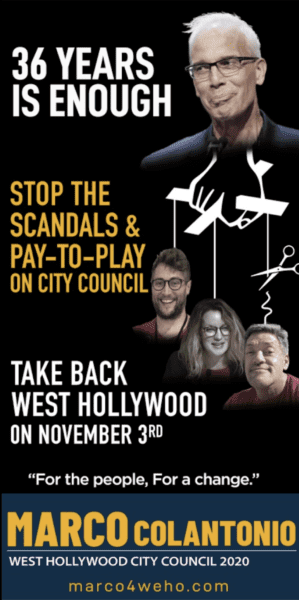 In 2009, West Hollywood City Council members led by John Heilman decided to stack the Council and eschew the most basic progressive principles: a democratic election. Refusing to let West Hollywood's voters elect a council member to fill the seat left open by the death of Sal Guarriello, they chose to handpick by "consensus" the then 26-year-old Lindsey Horvath, who had lived in West Hollywood for only 18 months. Horvath was close to Heilman and Land, and votes for the $70 million new library and on the Tara, and Plummer Park issues were coming up. Get the picture?
Scandals, pay-to-play, and coverups became standard operating procedures in our city, which was initially founded on renters' rights and diversity. Hence, it was almost understandable that the infamous predator and political influencer Ed Buck was able to go free without question after the meth overdose deaths of two Black men in his WeHo apartment. Was it a coincidence that John Duran was the largest single local recipient of Buck's donations, $12,500 from 2012 to 2016?
With all of the negative Duran press, Heilman seems ready to cut Duran's strings, and many see John Erickson, a close ally of Horvath as Heilman's new third and majority vote on the City Council.It was Heilman who appointed Erickson to the city's Planning Commission.
Perhaps the most offensive thing I've heard from the incumbents during this campaign season is that they think we owe them unconditionally and should re-elect them for making this a great city. The people have made this a great city, the renters, homeowners, small business owners, workers, and visitors who have invested, paid rent, and taxes, and support our local economy. We owe the people, not the politicians.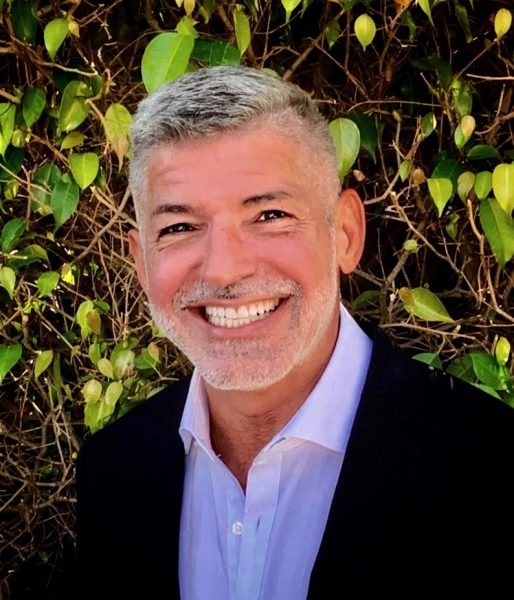 Our current City Council voted to add another $13.5 million to a shuttered $200 million park project at the beginning of the COVID-19 pandemic. The Council also voted to add Measure E to the ballot, increasingthe sales tax in West Hollywood to 10.25%, a burden that residents will bear, and a move that will discourage visitors from eating and shopping in West Hollywood.
We live in unprecedented times, experiencing a tremendous surge in the homeless population taking over our streets and sidewalks, shuttered businesses that may never come back, and renters racking up incomprehensible debt.
There are no miracles, but I propose real solutions to issues plaguing our community and affecting our residents' quality of life. We need to find innovative, smart, and safe ways to bring back tourism, create more low-income-affordable housing prioritized for residents, and a Strategic Outreach program for homelessness.
To address the issues of economic survival and recovery, I have proposed a marketing plan to reinvent safe ways for people to experience what is unique to West Hollywood and bring back visitors to our hotels, restaurants, and brick mortar businesses. I am also calling for a broad coalition of business leaders and marketing experts to form an Economic Recovery Task Force.
Fiscal responsibility begins at home, and I am calling for a 10% pay cut for the approximately 115 city employees with annual salaries of $120,000 or more. This one-year deferred pay cut will move more than $2 million towards essential city services.
To focus on solutions for the homeless in our community, I have proposed the creation of a municipally funded Homeless Outreach Street Team, "HOST." This program would provide intensive services to chronically homeless people who use public services and help get these individuals off the streets while reducing spending on services such as Sheriff's deputies and emergency medical care.
Public safety requires reviewing our Security Ambassador program and an overview of deployment patterns to create additional north and south presence on our residentialside streets.
The issue of systemic racism within our city and specifically within law enforcement needs to be acknowledged. My plan calls for a proactive Racial Intelligence and Sensitivity Training Program to reduce the use of force and provide better communication skills for those in law enforcement.
We need to bring back West Hollywood and give our residents and small business owners a say in how they see their city and what they want their city to be. Our City Council members need to lead by example with respect, compassion, and empathy, free of scandals and obligations to special interests.
I'm a renter, and I was appointed to the West Hollywood Disabilities Advisory Board and served as its vice-chair. As a founding committee member of the Resist March and the founder and publisher emeritus of WeHo Times, I am no stranger to speaking truth to power. I was the first to report the story of Gemmel Moore's death in Ed Buck's apartment and honored to have received the endorsement of LaTisha Nixon, Gemmel'smom.
Incumbent fatigue is real, and we have been tired for too long. In our national election, it's time to vote out Donald Trump, and in our local election, it's time to vote out John Heilman and John Duran.
This is your city, and our City Council has to remember they work for you, the people. It's time to stop the scandals and pay-to-play. Vote for independent leadership with "No Strings Attached," and together, we can bring back West Hollywood on Nov. 3.
I humbly ask for your vote and promise to work for the people, for a change.
Marco Colantonio. Marco4weho.com