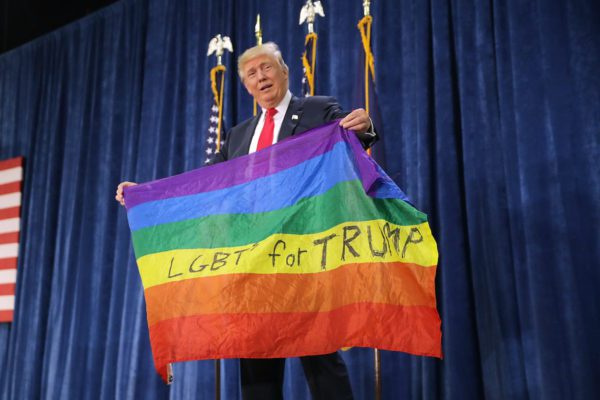 Gay Republicans, including several gay Republican social media stars, will be making a very short march in West Hollywood on Friday, walking up San Vicente Boulevard from the Pacific Design Center to Rocco's, the gay bar and restaurant on the corner of San Vicente and Santa Monica boulevards.
The Log Cabin Republicans, who have endorsed Donald Trump for re-election, are asking members to show up at the PDC at 9:30 p.m. for the "Gays and Housewives Take Over WeHo" march, will begin at 10 p.m.
"Wear your Trump/MAGA gear and join Brokeback Patriot, Christian Walker, Hazem Farrej, DC Draino, and Rob Smith to help show how much love there is for Trump in the LGBT and Ally community," says an announcement of the event. "Tell all your gay and housewife friends to come."
Hazem Farrej is a gay Palestinian-American who converted from Muslim to Christian and is well known in right-wing circles. Brokeback Patriot is David Leatherwood, who garnered publicity in right-wing media after he was fired from his job at a St. Petersburg, Fla., restaurant after posting negative comments on social media about Black Lives Matter. Christian Walker is a 20-year-old Black gay Los Angeles resident whose father is football legend Herschel Walker and who is an avid supporter of Donald Trump. DC Draino, whose real name is Rogan O'Handley, describes himself as a social media journalist. He has 1.2 million Instagram followers and one of his posts was shared with others by Donald Trump. Rob Smith is a Black gay man who is a spokesman for Turning Point America, a right-wing organization that advocates conservative principles on high school, college, and university campuses.
The march, although short, is likely to attract a lot of attention in a city where 33% of the population identifies as gay men and only 9% of voters are registered as Republicans. The group has alerted the Sheriff's Department to its plans and asked its members not to post information about the event on social media because it might attract opposition.
The intersection of San Vicente and Santa Monica boulevards has been the scene of a number of demonstrations this year, including a march of tens of thousands of people protesting police violence against Black people, which culminated at that spot.
The Log Cabin Republicans have had other meetings in West Hollywood, including several on the roof of the Fiesta Cantina restaurant, at one of which they hosted Sabo, the right wing street artist who vandalized city property to promote a book by the controversial gay right-wing propagandist Milo Yiannopoulos and whose website declares that he's all about "creatively kicking liberals in the teeth."
There also will be the weekly Trump rally on Saturday in Beverly Hills. The Log Cabin Republican group has invited its members to show up at 3 p.m. to prepare for a march down Rodeo Drive. "Bring Trump flags and MAGA gear–some of us attended last week, and we felt utterly loved and welcomed," the group said.