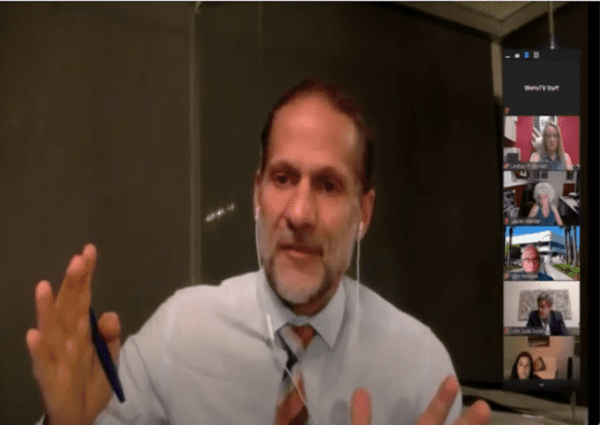 Animosity between two West Hollywood City Council members resurfaced during a meeting Monday night as the Council voted 3-2 to establish a formal policy banning nonprofits that receive city funding or services from endorsing candidates in City Council elections.
At the meeting's conclusion, Councilmembers John D'Amico and John Heilman, once bitter rivals who did not speak to each other for two years, got into a heated exchange about Heilman co-sponsoring an item to give money to the tenants' rights nonprofit Coalition for Economic Survival (CES), which endorsed Heilman in the Nov. 3 election.
D'Amico accused Heilman of impropriety for co-sponsoring the item providing $60,000 to CES for renters' rights outreach and legal advice related to the coronavirus-induced eviction moratorium, currently set to end on Feb. 1, 2021.
"It did appear improper. It is improper to send $60,000 to someone who just endorsed you," said D'Amico.
"I didn't need to promise anything to CES to get that endorsement. I have a long history of supporting renters," Heilman said, explaining CES has endorsed him in every election since 1984. "I found that comment objectionable simply because it was not true and it's offensive that one of my colleagues would say that."
D'Amico responded that the fact Heilman co-sponsored the item giving CES money shortly after its endorsement of him for re-election on Nov. 3 could lead some people to see a connection. The other sponsor of the item was Mayor Lindsey Horvath.
"If we put a policy in place that removes this kind of thing, then nobody will ever ask again about a Council member's endorsement and its relationship to funding their organization with city dollars," said D'Amico. "The point is not to make you [Heilman] bad. The point is to extract this from our conversation for good."
Heilman replied, "The point is that you made an accusation and that accusation is untrue and that's why I felt the need to respond to it."
Mayor Lindsey Horvath then cut off the exchange before it could go any further.
Funding and Endorsements
On Sept. 21, CES head Larry Gross announced his group was backing incumbent Heilman and challenger John Erickson for the two Council seats up for election in November.
On Sept. 30, the city released the agenda for its Oct. 5 Council meeting which included the item to give $60,000 to CES "to perform proactive outreach to help tenants know their rights and to provide one-on-one advice and assistance during the COVID-19 emergency and in the recovery period." Horvath initiated the item, while Heilman co-sponsored it. The grant is a significant amount for CES, whose 2018 federal tax return shows it had revenue of only $207,921.
The Oct. 5 Council meeting was cancelled abruptly when technical issues made it impossible for the city to broadcast the teleconference meeting. As a result, the CES item was delayed until the Oct. 19 meeting.
In the meantime, D'Amico and Councilmember Lauren Meister were disturbed by the CES item and its seeming relation to the Heilman endorsement. D'Amico described his reaction upon seeing it as, "Now we know how much an endorsement from CES costs. It costs $60,000 . . . I was shocked. I threw up in my mouth. It made me so sick to my stomach that we had done that."
In response, D'Amico and Meister wrote an item banning groups that endorse candidates from receiving city funds or using city facilities for a period of time following that endorsement. D'Amico suggested this funding "pause," as he phrased it, should be nine months, after which the nonprofit can again receive city money for providing contracted services.
D'Amico explained that the proposal was to protect both the city and the Council members. Meister added that she wrote the item to avoid the "appearance of impropriety."
Further complicating matters was the fact that by the Oct. 19 Council meeting, Heilman withdrew his sponsorship of the CES item.
"In terms of why I took my name off the item, Lindsey [Horvath] asked me to support it at one point, but then there were concerns raised that somehow I was doing this as a payback for CES for endorsing me and I thought I don't want give that kind of appearance or create an issue for people," Heilman explained.
D'Amico responded that Heilman's explanation proved his point about why such a law was needed. Heilman disagreed.
During the public comment period, five of the six speakers who called in were opposed to the item, suggesting the language as written was too broad, or the ban would jeopardize their ongoing relationship with the city. Those speakers were associated with organizations such as the Stonewall Democratic Club and the Hollywood chapter of the National Organization for Women. Hollywood NOW, where challenger John Erickson until recently served as president, has endorsed Heilman and Erickson and Noemi Torres in the upcoming election. Erickson is close to Heilman, who appointed him to the city's Planning Commission. Stonewall Democrats has endorsed only Erickson.
One speaker who was opposed to the item was Genevieve Morrill, CEO of the West Hollywood Chamber of Commerce, whose PAC this year endorsed Duran, Heilman, and challenger Larry Block for election to the City Council. Morrill argued that the PAC was completely separate from the Chamber. That is technically true, however the PAC bears the Chamber's name and is included on its website, which says "WEHO PAC amplifies the voice of the Business Community by helping to elect candidates who share the Chamber's views on important policies directly affecting our businesses."
The PAC's board is composed of Chamber of Commerce members and is chaired by Ted Green, a Chamber member who is a professional lobbyist representing developers seeking the city's support for their projects. In some years the Chamber PAC raises money to support campaigns for the candidates it supports, while the city provides money to the Chamber with grants for services that already are supplied by City Hall staff.
Larry Block, a candidate for City Council in November, called in to support the measure, saying, "keep city funding clean and transparent." Sepi Shyne, another candidate, emailed a message saying she supported the measure. Other than Block, Shyne, Duran and Heilman, none of the other candidates in the Council election weighed in on the issue.
D'Amico responded to objections from callers that the measure would hurt their ability to stage events using city resources by saying that none of the nonprofits were obligated to endorse candidates.
Types of Nonprofits
Councilmember John Duran favored the ban, but suggested they separate the nonprofits in terms of how they are organized under federal tax exemption law – 501(c)(3), 501(c)(4), 501(c)(6) and PACs (political action committees).
Duran explained the 501(c)(3)s are already forbidden from endorsing candidates/lobbying of any type, so it would be fine to contract with them for services or allow them to use city facilities. Meanwhile 501(c)(4)s are the lobbying arm of nonprofits, while 501(c)(6)s are allowed to lobby as are PACs, so contracting with them or allowing use of city facilities should not be permitted.
"By pursuing a policy in this area, we actually do a public benefit by making these organizations go through the hard work of dividing up their work and the scope of their work into the proper legal categories, whether they be a c3, a c4, a c6 or a political action committee," said Duran.
Duran suggested anything connected to campaigns and electioneering should not be allowed in any city-owned facility, while educational program and forums should be allowed. He also noted that if the city, whose voters overwhelmingly are registered as Democrats, allowed organizations such as Stonewall Democrats to use city facilities for free, it also would have to allow Republican organizations to do that.
Meister and D'Amico agreed with Duran's logic and the item passed on 3-2 vote. City staff will draft a formal policy for the Council to vote on at a future meeting.
Horvath and Heilman voted against it. Horvath said she believed in transparency, but feared unintended consequences might arise if the language is too broad. Heilman said the item seemed like "election season silliness," and described it as a "an item in search of a problem."
Funding CES for Legal Services
On the matter of funding CES for providing legal advice, Duran suggested that would be a duplication of services for which the city already contracts. The city has enlisted the National Council of Jewish Women (NCJW) and the Alliance for Housing to administer the rental assistance funds the city provides for residents unable to pay their rent due to the coronavirus shutdown. Also, the city has hired the legal aid nonprofit Bet Tzedek to provide free representation to tenants facing eviction once the eviction moratorium ends. None of those organizations have endorsed candidates in the upcoming election.
D'Amico asked that the city reach out to the groups Duran mentioned and find out about their needs for assisting WeHo residents and potentially increase their funding. He also said he would like to see City Hall staff prepare an explanation of what services CES would provide if given a grant in a way that would allow the city to assess what it accomplished. That item then passed on a unanimous vote.
While CES is viewed as instrumental in helping with the cityhood movement in 1984, it has been largely absent from city politics in recent years. Meister pointed out CES did not take a position on the city's proposed apartment smoking ban earlier this year (which did not pass) or the seismic retrofit policy enacted last year.
CES has not received any city funds for many years, although the city does provide free space in the Plummer Park Community Center for the CES to hold its twice weekly renters' rights consultations. Those consultations are currently being held on Zoom due to pandemic social distancing requirements.
CORRECTION: An earlier version of this story failed to mention that Sepi Shyne, a candidate in the Nov. 3 City Council election, emailed a comment in advance of Monday's meeting to state her support for the measure brought forward by Council members D'Amico and Meister to curb city funding and support for non-profit organizations that endorsed candidates in the local election. The city staff failed to put Shyne's comment on the agenda until the next day. The story has been updated to include Shyne's comment.