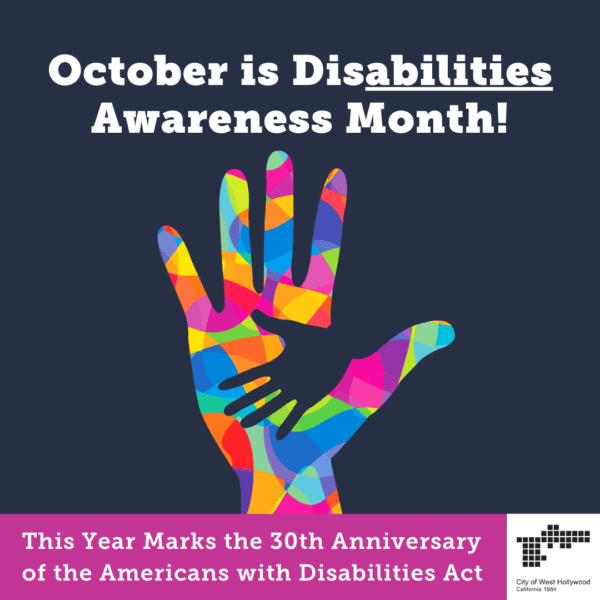 The City of West Hollywood and its Disabilities Advisory Board are hosting two events – the Disability Service Awards and a free outdoor flu vaccination event – to recognize Disabilities Awareness Month, which takes place in October each year. This year marks the 30th anniversary of the Americans with Disabilities Act (ADA). The ADA is landmark civil rights legislation that works to increase access and opportunity for people with disabilities across society, including in the workplace.
This year, the Disability Service Awards will honor essential workers who support people with disabilities during the coronavirus (COVID-19) pandemic. Essential workers are those who conduct a range of operations and services that are typically essential to continue critical infrastructure operations.
The essential workforce includes but is not limited to workers in  healthcare and public health, critical retail, transportation, childcare, critical trades, and nonprofits and social service organizations.
On Oct. 28 at 6 p.m. the city will virtually host its 22nd annual Disability Service Awards. This year's honorees are:
Cedars-Sinai Medical Center Respiratory Therapy Department;
Kaiser Permanente Pulmonary Clinic;
Nicklaus Fox, D.V.M., Fox Companion Care, and   
Project Angel Food.
The awards ceremony will be broadcast live on the on the city's WeHoTV channels, streams, and using the WeHoTV website link: www.weho.org/wehotv. Television broadcasts are available within the City of West Hollywood's boundaries on Spectrum Cable Channel 10.In addition,programming may be viewed using streaming platforms by searching "WeHoTV" within the search functions of AppleTV, Amazon FireTV, AndroidTV, and Roku services. It will also be available live and for replay at the City's WeHoTV YouTube channel.
On Oct. 29  from 9 a.m. to noon the city will host an outdoor flu vaccination clinic at the Plummer Park Community Center, located at 7377 Santa Monica Blvd. This free flu vaccination clinic for adults is provided by Cedars-Sinai Community Health Improvement in partnership with the City of West Hollywood. Getting an annual flu shot is one of the most effective ways to protect oneself and the community against the flu.
Nurses from Cedars-Sinai will conduct screenings and temperature checks before participants are allowed to receive a vaccination. City staff and Cedars-Sinai nurses will ensure social (physical) distancing protocols are followed. Nurses will have full personal protective equipment and require participants to wear a face covering. Face coverings will be offered to those who do not have them. Participants are asked to stay home if experiencing signs of illness or not feeling well. For more information or for questions or concerns about the flu vaccination clinic, please call Cedars-Sinai at (310) 423-9596
The city's Disabilities Advisory Board was created in 1995 and is comprised of nine members. The Disabilities Advisory Board addresses issues affecting people with disabilities, including ADA compliance, transportation, housing, access to city government and services for people with disabilities, and makes recommendations to the City Council relative to the adoption of programs, policies, or ordinances of benefit to the constituency.