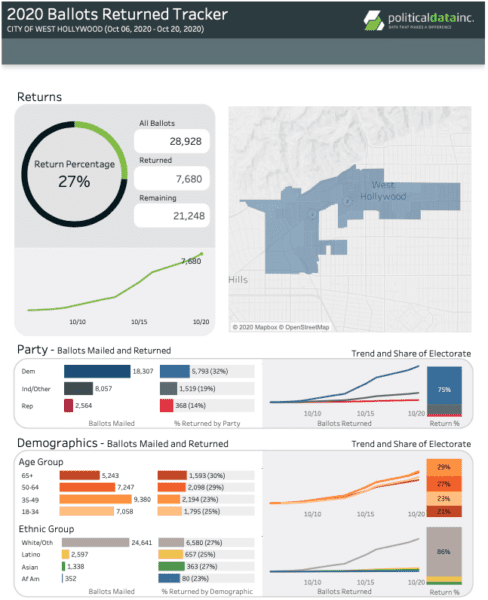 As of Oct. 20, almost one third of all West Hollywood voters registered as Democrats had cast their ballots in the Nov. 3 election. Fourteen percent of Republicans had voted, and 19% of those who registered as Independents or members of other parties had voted.
There are 18,307 registered Democrats in West Hollywood, 2,564 registered Republicans, and 8,057 people registered as Independents or members of other parties.
Overall, the ballots of 27% of registered voters have been received by the L.A. County Clerk / Registrar-Recorder's Office. according to data compiled by Political Data Inc. That is 7,680 of the 28,928 people who have registered to vote.
The deadline for registering to vote expired yesterday (Oct. 19). The election is now two weeks away.
The city moved its municipal election date to the date set for national, state, and countywide elections to comply with California Senate Bill 415, which took effect in January 2018. That law required cities with a voter turnout that was 25% less than the average turnout in the four previous statewide elections to move their municipal election to a general election date.
Cities were allowed to hold an upcoming municipal election on its previously scheduled date so long as they planned to consolidate a future election with a statewide election not later than the Nov. 8, 2022, statewide general election. That explains why West Hollywood was able to hold its last election on March 5, 2019.
The percentage of registered voters who participate in the Nov. 3 election is predicted to be high across the country. That is because of the controversy over President Donald Trump. And in California, voting is easier in the upcoming election because the state has mailed ballots to all registered voters.