As many as 70 men and women participated in a march tonight organized by the Log Cabin Republicans, a group of gay Republicans, to proclaim their support for Donald Trump. The Log Cabin group billed the march as "Gays and Housewives Take Over WeHo."
They rallied outside the Pacific Design Center on San Vicente Boulevard around 9:30 p. m. and at 10 p.m. began their march north to Santa Monica Boulevard, chanting "gays for Trump." Unlike those who have participated in other recent protests against police violence, few of the Trump supporters tonight were wearing face coverings, although that is required by law in West Hollywood. They also walked along Santa Monica Boulevard, attracting some angry shouts from people dining al fresco outside Fiesta Cantina, and also walked down Robertson Boulevard past the Abbey.
The rally of Trump supporters was one of a rare few that have taken place in West Hollywood, a city where only 8% of registered voters are Republicans. The city is known for its official opposition to Trump, with City Council members John Duran and John D'Amico in 2018 having given the key to the city to Stormy Daniels, the porn performer whose allegations of an affair with Trump sparked a controversy. Mayor Lindsey Horvath once declared that Trump is not welcome in West Hollywood, and the City Council asked that the Trump star be removed from the walk of fame on Hollywood Boulevard.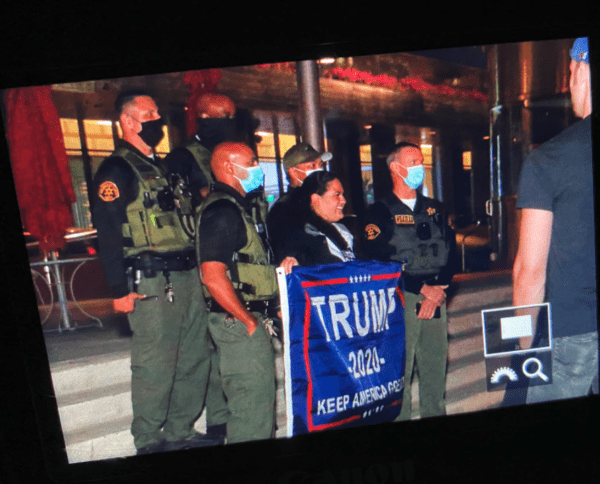 While tonight's event was peaceful, there was negative reaction on social media to a photo of Sheriff's deputies posing with one of the "Make America Great Again" protestors holding a Trump sign. The photo taken by photo journalist Chelsea Lauren was posted on social media and already has drawn criticism.
"This is just bad publicity. This will give ammunition to the 'Defund the Police' movement," one person posted on a Twitter account that shared the photo. "They will use this image to demonstrate that local law enforcement isn't apolitical but rather partisan and political. This is awful." Another person said "this does not make me feel safe in #weho."
Bystanders also noted that Sheriff's deputies weren't wearing riot gear during this protest as they had at recent Black Lives Matter protests.
The intersection of San Vicente and Santa Monica boulevards has been the scene of a number of demonstrations this year, including a march of tens of thousands of people protesting police violence against Black people, which culminated at that spot.