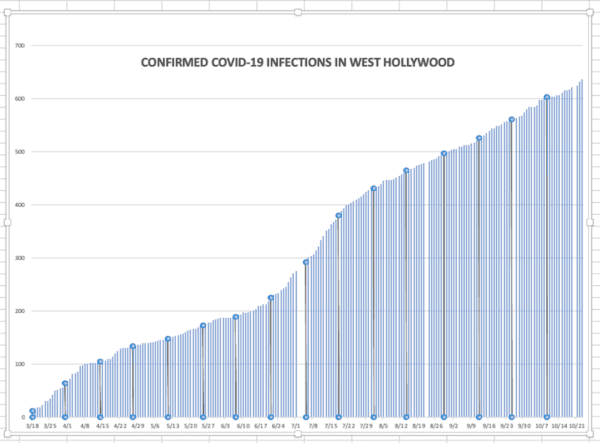 The Los Angeles County Department of Public Health has confirmed 17 new deaths and 2,173 new cases of COVID-19. Today's number of new cases include an estimated 1,200 backlog cases due to technical issues with data reporting systems this week. The Health Department may receive additional backlog test results over the coming days.
To date, the Health Department has identified 298,937 positive cases of COVID-19 across all areas of L.A. County, and a total of 6,989 deaths. Testing results are available for more than 3,000,000 individuals with 9% of all people testing positive.
There are 770 people with COVID-19 currently hospitalized and 29% of these people are in the ICU.
The Health Department surveys skilled nursing facilities in the county for compliance with mandated COVID-19 testing and reporting of COVID-19 cases and outbreaks. All 340 skilled nursing facilities in the county conduct weekly testing of residents and staff. For the week of Oct. 10, more than 44,500 COVID-19 tests were completed among staff and residents. That week, a total of 172 people with COVID-19 were reported among staff and residents; 84 new cases among residents and 88 new cases among staff. Of the 340 facilities, 236 facilities reported no positive cases. All skilled nursing facilities reported having adequate staffing and 97% percent reported having adequate protective equipment.
"As we reopen more sectors and increase the number of high-needs students permitted for in-person learning, we all must be deliberate with the implementation of infection control and distancing protocols that prevent COVID-19 transmission," said Health Department Director Barbara Ferrer. "As we move closer to the tragic milestone of 7,000 deaths in L.A. County and are seeing an increase in cases, please remember the choices we each make every day have a significant impact on whether we slow the spread of the virus. The virus doesn't take a break for parties or celebrations. The best way to honor our sports teams and each other is to always wear a face covering, keep our distance from those not in our household, avoid crowds, and only gather with two other households when outside."
Of the 17 new deaths reported today, six people were over the age of 80 years old, five were between the ages of 65 and 79, five people were between the ages of 50 and 64, and one person was between the ages of 30 and 49 years old. Fourteen of those who died had underlying health conditions.
Ninety-three percent of the people who have died from COVID-19 had underlying health conditions.
Four new infections were reported among West Hollywood residents, bringing the total to date to 636. The number of people in West Hollywood who have died of COVID-19 related illnesses is still listed as five.
In Beverly Hills, the number of confirmed infections has increased by two to 750. The number of COVID-19 related deaths in Beverly Hills to date 12. The number of COVID-19 infections confirmed among Culver City residents has increased by five to a total of 423 so far. The number of deaths to date is 28. The number of infections in Hollywood has increased by nine to 1,371. The number of deaths to date remains at 15. The Melrose neighborhood's number of infections has increased by eight to 2,116. The number of COVID-19 related deaths remains at 75.
Public Health has a dedicated call line for confirmed cases of COVID-19. If you are positive for COVID-19 and have not yet connected with a public health specialist or need more information on services, call toll-free at 1 (833) 540-0473. Residents who do not have COVID-19 can continue to call 211 for resources or more information.
One way the virus can be transmitted is through a cough, a sneeze or even through air that comes from the mouth when someone talks. For that reason, residents must wear face coverings when out in public and can be cited for not doing so. The citations come with a $250 fine and a $50 administrative fee.
West Hollywood residents with questions about the COVID-19 pandemic or who are looking for resources to deal with it can find answers on the City of West Hollywood'swebsite. Here is a list of links to sections about particular subjects and issues: