This week We Know Weho begins with a celebration of West Hollywood Eat + Drink Week. The event includes an impressive list of local restaurants that are offering specials, including a rooftop patio dining experience at the secretly exclusive Petit Ermitage.  If you are a BBQ fan, you will want to take notes on the review from We Know Weho on Bludso's and the variety of savory proteins available for take-out, delivery or curbside pickup.
Tracy is elated to share the opening of famed chef Enrique Olvera's restaurant, Damian, in the Arts District downtown. Olvera brings his cooking talents from Pujol in Mexico City, which has been featured on Netflix Chef's Table series.  Menu items she can recommend from her culinary excursions to his two NYC restaurants include the guacamole, ceviche and the hibiscus meringue. 
This week's guest feature is the one and only Larry Block from Block Party WeHo, who is also on the ballot as a candidate for the upcoming West Hollywood City Council election. Larry is a 35-year West Hollywood resident who has owned a few shops in West Hollywood since 1985 after his move west from New York.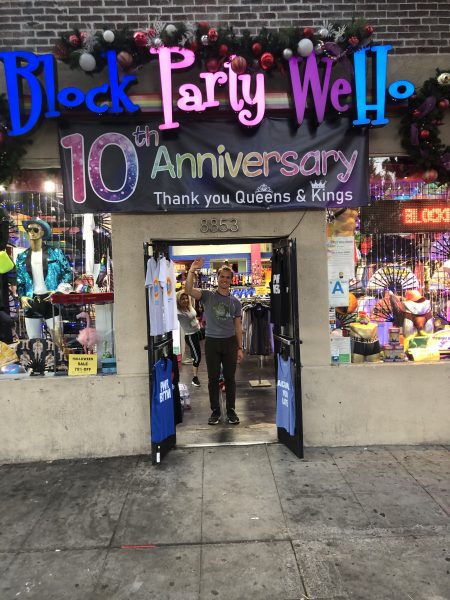 Larry has been a longtime city advocate and has served as the chairman of the Public Facilities Commission from 2019-2020 and the chairman of the Disability Advisory Board from 2013-2014. He has been active in local city issues including founding the term limit initiative and CrossSafeWeho, which led to the crosswalk updates. It was his idea to create the West Hollywood Green City Awards, and he founded the Disability Health Fair that brings free flu shots to residents each year.
When COVID hit, Larry used his sourcing talents to acquire hard-to-find masks and led the masks for residents program. The Block Party, his "mini gay department store", is celebrating its 11 year anniversary on Oct. 24 and was the winner of the 2019 Creative City Best WeHo Attraction Award bestowed by the Chamber of Commerce.
Be sure to check out the list of upcoming movies at the Andaz Drive-In for Halloween, and the huge pink spider dangling from the room of Pretty Little Things on Melrose Avenue is worth a walk or drive-by for your West Hollywood Halloween plans.