EDITOR'S NOTE: The following is an op-ed written by a candidate in the Nov. 3 election for one of two seats on the West Hollywood City Council. WEHOville has invited each of the nine candidates to submit up to two op-eds to explain to West Hollywood residents his or her stand on local issues .
This election is about the FUTURE of our great city not the past. It is time for new voices at the table that are progressive and expand representation. We need new leaders who will prioritize our residents. That means creating opportunities for people to live and work in our city with better wages, providing critical resources to our small business owners who are struggling to keep their doors open and to our renters to help keep them housed while expanding outreach and mental health services to help get our unhoused neighbors into the housing and care they need.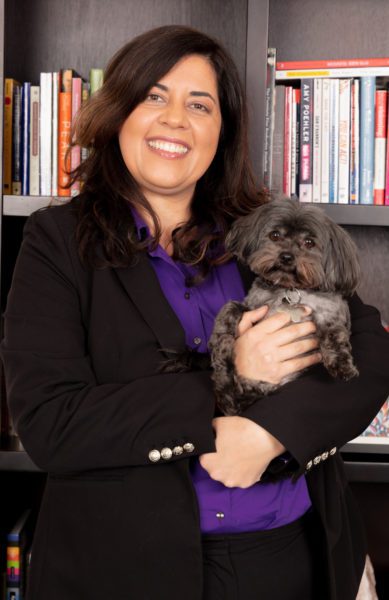 I will bring a fresh and independent perspective to City Hall but I also want to introduce a new approach to make City Hall more responsive and inclusive. As an immigrant, a small business owner, an attorney and a woman, I will bring a different set of life experiences that will hopefully broaden the horizons of the City Council.
Being elected to City Council is an honor and a responsibility and it should be treated as such. It is a commitment to serve the people, not a bully pulpit for self-promotion. I understand that the most important aspect of leadership is the ability to listen. We are a representative democracy, and in order to properly function, elected officials need to listen to those who elected them. I want to see the city reform its public processes so that residents are actually empowered and included in the city's decision-making process in a meaningful and respective manner. Unfortunately, this is not how City Hall has functioned, which has caused divisions and divisiveness within our small town.
While I believe West Hollywood needs new development, we need to ensure that such development is responsible and provides meaningful jobs and opportunities as well as fits within our urban environment.  For too long there has been a cozy relationship between the City Council members and developers.  The result is that tens of thousands of dollars are being funneled directly into campaigns from developers and their families to re-elect the incumbents.  These contributions legally skirt campaign contributions limitations and ultimately undermine our local democracy. 
I want to make sure decisions are made in the light of day. We have seen how "development agreements" negotiated with developers, behind closed doors, and without public input have undermined our General Plan and have resulted in developers getting millions of dollars in unwarranted development rights. Recently, we witnessed how City Hall was duped and the Council outwitted by the development agreement with AKA West Hollywood, which resulted in the loss of much-needed housing and costing the city hundreds of thousands of dollars in legal fees. Headlines like that put into question our supposedly "experienced" Council members.
Unfortunately, when your Council members have such cozy relationships with developers they lose sight of what is best for the city.
I will fight to protect those long-term tenants who are subjected to unrelenting harassment from unscrupulous landlords. We need to provide better legal protections for tenants and a stronger tenant harassment ordinance. We also need to re-prioritize our budget to provide additional funds to assist tenants impacted by COVID-19 and enhance our social services.
I want to review our law enforcement budget and ensure we are getting value for our tax dollars. I want to expand our Ambassador program to enhance neighborhood protection. West Hollywood has one of the Sheriff's Departments most lucrative contracts, and I want to use that leverage to work with other contract cities to bring meaningful reforms. Unlike the incumbents, I have not sought the endorsement of ALADS, the deputies union, because I believe during these historic times, City Council members need to be independent in order to find transformative solutions to law enforcement.
I have for decades advocated for the rights of people whether it is for LGBTQ rights, worker's rights, renter's rights, women's rights, immigrant's rights, and social justice for Black, Indigenous and people of color because I have lived and experienced as a member of these communities. That is why I am running a people-powered campaign without taking a single penny from developers. And once elected, I will serve with compassion and accessibility. Together, we can make West Hollywood SHYNE! I look forward to earning your vote!