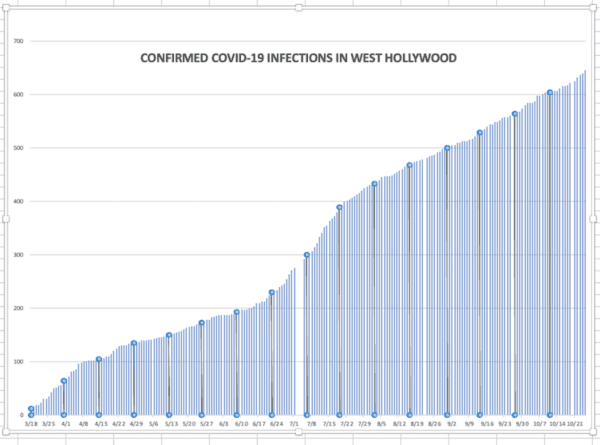 The Los Angeles County Health Department today has confirmed 29 new deaths and 1,586 new cases of COVID-19 infection.. "COVID-19 spread has increased in L.A. County, and this is a cause for concern," the Health Department said in an announcement of the data. "At the beginning of October, the average reported cases was 940 per day."
To date, Public Health identified 302,077 positive cases of COVID-19 across all areas of L.A. County and a total of 7,027 deaths.
The Health Department said that its staff has observed many instances of customers at restaurants not following the required infection control protocols while watching sporting events such as the World Series on television.
Public health protocols and directives to prevent increases of COVID-19 include not allowing customers to congregate in any areas or around televisions, ensuring guests are seated at a table, and keeping at least six feet of physical distance between tables. Employees should always be wearing appropriate face coverings, and customers should use a face covering when they are not eating or drinking. At many outdoor dining areas in West Hollywood tables are not six feet apart and customers are not wearing face coverings as they wait for meals.
The Health Department said that its compliance teams visit businesses across the county every day From Oct. 12 through 18, a total of 48 citations were issued to businesses including restaurants, hotels, gyms, and places of worship for noncompliance with health officer orders. Since the end of August, a total of 194 citations have been issued.
"We continue to warn about the dangers of gatherings and public celebrations because these events create many opportunities for COVID-19 transmission," said Barbara Ferrer, director of public health. "We encourage all fans to watch and celebrate the World Series safely at home with members of your household and not in gatherings of any size, especially where people are cheering, yelling, and congregating in close distance without face coverings. Those situations increase the possibility for the virus to spread, putting you and your loved ones at risk. Please take the necessary steps to protect each other and keep our county from stalling in our recovery."
Of the 29 new deaths reported today, 14 people were over the age of 80, eight people who died were between the ages of 65 and 79, four people who died were between the ages of 50 and 64, two people who died were between the ages of 30 and 49, and one person who died was between the ages of 18 and 29. Twenty-two people who died had underlying health conditions including 12 people over the age of 80, five people between the ages of 65 and 79, three people between the ages of 50 and 64, one person between the ages of 30 and 49, and one person between the age of 18 and 29.
Ninety-three percent of the people who died from COVID-19 had underlying health conditions.
Testing results are available for more than 3,046,000 individuals with 9% of all people testing positive. There are 747 people with COVID-19 currently hospitalized and 27% of these people are in the ICU.
The number of infections among West Hollywood residents as of today has increased by six to 645. The number of people in West Hollywood who have died of COVID-19 related illnesses is still listed as five.
In Beverly Hills, the number of confirmed infections has increased by one to 752. The number of COVID-19 related deaths in Beverly Hills to date 12. The number of COVID-19 infections confirmed among Culver City residents has increased by one to a total of 425. The number of deaths to date is 28. The number of infections in Hollywood has increased by seven to 1,387. The number of deaths to date remains at 15. The Melrose neighborhood's number of infections has increased by 11 to 2,137. The number of COVID-19 related deaths remains at 75.
Public Health has a dedicated call line for confirmed cases of COVID-19. If you are positive for COVID-19 and have not yet connected with a public health specialist or need more information on services, call toll-free at 1 (833) 540-0473. Residents who do not have COVID-19 can continue to call 211 for resources or more information.
One way the virus can be transmitted is through a cough, a sneeze or even through air that comes from the mouth when someone talks. For that reason, residents must wear face coverings when out in public and can be cited for not doing so. The citations come with a $250 fine and a $50 administrative fee.
West Hollywood residents with questions about the COVID-19 pandemic or who are looking for resources to deal with it can find answers on the City of West Hollywood's website. Here is a list of links to sections about particular subjects and issues: