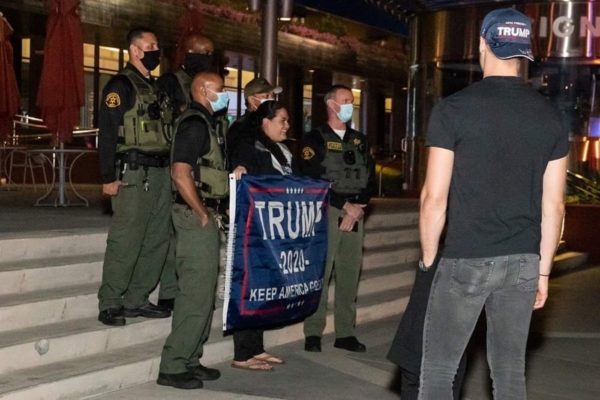 The West Hollywood Sheriff's Station has responded to complaints about photos of deputies posing with a demonstrator holding a sign promoting Donald Trump and of deputies standing beside demonstrators not wearing legally mandated face coverings during a Sept. 23 demonstration by the Log Cabin Republicans.
Lt. William Moulder, responding to questions to him and Capt. Edward Ramirez from WEHOville, said deputies were unaware that the person who asked them to participate in the photo was carrying a political banner. "As Sheriff's personnel lined up and faced the camera, unbeknownst to them, and without their consent, the person unfurled a political banner for the photograph," he said.
"If Sheriff's personnel had known the person intended to use a political banner for the photography, Sheriff's personnel would have NEVER agreed to participate in the photograph."
He also noted that deputies have a tradition of posing in photos with residents while remaining politically neutral. "It is against Department policy to engage in political activity whilst on duty, including national and local campaigns … West Hollywood Sheriff's personnel are always proud to serve as ambassadors for this wonderful city, and we humbly apologize for any concern this has caused."
Moulder also addressed complaints that deputies hadn't cited the Republican demonstrators for not wearing face masks, which few of them had.
"With large numbers of people marching in the street or congregating at intersections, it creates a huge safety issue for those people," Moulder said.  "We take very seriously the responsibility for their protection and safety.  We do not focus on violations such as impeding traffic or face cover/masks.  Also, if we began citing marchers, protesters, or demonstrators, for these types of violations, that could be construed as an interference with their First Amendment right to march, protest, or demonstrate.  We had not issued any face cover/mask administrative citations to any of the protesters over the last several months."
Moulder also explained why deputies weren't wearing helmets and other protective gear as they had in the various Black Lives Matter-related demonstrations in West Hollywood.  He noted that the organizers of the Sept. 23 demonstration had reached out in advance to the Sheriff's Station in an effort to coordinate with them.  He also said there was no evidence of possible violent behavior, noting that in promotions of other demonstrations "depicted burning buildings and have encouraged attacks on law enforcement.
"We take these threats very seriously.  We have all seen different events around the country where buildings, including law enforcement stations, were ransacked and burned and law enforcement officers and members of the public were attacked."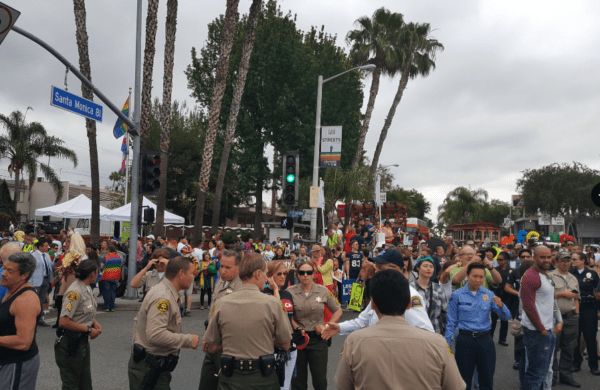 Complaints about the deputies appearing in photos from the Sept. 23 demonstration were posted on social media and emailed to City Manager Paul Arevalo and members of the City Council.
In his email to city officials and Council members, Ty Geltmaker asked that the city investigate the matter and fire the deputies in the photograph.  "We would have the same demand if such had happened with law enforcement personnel posting with a Biden contingent," he wrote. "It is not the purpose or role of uniformed or undercover cops to participate in political demonstrations of whatever kind. They are there to ensure public safety, duly badged."
Lynn Hoopingarner, a resident who serves on the city's Planning Commission, also questioned the behavior of the deputies in an email to the City Manager and Council members. Hoopingarner said that what the deputies in the photograph were doing constituted "prohibited political activities" under Sheriff's Department regulations.
"This behavior is categorically prohibited.  I am all for free speech.  I am furious that these Deputies are using our tax dollars to pay for their 'speech'," Hoopingarner wrote.  She also called out the deputies for what they were wearing.
"Why are these deputies not in full riot gear with plexiglass sheilds as they have been for other protests in our fair City, or more importantly why WERE they in riot gear for the other protests?"
"Once again, Sheriff's Department has given our City a black eye.  Instead of 'Protect and Serve', they are disregarding our laws and disrespecting our citizens."
WEHOville also reached out to City Manager Arevalo and members of the City Council for their response to the complaints.  Arevalo has not responded, nor has Councilmember John Heilman.  "I will wait to get a report back from the City Manager on all this before reaching any conclusions or comment," said City Councilmember John Duran.
Councilmember Lauren Meister did respond. "After I saw the WEHOville article, I contacted the City Manager," she said in an email.  "My understanding is 1) it is not proper for Sheriff's personnel to be posing for photos for any political campaign – Trump or otherwise.  2) Wearing a facial covering outside in West Hollywood is required.  Anyone who does not wear a mask or facial covering should be cited. That includes protestors."
Councilmember John D'Amico also responded.
"The city manager has received requests from several of us to explain what exactly happened and why? " he said. "I understand the disappointment many have expressed that our local sheriffs would take pictures with the MAGA protestors, but we all know that has happened at protests throughout the years; at Pride and most recently this summer at the All Black Lives Matter. 
"I'm more concerned about the seemingly differing approaches to public safety and protest management. I would like to be sure that those enforcement differences are based not on biases or prejudice but on facts related to the protest. In addition, I am concerned about the lack of enforcement around social distancing and mask wearing. I think our sheriffs could up their enforcement generally, and have long held and expressed that opinion."
Mayor Lindsey Horvath also responded.  In an email to WEHOville she said:
"I have received several complaints by email and social media about perceptions of LASD's involvement with a recent political action organized by the Log Cabin Republicans in West Hollywood. I have directed the City Manager to look into these claims to ensure that policies governing actions of law enforcement during 1st Amendment gatherings – especially while on duty and in uniform – are enforced, regardless of the political positions of demonstrators. I have requested that he provide an update at our next Council meeting, as well.
"Over the years, West Hollywood has served as a home for peaceful 1st Amendment demonstrations, and it is my hope that we can continue to do so. We have tried to cultivate a culture that is supportive of people's rights to safely express themselves through free speech – regardless of how strongly we might individually disagree with their expressed viewpoints – as these are among our most sacred Constitutional protections. We must also hold ourselves accountable to our city's core values as well as our long-standing commitment to human rights and social justice. 
"Further, during a global health pandemic, we must make sure we are doing all we can to take seriously the LA County Public Health orders, as well as those of the State of California and the CDC, to keep people safe. Our public safety officials have an important role to play in that effort, and I expect everyone to take that responsibility seriously."