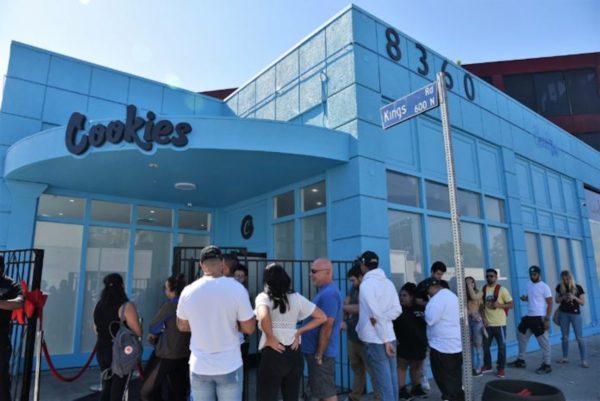 The City of West Hollywood is officially requesting that the City of Los Angeles revoke the temporary operating license it has granted to the Cookies Cannabis Dispensary on Melrose Avenue and deny Cookies a permanent license.
It a letter to LA Deputy City Attorney Taylor Wagniere, West Hollywood City Manager Paul Arevalo cites complaints from West Hollywood residents who live near the store, which is located outside the City of West Hollywood. The store is within the L.A. City Council's 5th District, which is represented by Paul Koretz, who also has expressed concerns about Cookies.
Noting that West Hollywood is devoting significant resources to the COVID-19 pandemic, Arevalo wrote "In a time of a global health pandemic where city resources are strained and residents are urged to stay home to prevent the spread of COVID-19, it is unacceptable that one business should be permitted to cause such disruptions and havoc to the city and its residents at home on a near daily basis."
Arevalo said that customers of Cookies have ignored parking regulations in adjacent residential areas within West Hollywood, have been seen jaywalking into traffic and speeding down residential streets. He also noted that residents have complained of public consumption of alcohol and cannabis and urinating in public and have said some Cookies' customers have threatened residents if they report those violations.
"The armed (but lax) business security create more fear in the residents than a sense of protection, and the security has been seen engaging in questionable and disruptive behavior with the customers," Arevalo says in his letter. "Additionally, residents frequently report that customers and employees of the business do not wear masks or engage in social distancing, despite the ongoing health orders resulting from the COVID-19 pandemic."
Arevalo said the city has increased deputy patrols in the area and cited an incident on Sept. 11 where Sheriff's deputies responded to gun shots in front of the RtA Melrose clothing store at 8600 Melrose Ave. and found a Cookies shopping bag in the car of one of those arrested in the shooting incident. Three Black men were arrested in that incident.
"There is a direct correlation to the business in that these impacts did not exist before the business opened and have continued uninterrupted since the business has been in operation," Arevalo said. "We have been good neighbors and partners on many issues, and our city council and residents expect the same respect for our local residents in return."
Cookies was founded in 2012 by hip hop artist Berner (aka Gilbert Milam Jr.) and his partner Jai "Jigga" Chang, a Bay Area cannabis cultivator and breeder. The two cultivated and marketed new brands of cannabis and also created a streetwear company under the Cookies brand. It sells apparel and accessories products for both men and women as well smoking supplies. The Melrose store and one on Maywood in Los Angeles are the brand's flagship stores. There are many more across the United States.
Cookies has attracted a lot of Black customers who stand out in and near a city like West Hollywood, where only 4% of the population is Black. The controversy over Cookies has sparked another conversation about racism in West Hollywood. Several of those who commented on WEHOville's story about the incident in front of RtA, which included a photo of a Black man being arrested, made overtly racist statements.
"It is due to Cookies and all that trash that goes there," said one commenter. "Due to the BLM marches and local morons who walked with them. This has shown those people how nice our neighborhood is so now they want to hang out here. If this continues this place will end up like Compton." Compton is a working-class city south of downtown Los Angeles that is known for its large Black and Latin populations and a high rate of violent crime.