Congrats to the Dodgers for winning the World Series for the first time since 1988.  Did you catch the game at one of your favorite WeHo sports bars? This week, we head into Halloween and yes … we will sorely miss our Halloween Carnaval on Santa Monica Boulevard. However, show your pumpkin-carving skills with a visit to the Pumpkin Patch at Beverly Center.    
This week the girls welcome Chris Santos, founder of Dr. Refresh on Melrose Place. This wellness oasis has only been open 19 days, but make sure to have a listen to the podcast to learn about Chris and his business on the bleeding edge of fitness, wellness, anti-aging, and beauty. He has been dedicated to health and fitness all of his life as a triathlete, martial artist, and wellness / biohacking enthusiast.
The top three tips we took away from his recent success?
Find Your Pivot. Yes, we know that word has been used … a lot. But after 90 days in quarantine, Chris actively looked for his next pivot and found it.
Take the Meeting. When a client from his successful mobile IV business suggested he consider launching Dr. Refresh at Allbright Women's Club … he said "yes" to the meeting.
Gratitude. These days, it's sometimes hard to find the "thank you" amidst the stress, but in his case, these simple words have led to even more opportunities.
Chris' neighborhood faves?  Catch, Craig's, Kreation and Alfred.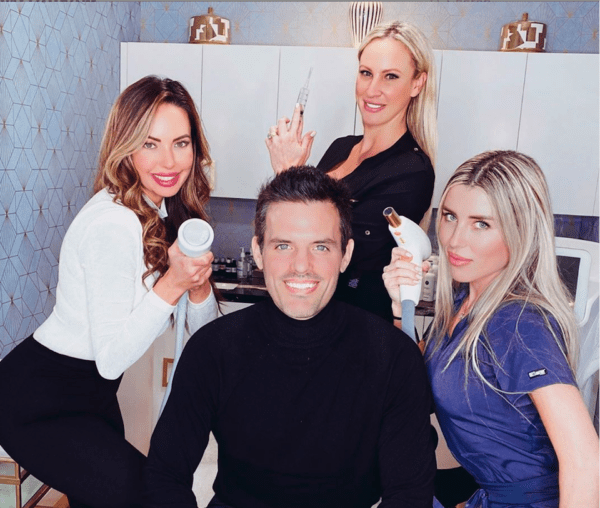 Eat & Drink Week: We head into the final days of Eat + Drink Week (Nov. 1) and Maxine's pick is Cavatina at the Sunset Marquis. You have to cross a bridge across a koi pond, and it feels like Hawaii.  It will be even more enchanting when the holiday lights make their appearance shortly.
Sweet Treats: Tracy scoured the neighborhood and her picks for some tasty treats are Cake Monkey, Pitchoun, Gelson's, and Conservatory (for the spooky drinks too!).  However, it is the macarons for Maxine as she waits for Bottega Louie to open its doors in early November. 
Lisa's Back: The block of Santa Monica Boulevard between Robertson and San Vicente appears to be alive again with Pump, Tom Tom and its expanded patio offering Vanderpump Rules realness to fans of all the shows. 
Time to Vote:  We don't think we need to remind you how important your voice is right now, and for a little extra incentive Uncle Paulie's Deli, Lauren's fave, will give you a "buy-one-get-one free" deal when you come in with an "I Voted" sticker. Uber is also offering some deal specials if you need a ride to the ballot box or polls.
Robertson House:  James Perse proves it is much more than high end t-shirts and sweats on Robertson next to the Ivy.  This fully immersive experience will showcase its furniture collection and accessories including sheets, towels, antiques, cashmere throws and more.
Before we go …
Visit @wehknowweho on IG for info on fun giveaways including Candle Delirium, Chamberlain West Hollywood Hotel, Real Food Daily and more. 
Remember to set your clocks as  we fall back this weekend.  Get ready for sunny mornings and early nightfalls.