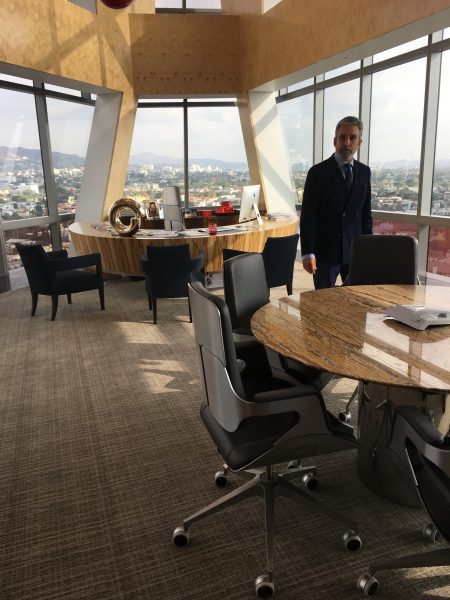 Cohen Brothers Realty, a company that owns the Pacific Design Center and is headed by one of West Hollywood's most prominent real estate tycoons, is being sued by three female employees who claim a "toxic work environment."
In the suit, first reported by The Real Deal, the New York City employees allege that Cohen has "a longstanding reputation for verbally abusing, screaming at, berating, belittling, and humiliating employees."
One employee claims Cohen would not let her leave her desk to go to the restroom without permission. Another, who served as Cohen's executive assistant, said that Cohen said "I'm going to kill you" when she did something that upset him, like ordering a hamburger with cheese.  Another plaintiff said that her supervisor, Stephen Fredericks, head of national leasing for Cohen Brothers, made inappropriate comments about her appearance, told stories about his alleged sexual encounters with her, and touched her in "inappropriate and unwelcome ways."
The employees claim that Cohen was dismissive of the risks of the COVID-19 pandemic and that other executives retaliated against employees who said they were worried about it, given that they were asked to work at the office rather than from home. On March 22, Gov. Andrew Cuomo issued an order saying that all non-essential workers had to stay home. However, on April 9 the State of New York said real estate services were deemed "essential" but should only be conducted at the office if "legally necessary."
One of the New York City employees tested positive for COVID-19, however the women who filed the suit said they were not informed of that by the company and learned of it only two weeks later when the infected employee sent a text message.
The women have been furloughed.  They are asking for compensation for unpaid overtime and damages of an amount to be determined by the court. Ivan Smith, an attorney representing Cohen Brothers, told The Real Deal that the women's claims were "totally baseless."
The Real Deal also notes that Cohen Brothers Realty is late on payments for half of its $1 billion in commercial mortgage-backed securities debt. 
Cohen Brothers Realty has 12 million square feet of property in New York, South Florida, and Southern California.  Charles  Cohen inherited the business from his father Sherman Cohen and uncles Mortimer and Edward Cohen.