The latest street demonstration in West Hollywood was short, small, and not very well organized.
Fewer than 100 people gathered in the intersection of Santa Monica and San Vicente boulevards tonight to protest police violence against Black people. The event got underway just before 7:30 p.m. when one of the organizers welcomed the crowd to what had been billed as a demonstration and dance party.
"Black joy is a form of protest," she said. "House music is the revolution."
The speaker, who didn't identify herself, spoke from a bullhorn behind a table set up for a DJ to play music. She said she had been arrested in the controversial Sept. 25 demonstration on Sunset Boulevard, which she said was a violation of her First Amendment right to protest. She led the crowd in a chant of "No Justice. No Peace."
While some demonstrators shuffled to music in the middle of the intersection, things got difficult when cars headed east and west on Santa Monica Boulevard and north and south on San Vicente Boulevard tried to maneuver their way through the intersection.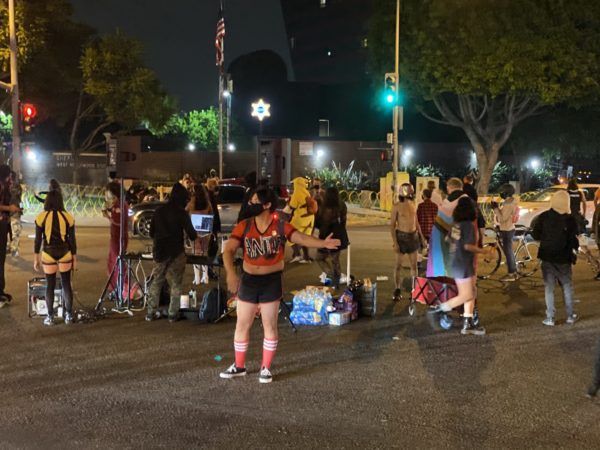 Some of the demonstrators, a few of them carrying traffic stop signs, tried to steer the drivers through the intersection and around the crowd gathered in the middle of it. But others blocked the vehicles and, in several instances, pounded them with their fists or skateboards or other objects.
The most contentious alteration happened with a driver heading east on Santa Monica Boulevard. His car entered the intersection and some demonstrators, tried to force him to turn north on San Vicente. Others tried to guide him through the intersection to head east on Santa Monica Boulevard. And some stopped in front of his car and blocked him from moving forward.
Some demonstrators began pounding on the man's car, which led him to eventually get out of it and engage in an angry shouting match with them, which can be seen in the video posted above. Eventually he stormed away, leaving his car blocking the intersection, and marched south on San Vicente Boulevard toward a group of Sheriff's deputies.
Minutes later, at 7:44 p.m., a Sheriff's deputy announced  that the event was an unlawful assembly and ordered the demonstrators to leave or risk arrest. A few minutes after that announcement, the demonstrators starting packing up the music equipment and tables.  While the deputy told them to move to the sidewalk, instead they marched east in the south lanes of Santa Monica Boulevard until they reached La Cienega Boulevard, at which point they turned south and marched out of West Hollywood.
Several participants said the event was organized by Black Lives Matter, which WEHOville hasn't been able to confirm. Another person who appeared to be active in getting the event going said there were several organizers, which he wouldn't name.
A better organized Black Lives Matter demonstration / dance party took place in the same intersection on Sept. 19. Sheriff's deputies then shut down traffic in all directions so there was no conflict between demonstrators and drivers.