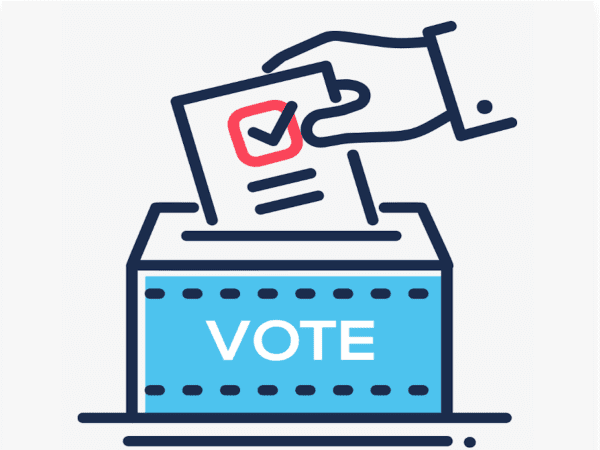 More West Hollywood residents than ever have already cast their ballots on this contentious election day, and the city is preparing for what could be a violent reaction to the final outcome on a federal level.
City Manager Paul Arevalo informed the West Hollywood City Council on Monday night that the Sheriff's department will be on full tactical alert tonight and possibly Wednesday, depending on when the presidential election results are clear. 
"The City of West Hollywood, like all cities on the Westside, we're going to be on full tactical alert. We're ready for anything and hoping nothing happens," Arevalo said. "We've been monitoring all of the intel and, so far, we're not seeing that any actives are going to occur in our city. But we will be prepared, we will have resources in the city available if needed to address those particular challenges."
The city placed large trash dumpsters near key intersections for Halloween, in case there were any crowds that showed despite the cancellation of the annual Carnaval celebration. Those dumpsters are still in place and can be moved into the street to prevent vehicles from getting though if needed on election night.
Meanwhile some businesses along Santa Monica Boulevard, Sunset Boulevard and Melrose Avenue have boarded up their doors and windows to avoid damage if violence does break out. Some businesses did this prior to Halloween, but even more have done it in the past two days.
Voting will continue until polls close at 8 p.m. in California. However, on the East Coast, polls will close at 7 or 8 p.m. (which is 4 or 5 p.m., Pacific time). That means some early results in the presidential election could be known soon afterward, before the West Coast voting locations close.
If early results indicate a strong lead for President Donald Trump, some Joe Biden supporters may take to the streets to protest. Meanwhile, some Trump supporters have indicated they will resort to violence if it is clear Biden has been elected.
West Hollywood is not alone in making such preparations. Cities across the nation are making plans to respond to possible violence related to the presidential vote results. In Beverly Hills, famed Rodeo Drive will be closed to both vehicles and pedestrians on Election Day and the next day, with businesses there also boarding up their store fronts. Similarly, many businesses have boarded their windows in Hollywood, Santa Monica, downtown Los Angeles and all across Los Angeles, especially in areas that saw violence and looting during some of the Black Lives Matter George Floyd protests in June.   
City Council Election Results
In addition to the presidential election, two seats on the West Hollywood City Council are up for election. However, the outcome of that election likely will not be known until about midnight at the earliest, probably much later.
This election already has already seen a record number of early voters nationwide. In some states, the number of early voters casting ballots in 2020 has already exceeded the total number of votes cast in the 2016 presidential election.
In California, approximately 12 million (55%) of the state's 22 million registered voters have already voted this year, according to Political Data Inc. In 2016, some 14.6 million people voted in California.
In West Hollywood, approximately 61% (17,985) of the city's 29,383 registered voters have already cast their votes, according to Political Data Inc. That's the highest total in the city's history, exceeding the turnout of 17,022 voters who cast ballots in a referendum on incorporating West Hollywood as its own city in 1984.
With such historic turnout, the results of the West Hollywood City Council election likely will not be known until midnight at the earliest, probably much later. 
The Los Angeles County Registrar Recorder's office in Norwalk will handle the counting of the votes and will release those results as they are counted on the Registrar's website at LAVote.net (Note the domain is .net NOT .com or .org).
West Hollywood City Clerk Yvonne Quarker told the City Council on Monday night that city has a direct link from its election website (weho.org/elections) to the L.A. County Registrar website for people who want to follow the results in real time.
"Keep refreshing that page to get updates," Quarker advised.
She explained that results from the vote by mail ballots that have been processed and verified will be the first to be posted. After that, results from in-person ballots cast at the 2,000 vote centers across Los Angeles County will be posted as they are processed.
Counting will continue through the night and well into early Wednesday morning. The Registrar's office hopes to have it all completed by 6 a.m. on Wednesday, Quarker reported, but that will depend entirely on the number of votes cast.
If this City Council election is close, it could ultimately come down to absentee/mail-in-ballots that may trickle in. As long as those absentee ballots are postmarked by Nov. 3 and received by Nov. 20, they will be counted. Political Data reports that 62% of all absentee ballots mailed to local voters had been returned as of the end of the day Monday.
Quarker explained the Registrar's office will update results daily on the LAVote.net website on Wednesday, Thursday and Friday (Nov. 4, 5, 6). After that, results will be updated twice weekly on Tuesdays and Fridays until Nov. 30, at which time the registrar has indicated it expects to provide final results to the cities.
The West Hollywood City Council is scheduled to certify the city's election results at its Dec. 7 meeting.
It is unclear at the moment whether the winners of the City Council race will be sworn into office at that Dec. 7 meeting or at the Dec. 21 Council meeting.
In elections past, council candidates and their supporters typically gathered for victory parties at various restaurants and clubs throughout the city awaiting election results, but not this year. Pandemic-mandated social distancing requirements and the election results likely coming in so late on Election Night forced the cancellation of such public victory gatherings this time.
If You Have Not Yet Voted
For those who have not yet voted, ballots can still be mailed, but they must be postmarked by Nov. 3 to count.
In addition to returning ballots by mail, West Hollywood residents can drop off absentee ballots at secure boxes throughout LA County. There are three such official drop-off boxes in West Hollywood:
West Hollywood City Hall, located at 8300 Santa Monica Blvd. (Ballot drop box located behind City Hall, off of North Sweetzer Avenue)
West Hollywood Library, located at 625 N. San Vicente Blvd. (Ballot drop box located on the west side of the street, in front of the library)
Plummer Park, located at 7377 Santa Monica Blvd. (Ballot drop box located in front of the Plummer Park Community Center)
For those wanting to vote in person, traditional neighborhood "polling places" have been replaced in Los Angeles County by vote centers, which allow LA County residents (including West Hollywood residents) to vote at any of the 2,000 vote centers in LA County. Visit LAVote.net for help in locating a vote center convenient to where you are going today.
There are three vote centers in the City of West Hollywood:
Plummer Park's Fiesta Hall, located at 7377 Santa Monica Blvd.;
Kimpton La Peer Hotel's lobby rooftop, located at 627 N. La Peer Drive;
Iranian American Jewish Federation's Sapper Hall, 1317 N. Crescent Heights Blvd.
 Voting locations will remain open until 8 p.m.