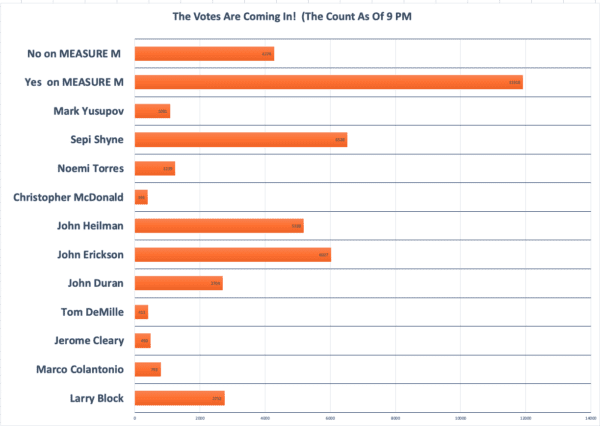 More than 60% of West Hollywood registered voters cast their ballots by mail in the election for two seats on the West Hollywood City Council. And now, a count of those vote-by-mail ballots and ballots cast early today at in-person voting centers shows challenger Sepi Shyne in the lead with 6,528 votes (23.65%), followed by challenger John Erickson with 6,027 votes votes (21.83%).
Incumbent John Heilman ranks third with 5,188 votes (18.79%), followed by challenger Larry Block with 2,752 votes (9.97%). Incumbent John Duran ranks fifth with 2,704 votes (9.79%)
Challenger Noemi Torres has garnered 1,239 votes (4.49%). She is followed by Mark Yusupov 1,081 votes (3.92%), Marco Colantonio with 793 votes (2.87%), and Jerome Cleary with 490 votes (1.77%). Tom DeMille and Christopher McDonald, who are on the ballot although they withdrew their candidacies before the election, got 411 and 395 votes respectively.
Measure M, which would increase the city's sales tax by 3/4s of 1%, has attracted 11,918 Yes votes and 4,274 No votes.
Vote centers closed at 8 p.m. tonight and ballots are now being processed by the Los Angeles County Registrar-Recorder/County Clerk's Office.
The votes will be updated throughout the night and into the early morning hours. WEHOville will be updating this story during that time.