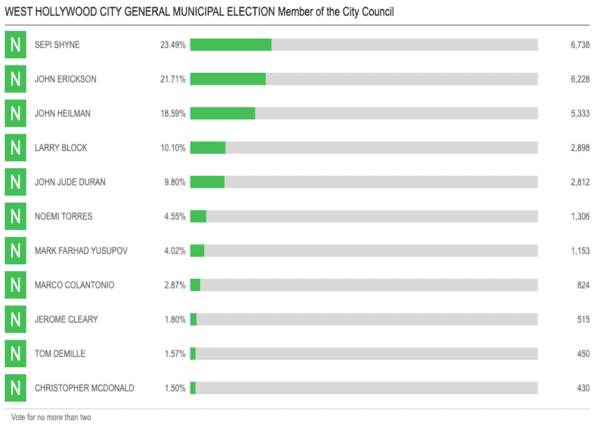 EDITOR'S NOTE: This is an updated version of a previously published story that includes the latest vote count and comments from Councilmember John Duran.
While the final official vote count hasn't been released, as of Wednesday morning it seems likely that the two incumbents on the West Hollywood City Council have lost their bid for re-election.
The latest count from the Los Angeles County Registrar-Recorder/County Clerk's Office shows challenger Sepi Shyne in the lead with 6,738 votes, 23.49% of the total votes. She was followed by challenger John Erickson, who had 6,228 votes, 21.71% of those counted.
John Heilman, who has been on the City Council since West Hollywood's incorporation as a city in 1984, at this point ranks third in the election to fill two seats. As of this morning, the count shows him with 5,333 votes (18.59%). The other incumbent, John Duran, is in fifth place with 2,812 votes (9.8%). In a post on Facebook, Duran has already acknowledged that it looks likely he may lose once the final vote tally is announced.
Challenger Larry Block at this point has come in fourth, with 2,898 votes (10.10%).
Today's count includes mail-in ballots from the more than 50% of West Hollywood's registered voters whose ballots had been received by Saturday and also those ballots inserted at the three official drop-off boxes through Saturday. The ballots cast early by West Hollywood residents at voting centers throughout the county through the end of the day yesterday are said to have been counted.
The county is continuing to process conditional voter registration ballots, provisional ballots and vote by mail ballots received on Election Day. Once those ballots are verified, they will be processed. The Registrar-Recorder/County Clerk's Office is expected to issue updates today, tomorrow and Friday.
Shyne said she "wants to wish all of the candidates well. I know how hard it is to run for office. Numbers show WeHo and WeHo residents want developer money out of politics. They want someone on Council who represents the people and their voices, and the numbers absolutely show that."
"I want to congratulate Sepi Shyne on running an amazing race and congratulate her on winning," said Erickson. I"'m looking forward to continuing to work with the rest of the Council on pushing forward progressive issues such as expanded rent control, affordable housing and climate change. Furthermore, I want to send sincere thanks to Mayor Pro Tem John Heilman, who has been one of my personal heroes. He is someone I respect and admire, and I appreciate all of his leadership over the years."
In a Facebook post, Duran said "It appears that both John Heilman and I are not going to be re elected to Weho Council. At this point, only the absentee ballots are in. Still waiting for day of the election ballots to be counted and reported this afternoon.
"But it looks likely that the voters wanted change and fresh faces at City Hall. If this is the case, we all need to support the new Council members because they will have a heavy lift immediately in dealing with a public health emergency and West Hollywood economic collapse. I will wish them well and will offer to help anyway that I can. But still have to wait for the votes to be counted later today. There are thousands of uncounted ballots still."
If their victories are confirmed, Shyne and Erickson will be the first challengers with no previous experience on the Council to defeat an incumbent. The defeat of Duran and Heilman is likely to please some residents who have complained that the incumbents have been in office for too long. In fact, residents in a 2013 referendum voted to create term limits, which means no one can serve more than three four-year terms from that date forward.
The incumbents' defeat is a blow to the real estate development interests, city vendors, and others seeking city approval for business projects. WeHo First Supporting Heilman and Duran for Council 2020, an independent expenditure committee funded by the Chamber of Commerce, billboard companies, city vendors, and real estate companies, raised $52,500 to promote Duran and Heilman for re-election. Those interests also were major contributors directly to the incumbents' campaigns. As of Oct. 17, Duran had raised $225,904 for his campaign and Heilman raised $149,880.
Shyne, whose campaign raised $107,612, pledged not to accept donations from real estate interests. Erickson's campaign raised $115,884, with donations from a variety of real estate interests including members of Jason Illoulian's family, seven of whom each gave $1,000. Illoulian's Faring is a major West Hollywood developer.
While the final vote hadn't been announced by midnight, Larry Block earlier in the evening posted a comment on WEHOville congratulating Shyne and Erickson for their victory as did City Councilmember John D'Amico.
As of this morning, the county reports that challenger Noemi Torres has 1,306 (4.55%), Mark Yusupov had 1,153 (4.03%), Marco Colantonio had 824 (2.87%), and Jerome Cleary had 515 (1.8%). Tom DeMille and Christopher McDonald, whose names remained on the ballot although they had withdrawn from the election, got 450 and 430 votes respectively.
Measure E, which would allow the city to increase the sales tax by 3/4 of 1%, had 12,351 Yes votes (73.1%) and 4,546 No votes (26.9%), meaning it is certain to be approved.