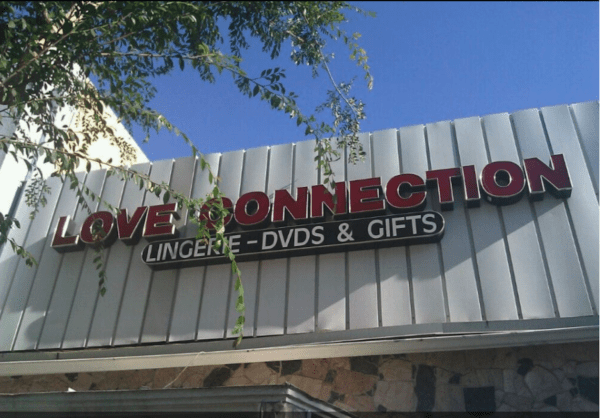 Simultaneously vivacious and understated, the blonde Jackie Ross invites my camera into Love Connection, WeHo's one-stop-adult-shop for anything that might make you steal the show or squeal with delight: Tantalizing lingerie, titillating sex toys, and anything "come-hither" for a spunky Saturday night.
"It's a fun store. It's nice to shop here. It's very a friendly, neighborhood store. We love our customers and it's the top priority for us — customer service," Ross tells me, with a spangly, sequin mask hanging from her ear.
When asked why she decided to open Love Connection, her voice takes a downbeat: "Well, that's a long story. Well, I didn't start it. My husband — he passed away like 10 years ago, almost 11. He started the store, and when he died I took over. And I'll tell you the truth: I didn't think I could survive by myself to handle this beautiful business, but with the support from the customers we did very well. And it's just getting better and better every year."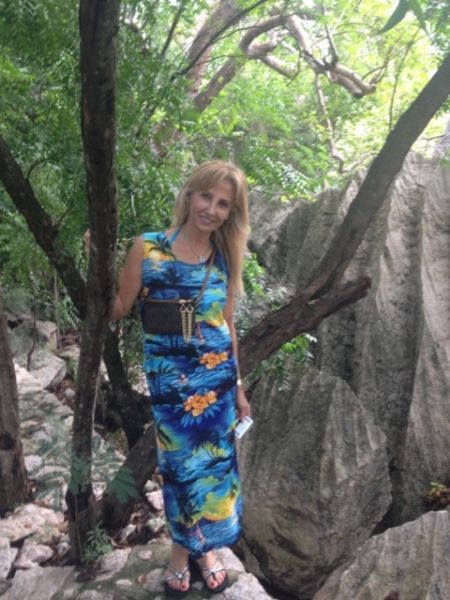 Sounds like a West Hollywood 2020 miracle. With many businesses having to permanently close due to COVID-19, this one is thriving — without a Netflix documentary giving it global exposure. Situated on Santa Monica Boulevard, betwixt Harper and LaJolla, Love Connection is just paces from the revamped Circus of Books (now Chi Chi LaRue's Circus), which sells similar items. Since Love Connection reopened after having to close due to city-wide COVID mandates, its business is booming.
"What I'm seeing now that we get back to work again, and the store is open, even for short hours, we [are] doing very well, which I'm very happy about because it means that we're doing something right."
While more and more businesses are having to pivot into the online space, Ross valiantly still feels more at home at her brick and mortar. Though Love Connection does have an online shop, it's not really making waves on the on World Wide Web.
"It's not very successful, I would say," she tells me. "Because there's so many of them, and the competition is really big."
But the lack of success for Love Connection on the WWW doesn't seem to bother her one bit. When asked if she expects to lean more into the online space in the future, she is reluctant.
"I actually, myself, I really like, one-on-one — I like to see the person, to [have them] feel [the merchandise], to help, to suggest. And I like that service to the customer."
And clearly she's good at it, I learn, as she introduces the products she sells to me virtually. When asked which ones she's particularly proud of, Ross heads straight to the lube section of her store.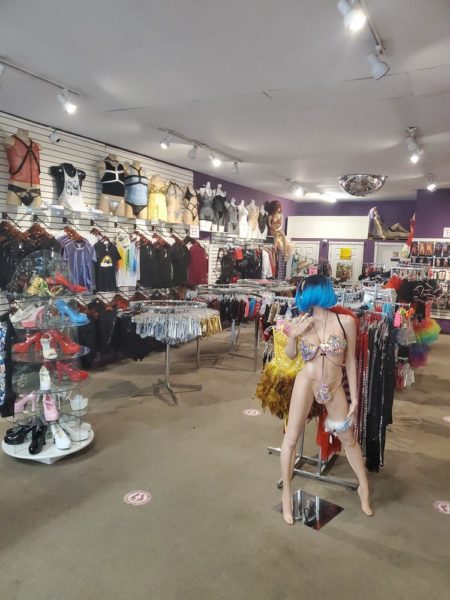 "We have a big selection of lubrication — all types of lubrication, not just silicone or water-based, there are others," she says, showing me two kitty-cornered walls of more lube than you can shake a joystick at. "We carry Pure, we carry Gun Oil, Swiss Navy, and on and on," she says.
But do they carry the kind of lube you can eat? You know, the lube that is tasty and edible?
"Oh yeah, yeah, we have flavored lubes. It's tasty, no aftertaste. We carry only the [ones] that taste good and don't leave an aftertaste."
After showing me the lube selection at Love Connection, Ross tells me "now we need a toy!" as she ushers her iPhone camera to her dildos. "We have different sizes, different colors," she enthuses. "Everybody likes something different." She also points out some extremely large ones that she says are good for parties.
"I hope that's used for parties," I say. "That one looks awfully dangerous."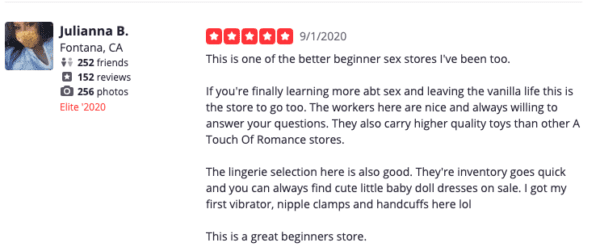 "Oh well, I thought like you, but found out that it's for use also." She tells me more about it: "I think that one is about 15 inch[es]. And we have even 17, 18, and 19 [inch]." She says that people can — albeit eventually — put it into their bodies. "I was surprised myself. But you know what? It's fine. If you enjoy it, I respect it," she says with an air of protectiveness for her customers' preferences. (She also mentions that she has toys "for beginners" as well.)
In addition to butt plugs (she says some people drive with them inserted), lube and toys, Love Connection has naughty clothes, underwear, jewelry.
"It's very fun, there's something for everybody," she tells me.
Though it's her respect of her clientele and her willingness to serve their needs that keeps them coming back, Ross also attributes Love Connection's success to the atmosphere.
"Many customers came in when I was there and they tell me, 'I have to tell you when you step into a store and talk with you, it's just a pleasure. We feel so calm. So spiritual, so just comfortable and positivity that we don't want to leave.' And that's one thing," she explains. "The other thing is I think that nobody chasing them […] we give them space."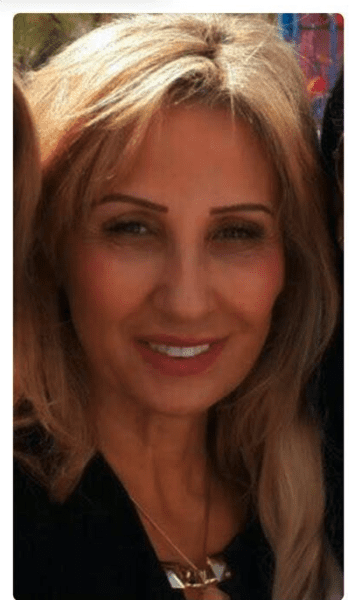 It would seem the respect she gives her customers fosters a trust they have with her. Serving all ages over 18 (between 20–50 years old, she tells me), Love Connection has something for everybody. "All genders. All ages. All colors. Everything, everybody's welcome in our store and treated equally."
Even couples frequent Love Connection and consult with Ross about what they can do to spice up their sex lives and scratch that seven-year itch.
"Older couples come to me and they say, 'Listen, we are happy in our marriage, but we got to the point [that] we need something new, something more exciting, and we want to spice it up a little bit. So can you advise us what to do?' So I help them and direct them [to] what they can do," she tells me.
When COVID-19 struck and a lot of businesses were closing down, Love Connection customers grew concerned.
"They said, 'please don't leave this area. Don't close the store.' And they really, really touched my heart because people felt so comfortable in the store."
Though happy it didn't close (clearly she spoils her customers), they're not thrilled about the now-reduced store hours.
"They were complaining why we close early now. We just said that we have to take it easy in this timing. And maybe in the future, we extend hours. We don't know —  right now that's the hours we work."
Ross has built strong, loving relationships not just with her customers, but with West Hollywood. "I'm doing it with pleasure to serve the community and be part of it," she tells me.