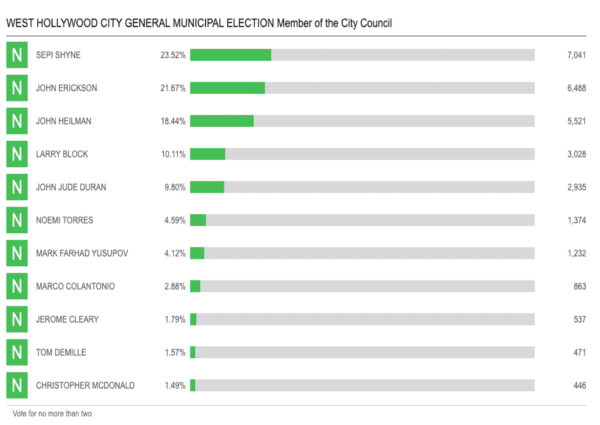 The latest unofficial results from Tuesday's West Hollywood City Council election shows challengers Sepi Shyne and John Erickson remain in the lead and likely to win the two Council seats.
Tuesday's election of two relatively young candidates who haven't previously served on the Council, and the rejection of two of the oldest and longest-serving Council members, is a major and unprecedented event in the history of West Hollywood. Shyne's election means the Council will have a majority of three women. She also is the first lesbian elected to the City Council since 1984, when Valerie Terrigno was elected in the city's first election.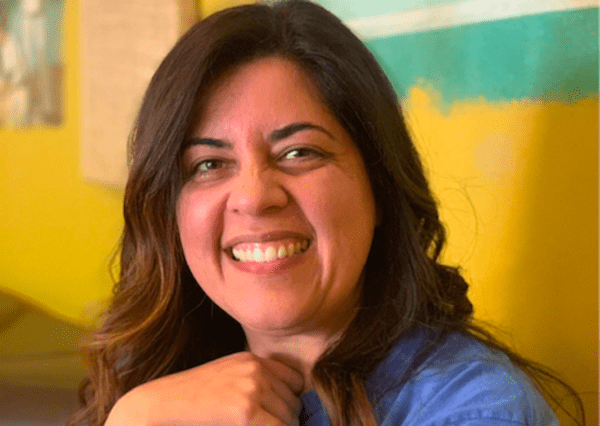 As of 6 p.m. Wednesday, Shyne has garnered 7,041 votes, 23.52% of the total. Erickson so far has 6,588 votes, 21.67% of the total. That puts him 967 votes ahead of John Heilman, Erickson's mentor and the city's longest-serving City Council member.
Councilmember John Duran, who has been on the Council for 20 years, remains in fifth place, with 2,935 votes (9.8% of the total.)  Duran has been the most scandal-plagued member of the Council, with national media coverage of allegations of his sexual misconduct and derogatory marks made by him about fellow Council members. Those scandals are likely a reason that he so far has attracted less than half of the votes cast in favor of the two leading challengers. Larry Block, who is making his second run for City Council, is ahead of Duran with 3,028 votes (10.11% of the total).
There has been no change in the ranking of the other six candidates on the ballot.
Unofficial election results also indicate that Measure E, a measure establishing a 3/4¢ sales tax, has been approved by West Hollywood voters with votes currently tallied at 12,897 "yes" (73%) and 4,770 "no" (27%). Measure E will provide approximately $11 million annually to fund various city services.
There are 29,523 registered voters in West Hollywood, and it already is evident that more voters have participated in this election than any other. That likely is because this year's City Council election has been moved to the same date as the Presidential election and all registered voters received vote-by-mail ballots. The Los Angeles County Registrar-Recorder/County Clerk's office must still count same-day registration ballots, provisional ballots, and vote-by-mail ballots received on Election Day. Final election results are scheduled to be certified on Nov. 30, and it is anticipated that the L.A. County Board of Supervisors will declare the election concluded on Dec. 8.
The two newly elected Council members are anticipated to be sworn-in at the regular meeting of the City Council on Dec. 7 at 6 p.m. The City Council annually elects the city's mayor and mayor pro tempore in a rotation of Council members. The current mayor, Lindsey Horvath, will continue her position through May 17. As the current mayor pro tempore, John Heilman, is not anticipated to win re-election, the City Council is anticipated to choose a new Council member to serve in that honorary role Dec. 21.