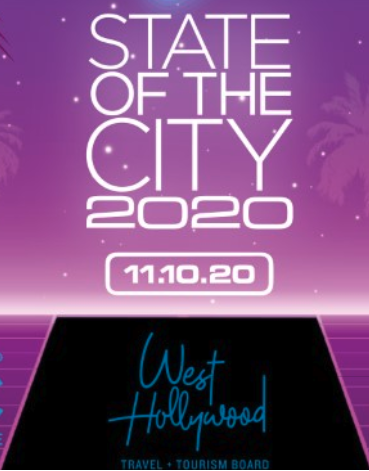 The City of West Hollywood, the West Hollywood Chamber of Commerce, and the city's Travel + Tourism Board will stage the annual "State of the City" event online this year in response to the social distancing required because of the COVID-19 pandemic.
The event will take place at 5:30 p.m. on Nov. 10. It's theme will be "the Big Shift," a look at the impact on the city's economy of the COVID-19 pandemic.
Those interested in participating are asked to register online.
More than 300 local business leaders are expected to gather online for the event Mayor Lindsey Horvath and Nick Rimedio, chair of the West Hollywood Chamber of Commerce, will provide welcoming remarks, and City Manager Paul Arevalo will present the keynote address.
Andrea Batista Schlesinger from HR&A Advisors will be the event's featured speaker. She will discuss the importance of positioning the business community toward a resilient future. HR&A is working with the city's Vision 2050 strategic planning process to find a way to best position West Hollywood for an economic recovery. That includes addressing unique needs of the local economy and connecting to state and federal aid programs where possible to support local action.
Following the featured speaker, a panel of local experts will discuss ways in which the community can assist businesses for recovery.
The City of West Hollywood has produced a "Toolkit for West Hollywood Businesses" affected by COVID-19. A PDF of the kit can be downloaded, along with links to guidance for businesses and workplaces, from the city's website at www.weho.org/business.