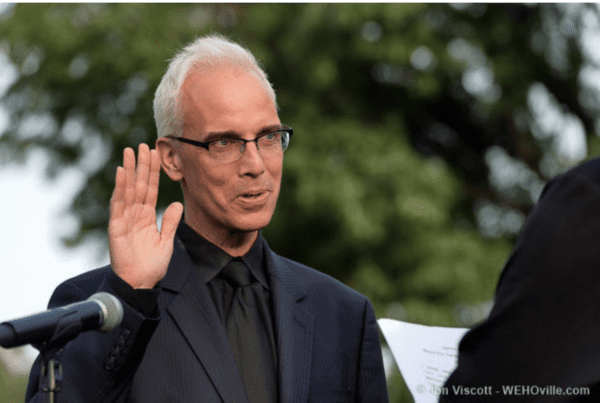 "Ah, Johnny, we hardly knew ye!"
That old refrain would have no place here, as John Heilman takes a step backward from the center stage at our City Council.
No, indeed, we all know John, some of us for all of the past 36 years. His quiet presence and demeanor was always a fallback when contentious voices rankled or detoured debate. For some, the fact that John was "always there" was not a comfortable position and the result of the 2020 election made their concerns a reality.
Tall, even lanky, with a full head of black hair and the flashing eyes of youthful ardor, John took his seat on the first City Council for the city of West Hollywood. Those were heady days as the architects of change set about building a city. Phrases such as "a walking city," "an urban village" were repeated as mantra for what was to come. (The first City Council may well have been the most representative of all, since it contained a person from every element of the population.)
Few municipal politicians have prepared themselves for the rigors of city politics as had John. He came to the position armed at first with a shiny new law degree but never stopped enlarging his views and expanding his knowledge. His academic resume is impressive – if only some of our state and federal representatives had half the interest and background. John has Masters Degrees in Public Administration and Real Estate Development from his favorite institution of higher learning, USC. He has maintained active teaching credentials at both USC School of Law and Southwestern School of Law. In my WeHo files are many letters from John during the early days, when Councilmembers actually answered residents' concerns in writing. I have in that file a copy of every one of the city's letterheads as their design progressed (?) from the simple to the elaborate.
From the very beginning days of the city, John was the leader in the new movement to achieve what I call "full citizenship" for gay people. His lead in the domestic partnership program for the city was a major move in the national effort to recognize the simple fact that choice in every aspect is a fundamental right of every human. His activities in such associations as the ACLU and gay rights have been ongoing. The Coalition for Economic Survival — perhaps the most influential group during our city's founding — and the Stonewall Democratic Club flag his political views. All of John's qualifications made him uniquely valuable during his long tenure. But, now, the Young Turks have arrived and the air crackles with the challenge of change, of re-viewing the future, both near and far. The Old Guard changeth.
Well, John, there's no gold watch to thank you for your constancy and faith in the city. I doubt that you would accept such a token, anyhow. What remains are the institutions you installed, the values you espoused and the steady hand you offered on the tiller as we sailed so often into uncharted waters. Age has diminished your band of followers as much as new challenges have excited the current generation. The city is at a crossroads – hasn't it always been so ? And what worked once may be replaced by other ideas. I'm certain you will not fade away, and that your influence will help guide others in the city's business. This little piece is my feeble thanks — even though I did not always vote for you — for your long service, your constant caring for all of us in "the urban village".