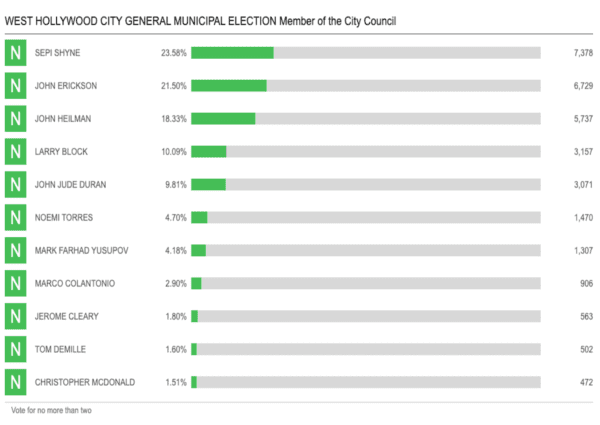 The latest unofficial results from Tuesday's West Hollywood City Council election continue to confirm that Sepi Shyne and John Erickson remain well in the lead and are likely to win the two Council seats up for re-election.
Today's results show a widening gap between the votes for Shyne and Erickson and those for John Duran, one of the two Council members running for re-election, who has come in fifth. As of today, Shyne has garnered 7,378 votes, 82% more than the 3,071 votes cast for Duran. With his 6,728 votes, Erickson is 75% ahead of Duran.
Councilmember John Heilman continues to rank third, with 5,737 votes. Challenger Larry Block ranks fourth, with 3,157 votes.
There has been no change in the ranking of the other six candidates on the ballot.
There are 29,523 registered voters in West Hollywood, and it already is evident that more voters have participated in this election than any other. That likely is because this year's City Council election has been moved to the same date as the Presidential election and all registered voters received vote-by-mail ballots. The Los Angeles County Registrar-Recorder/County Clerk's office must still count same-day registration ballots, provisional ballots, and vote-by-mail ballots received on Election Day. Final election results are scheduled to be certified on Nov. 30, and it is anticipated that the L.A. County Board of Supervisors will declare the election concluded on Dec. 8.
The two newly elected Council members are anticipated to be sworn-in at the regular meeting of the City Council on Dec. 7 at 6 p.m.