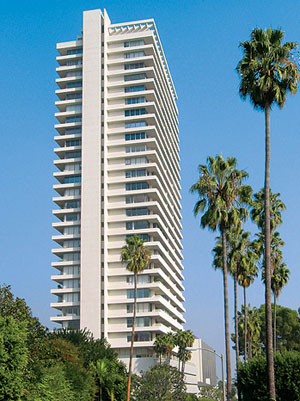 A man died last week after jumping to his death from the 27th floor of Sierra Towers, the ultra-exclusive luxury high rise that is home to some of the top celebrities. However, the man was not a resident of the building.
The West Hollywood Sheriff's station confirmed that a man jumped from the balcony of a vacant unit in the building on Nov. 2 at approximately 2:30 p.m. He gained access to the apartment by posing as a prospective buyer. When the realtor's back was turned, he went to the balcony and jumped off.
The Sheriff's station Watch Commander reports there was no foul play involved and that several people witnessed his fall. He died upon impact with the ground below.
The management of the Sierra Towers declined to comment when WEHOville telephoned asking for more information.
Located at 9255 Doheny Road, off Sunset Boulevard, Sierra Towers stands 31 stories high and was built in 1965 from designs by mid-century modern architect Jack Charney. Because it is built on a hill, it is the highest building above sea level in the greater Los Angeles area.
With 146 units, it originally opened as an apartment building, but converted to condominiums in 1974 and quickly began attracting celebrity residents.
Elton John has owned a unit there, as have Joan Collins, Adam Sandler, Lily Collins, David Geffen, Sidney Poitier, Sandra Bullock and Kelly Osbourne. Two of TV's Friends – Matthew Perry and Courtney Cox – have owned units there. Cher famously owned two units on adjoining floors and had them combined into one giant two-story condo.      
The Hollywood Reporter said in a 2011 expo of the building, "There is no other residential building in Los Angeles that has housed such a diverse and large group of notables."
The sweeping views of the region come with a hefty price tag. Some units are reported to cost upwards of $2,000 per square foot. Earlier this year, Courtney Cox sold her 1,300 square foot unit on the 25th floor for $2.9 million.