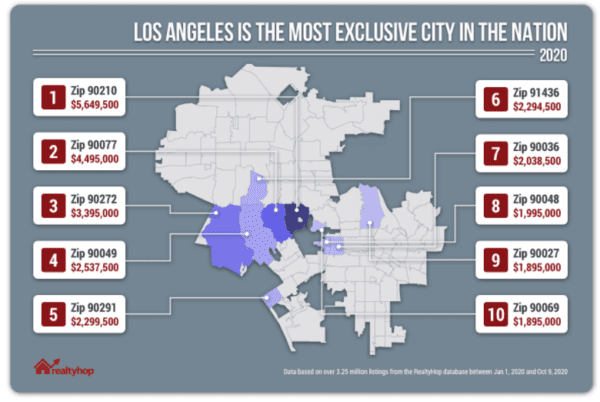 West Hollywood is a city that was founded on renter's right, prides itself on its strict rent control laws and constantly strives to get more affordable housing units built. West Hollywood also turns out to be home to two of the most expensive zip codes in the United States in terms of real estate – 90048 and 90069.
The Realty Hop blog, which examines real estate trends across the nation, recently studied the most expensive housing markets in America. Of the top 100 most expensive zip codes, ten are located in the Los Angeles area. Two of those ten LA zip codes cover parts of West Hollywood.
The 90048 zip code includes the West Hollywood West neighborhood, as well as the Beverly Grove neighborhood of Los Angeles, plus portions of Los Angeles as far south as Olympic Boulevard.
Meanwhile the 90069 zip code includes the Norma Triangle, Tri-West, West Hollywood North and West Hollywood Heights neighborhoods of West Hollywood, as well as the Hollywood Hills West areas of Los Angeles.
These two West Hollywood zip codes cover the entire Westside of the city, where the bulk of the land in the city is located.
The 90048 zip code had a median home price of $1,995,000, while 90069 had a median home price of $1,895,000 according to the study.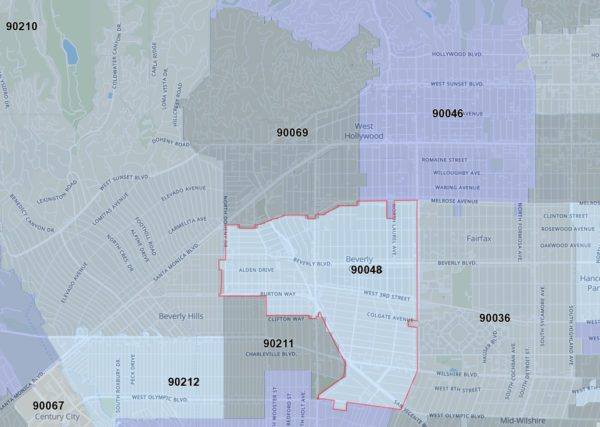 Realty Hop came to these findings by pulling every real estate listing advertised in the United States so far this year – some 3.2 million listings – and sorting the properties by zip code. Then they ranked each zip code by median price to come to the conclusions. The listings considered included single-family homes, as well as duplexes, triplexes, condominiums, co-ops and multi-family buildings.
With ten of the priciest zip codes, Los Angeles has the most of any city in the nation. By comparison, New York City has six of the priciest zips. Those top ten zip codes in Los Angeles were:
90210 (Beverly Hills)
90077 (Bel Air)
90272 (Pacific Palisades)
90049 (Brentwood)
90291 (Venice)
91436 (Encino)
90036 (Fairfax and Miracle Mile districts)
90048 (West Hollywood West and Beverly Grove)
90027 (Los Feliz)
90069 (Norma Triangle and Hollywood Hills West)
Nationwide, the 100 most expensive zip codes are located in just 11 states. California has 68 of those zip codes, followed by New York with 20.
The top ten zips nationwide are:
Atherton, CA (94027)
Fisher Island, FL (33109)
Beverly Hills, CA (90210)
Sagaponack, NY (11962)
Palo Alto, CA (94304)
Los Angeles (Bel Air), CA (90077)
Water Mill, NY (11976)
Montecito, CA (93108)
New York (Soho), NY (10013)
Newport Beach, CA (92661)
The 90048 zip was ranked #74 on the nationwide list, while 90069 was #86 on the nationwide list.