November is Transgender Awareness Month and as part of its observance, the City of West Hollywood is sponsoring a virtual round table discussion focusing on transgender people in the workplace on Thursday at 5 p.m.
The city's Transgender Advisory Board will host the discussion tilted "Why Trans Can Work: Helping Gender Diverse People Thrive in the Workplace and Employers Prepare for Tomorrow's Workforce." The round table is intended educate both employers and employees about gender diversity with emphasis on anti-transphobia.
The round table will also induce the debut of a new toolkit designed to address workplace diversity and gender diversity. That toolkit was created by Trans Can Work; the Los Angeles-based nonprofit focused on advancing transgender workplace inclusion
Mekahlo Medina, a reporter and news anchor with KNBC-Channel 4, will moderate the discussion which includes the following people:
John D'Amico, West Hollywood City Councilmember
Drian Juarez, vice president of programs for Trans Can Work
Alexis Sanchez, community organizer and trainer;
Sharon Franklin Brown, chief human resources officer at the Los Angeles LGBT Center
Genevieve Morrill, president of West Hollywood Chamber of Commerce
Torie Osborn, senior strategist for Los Angeles County Supervisor Sheila Kuehl's office.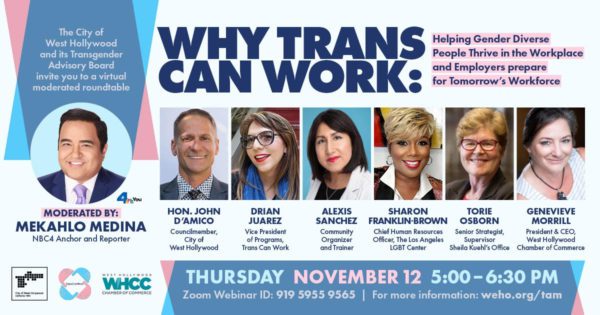 The public is welcome to attend the discussion which is being held on the Zoom teleconferencing app. Log on at Zoom athttps://zoom.us/j/91959559565
The City of West Hollywood also has a 16 page Transgender Resource Guideavailable on the city's website. That guide offers information about legal, health and social services available for transgender people.
The annual Transgender Day of Remembrance will be held online this year due to coronavirus social distancing restrictions. That observance is Friday, Nov. 20 starting at 6 p.m. Login details have not yet been released.