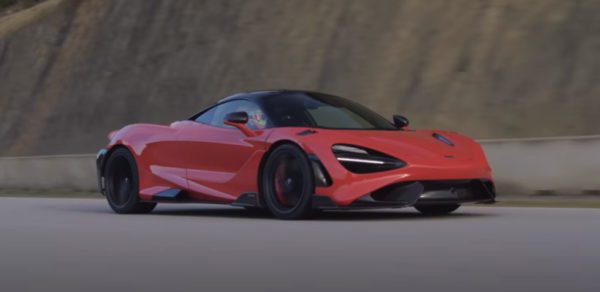 Thinking about purchasing one of the $16 million penthouses at the new Pendry Residences in West Hollywood, but worried about what to do with your car collection? Never fear, one of the many amenities the Pendry offers is the chance to purchase a private five-car garage in the building, along with the option to lease a 2021 McLaren 765LT.
According to the Robb Report, the exotic sports car that can go from zero to 60 in 2.7 seconds is one of the perks being offered. Only 765 of the cars have been produced (hence the name McLaren 765) and they're all already sold out. The Pendry has one of those 765 cars.
If you're interested in the McLaren, you must buy the private, gated 1,700 square foot "super-garage" that holds five cars and includes a private elevator from the garage to the penthouse. After all, it wouldn't be right to park that McLaren on the street.
No word on exactly how much it will cost to lease the McLaren from the Pendry, but the car has a base price tag of $385,000 plus more for other added amenities. The car is low to the road – it's only 47 inches tall – for quick speed and handling. It has a 4.0-liter, twin-turbocharged V-8 engine, with a top reported speed of 205 miles per hour.
But given Los Angeles traffic, who's going to have a chance to drive at 205 mph?
Located on North Olive Drive at Fountain Avenue, the Pendry Residences are expected be available in Spring 2021. The building has a total of 40 ultra luxurious units ranging in size from 2,900 to 6,000 square feet. The penthouses, or Terrace Estates as they are called, include massive 3,000 square-foot terraces with private swimming pools and landscaping.
The Pendry Residences are located directly behind the Pendry West Hollywood hotel (formerly the Sunset Time) at 8430 Sunset Boulevard. Set to open in January, the 149-room, high-end hotel occupies the land where the House of Blues previously sat. The Pendry is a project of Montage Hotels & Resorts.