This week, WeHo felt like a block party. People flew their flags, danced in the streets and honked their horns from the westside to the eastside of the City. And anchoring the eastside, Tom Sopit of Employees Only joins the show to share how the sexy speakeasy has fared in the pandemic.
About Tom
Los Angeles native Tom Sopit has extensive management experience in the food & beverage and hospitality industries. Currently, Tom is the Managing Partner at Employees Only located in West Hollywood at 7953 Santa Monica Blvd. Before Employees Only, Tom focused on the creative and operational development of new projects at Houston Hospitality, a nightlife group that owns and operates some of the largest bars in Los Angeles. Before that, he served as the Director of Marketing for Singha North America — a conglomerate based out of Bangkok, Thailand. At SNA, Tom forged a partnership with the Los Angeles Dodgers, nurtured relationships with Manchester United, and oversaw various activations across the country at events like Art Basel and Sundance. During this period, Tom also built and led a team of over 30 employees and managed 150 distributors throughout the country.
Employees Only NYC was on the forefront of the mixology movement in the 2000's. Tom opened EOLA in West Hollywood (as many as East Coast brands do). It quickly became a hit, and Maxine reminisced about holding a birthday party in the private room complete with mixologist, curated drinks and fireplace.
When the pandemic hit, Tom had just finished a big order and did some quick projections. He realized with the government shut down, he was staring down the possibility of closing.
"I decided to give it all away," he told Tracy and Maxine.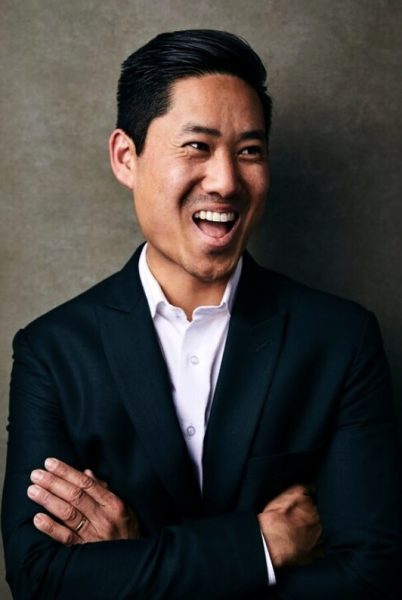 He wanted to help newly laid-off hospitality employees in LA (from chefs to valets) with free meals. CNN caught wind of it and an outpouring of love and support came from WeHo to Syberia.
"All we can do is help each other," Tom said with clear emotion that resonated with so many people.
Employees Only was not only able to stay afloat but also reinvent itself into the outdoor Summer Social Club. Think of it as an outdoor music festival meets hospitality incubator and you get a sense of how special this twinkle-light laden patio truly is. Tom's current rotating concept partners include: @orsopasta, @bridgetownroti and @delanonna_la sicilian pizza more. Make sure to stay tuned to their Instagram for their latest programming. Hop over to Maxine's blog to check out some more of Tom's favorite food spots.
Around Town
Fresh from a mini vacay to Mammoth to catch the first snow, Tracy watched the WeHo street festivities that ensued when Biden and Harris were declared winners. She even noted that John Legend and Chrissy Teigen were spotted in front of Pump celebrating in WeHo from the back of their Escalade.
Bottega Louie: The ladies have been anxiously awaiting this opening, and Tracy dropped by opening day to pick up some macarons. The full menu will be available next week.
Brunch: Maxine had the day off and contemplated where to go for brunch. Up for consideration? Cecconi's, BBCM, Conservatory, Bottega Louie and La Peer's Viale. La Peer won. Her rec? The salmon sandwich with herbed cream cheese and two glasses of champagne errr, mimosas.
Pies: Tracy has a bit of a sweet tooth (good thing she is also such a Sporty Spice). Her picks for pies – Sweet Lady Jane, Urth Cafe and Cake Monkey.
Standard Hotel: It's open! A true original, The Standard is a retro classic that embraces its original vintage design, offbeat sensibility, lively experience and crowd. Lauren saw it online for as low as $140/night.
Planet Nails: Tracy got her first pedicure since the pandemic began and it was nice to get that pampering before she hit the snow. She opted for Malaga Wine by OPI, perfect for the fall feels.
Blue Mercury: The Melrose location has shut its doors, but you may just catch Lauren hiking the La Cienega hill to patronize the Sunset Strip location.
Lola's List:
This week, Lauren's tip list was so juicy that the ladies decided to do a mini segment of its own.
Prince Street Pizza: The famed NYC pizzeria has popped up in LA in the past and is now slated to open its brick and mortar up on Sunset Blvd this weekend.
Tik Tok Treats: This partnership between Postmates and Tik Tok offers the first creator-led menu featuring some of the most popular food trends that started on TikTok. Maxine ordered the Cloud Bread in her Dialogue Cafe brisket order (also one of Lauren's faves). It even came with a cute tote bag.
Shake Shack: The peppermint shake is coming back to the popular hamburger joint, getting the neighborhood ready for more holiday treats.
Thanksgiving: For those of you staying in town, here is a list of restaurants offering TG feasts – Rainbow Bar & Grill, Nonna at Home, Slab Barbecue, Delilah and Craig's. Stay tuned to our IG for more TG offerings.
That's it for this week. What a juicy episode. Make sure to follow us on Apple Podcasts and on Instagram. Let us know in the comments down below if there is someone you would like us to talk to or if you have a favorite spot we should know about. From West Hollywood that's a wrap for this week.