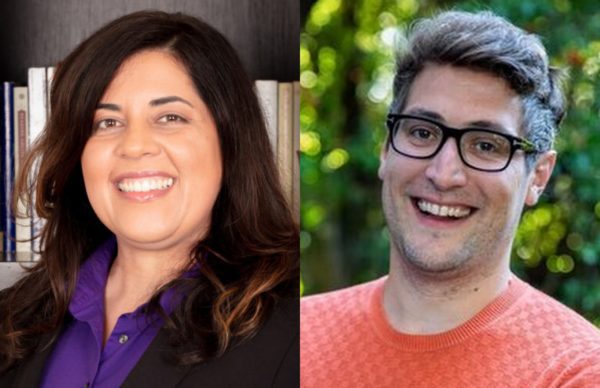 West Hollywood councilmembers-elect Sepi Shyne and John Erickson continue to amass votes according to the latest figures from the Los Angeles County Registrar-Recorder's office.  
With the release of updated numbers on Friday, Shyne crossed the 8,000 vote threshold and Erickson crossed the 7,200 vote threshold.   
Shyne now has a total of 8,011 votes, up 84 votes since the results were last updated on Tuesday.
Meanwhile, Erickson now has a total of 7,262 votes, up 74 votes since the last update. There is now a difference of 749 votes between Shyne in first place and Erickson in second place.
In third place, incumbent John Heilman now has a total of 6,167 votes, up 59 votes since Tuesday's update. Heilman is now 1,095 votes behind Erickson.
Although there are still votes to count – vote-by-mail ballots, provisional ballots and same-day registration ballots – it seems unlikely Heilman can surge from behind to overtake Erickson for second place and thereby remain on the Council.
Further down the tally, challenger Larry Block remains in fourth place with a total of 3,445 votes, an increase of 40 votes since the last update.
In fifth place is incumbent John Duran with 3,331 votes, an increase of 41 votes since the Tuesday update. Block is now 114 votes ahead of his longtime rival Duran.
The city plans to honor the outgoing incumbents at Monday's City Council meeting which starts at 6 p.m. There will be presentations to both Heilman and Duran at the start of that virtual meeting. Residents who want to pay tribute to them during the public comment period are encouraged to do so.
Although they're being honored at Monday's meeting, Heilman and Duran's last official City Council meeting is the Dec. 7 meeting. However, they will only be a part of it briefly. At that meeting, the current Council must vote to certify the election results. Immediately after that, councilmembers-elect Shyne and Erickson are scheduled to be installed into office.
As for the rest of the updated election results, the rest of the challengers all saw slight increases in their numbers. Noemi Torres now has 1,631 votes for sixth place, while Mark Yusupov has 1,431 votes for seventh place.
Marco Colantonio holds onto eighth place with 982 votes, while Jerome Cleary has 612 votes for ninth place.
The other two candidates on the ballot withdrew from the race before election day, but their names still appeared on the ballot. Tom Demille has 574 votes while Christopher McDonald has 516 votes.
The LA County Registrar releases updated figures from the Nov. 3 election every Tuesday and Friday on the lavote.net website. The registrar is scheduled to finalize the results on Nov. 30.