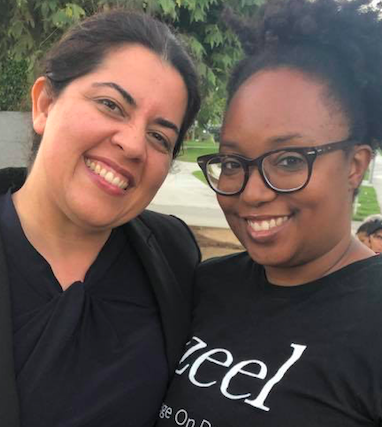 Sepi Shyne, the top vote getter in the Nov. 3 West Hollywood City Council election, has given her first in-depth interview since winning the election. The reporter lucky enough to have scored that interview is none other than her wife.
Ashlei Shyne, an actress, comedian, writer, director, has done a question-and-answer with her spouse. The interview was posted Thursday on the Autostraddle website, a lesbian-oriented site.
In the interview, Sepi Shyne discusses her plans for the future of West Hollywood. She talks about strengthening protections for renters, saying, "During my time in office, I would like to pass stronger protections to protect our renters, so that they're not in fear of eviction while living in their own home."
She also discusses what it was like as a woman running for office in WeHo and some of the misogynistic attitudes she encountered. Among the things she said, "The endorsements given to the male candidates so easily vs. female candidates who are made to jump thru hoops was very telling."
Similarly, she discussed the anti-gay discrimination she has experienced which helped transform her into an LGBT-rights activist well as the circumstances which caused her to decide to run for office.
Those who were following the City Council election campaign closely will already know much of what she discusses. But for those who may be less familiar with the councilmember-elect, this interview is a good chance to get to know her better. Click here to read the interview.
When Sepi Shyne takes the oath of office on Dec. 7, she will become the first person of color ever to serve on the West Hollywood City Council (she's Iranian-American) and the second lesbian ever to serve on the Council (Valerie Terrigno was the first). When she joins the dais, the WeHo Council will have a female majority for the first time ever.