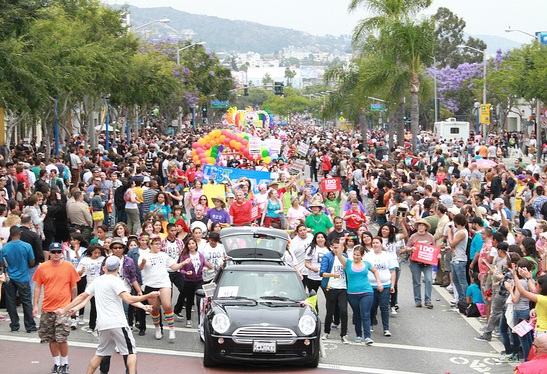 UPDATE: The WeHo City Council on Monday night postponed consideration of this item until its Dec. 7 meeting so new councilmembers Sepi Shyne and John Erickson can weigh in on it.
Now that Christopher Street West has announced it will no longer use West Hollywood as the site for its yearly LA Pride festivities, the City of West Hollywood is taking the first step toward creating its own LGBTQ pride celebration by hiring a research company to get community input about future prides.
Monday night (Nov. 16), the West Hollywood City Council will be asked to approve a contract with MIG, Inc., a West Coast-based research company, to conduct visioning workshops, a community survey and individual interviews and report back what the future of pride observances in West Hollywood should look like.
The cost for these services is $216,000 over a two-year period, with $135,000 of it to be paid this year.
A city-sponsored pride 2021 celebration is NOT expected to occur as coronavirus-pandemic induced social distancing requirements and ban on large group gatherings likely will not be lifted by June 2021.
Thus, the report MIG produces will guide the city in its planning for a pride 2022 celebration.
In the first phase of its work, MIG proposes to conduct a community survey to get input from residents about pride. Similarly, it will interview city officials, city staffers and key stakeholders who have been directly involved with pride celebrations in the past to get their input.
Additionally, it will do focused discussions with various boards and commissions including the Lesbian and Gay Advisory Board, the Transgender Advisory Board and the Public Facilities Commission.
Next, MIG plans to do visioning workshops with community members "to define a vision for LGBTQ expression in the City, and to identify potential programming ideas for a Pride celebration," according to a staff report.
Once it has collected that information, MIG will produce a report with its recommendations for what a West Hollywood Pride celebration should look like. The deadline for that report is June 30, 2021.
From that report, the city will begin to plan for a pride 2022 celebration. Construction in West Hollywood Park is scheduled to be completed by June 2022, so the entire park should be available for use.
The second phase of MIG's services will involve evaluation of that pride 2022 celebration including individual surveys and group discussions.
For 40 years since 1979, Christopher Street West (CSW) held its LA Pride festivities in West Hollywood. Those festivities included the pride parade down Santa Monica Boulevard as well as the pride festival in West Hollywood Park.
LA Pride 2020, which would have been LA Pride's 50th anniversary, was cancelled because of the coronavirus pandemic.
Although the city covered the public safety costs of the pride events and provided free use of the park, there was often a strained relationship between city officials and CSW officials. Those tensions waxed and waned over the years, but the city and CSW always managed to work together.
However, this year, the tensions escalated to the point that CSW announced in July that it would take its LA Pride festivities out of West Hollywood. No word on exactly where CSW will host future LA Prides, but most observers believe it will be in downtown Los Angeles.
Residents who want to make comments about the MIG contract and/or future WeHo pride celebrations are invited to call into the City Council meeting, which starts at 6 p.m. on Monday (a change from the previous 5:30 p.m. start).
Those who want to make a comment by telephone during the meeting are asked to email City Clerk Yvonne Quarker at yquarker@weho.org no later than 4 p.m. on Monday to be added to the public speaker list for the meeting. Please include your name, the phone number from which you will be calling and what you wish to speak about.
Then, dial into the meeting ten minutes prior to the start. You will be placed on hold in the virtual meeting room until it is your turn to speak. The dial-in number is (669) 900-6833 and the meeting I.D. is 974 8186 3267, followed by the # symbol.
The City Council meeting can be viewed live on the WeHo TV portion of the city website (www.weho.org). Additionally, it will be broadcast on Spectrum Cable Television's Channel 10 within West Hollywood's borders. The meeting will also stream live on YouTube, Apple TV, Android TV, Fire TV and Roku by searching for "WeHo TV."