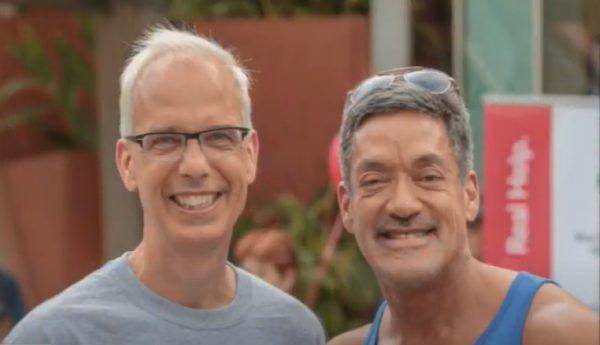 A nine-minute video tribute to outgoing councilmembers John Heilman and John Duran was the highlight of Monday's West Hollywood City Council meeting, where the two longtime members were honored for their combined 56 years of service to the city.
The video featured a montage of photos from across the years compiled to the tune of ABBA's "Dancing Queen" and the Whitney Houston rendition of "Higher Love." The video included photos of Council meetings, pride events, Halloween carnivals, protest rallies, performing weddings on the first day same-sex marriage was legal in California in 2013 and much more.
The video contained the dedication, "Without your vision, commitment and love for our community, it would not be the premier city it is today."
This meeting was the first of two Council meetings honoring Duran and Heilman, who will be exiting the Council at the Dec. 7 meeting. Both Heilman and Duran were defeated in their quest to be re-elected to the Council.
The Dec. 7 City Council meeting will have more tributes as well as Heilman and Duran's farewell speeches before Sepi Shyne and John Erickson are sworn in as their replacements.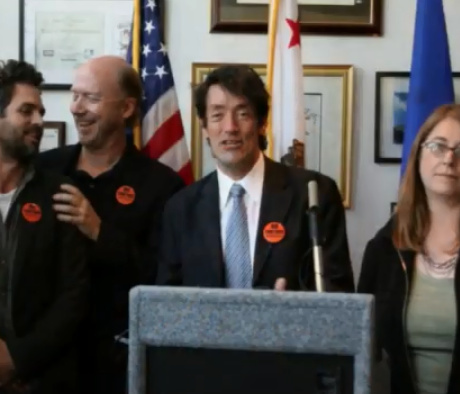 Both Heilman and Duran were visibly moved by the video, thanking city staff for putting it all together. Heilman called it a "beautiful video and walk through our past." Duran said, "It was really sweet to see all those memories."
Meanwhile, Heilman also said, "The city doesn't own me a debt of gratitude, it's the other way around. It's been such an honor."
The meeting also included video tributes from Congressman Adam Schiff, State Senator Ben Allen, and Los Angeles County Assessor Jeff Prang, who served on the WeHo Council for 17 years.
Mayor Lindsey Horvath thanked the two for how much she has learned working with them, sentiments echoed by Councilmember Lauren Meister.
Meanwhile, Councilmember John D'Amico thanked Duran for inspiring him to have "gravitas around big ideas."
"Your big ideas will always remain inspiring," D'Amico said. "When we think big and shoot for the moon, sometimes we end up there and it's a good view back to Earth from there."
City Manager Paul Arevalo said, "It's been a great ride. I've been fortunate to have consistent and strong leadership and I wish the two of you luck in your future endeavors."
All eight of the speakers during public comment paid tribute to the outgoing councilmembers.
Richard Ayoub, the executive director of Project Angel Food, announced the meals-on-wheels nonprofit would dedicate a day of meals in each of their names so their 2,300 clients can feel the love.
Councilmember-elect John Erickson, who defeated his mentor Heilman at the ballot box, noted that Heilman "always made sure the residents and the voices of those who need to be uplifted the most were heard."
Larry Block, who was a challenger in the Nov. 3 election, called Heilman's legacy second to none and said, "We are so lucky to live in a city that was built on his shoulders, his intellect and his vision." Block also acknowledged Duran's passionate work on "gay rights, the community village, Boystown and Sunset Strip."
"It's our job, all of our jobs, to continue to fight for the city that these two Johns helped to build and continue their legacy," Block said.