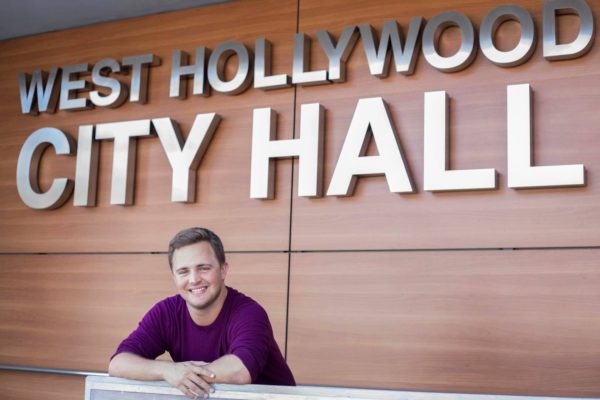 At the (virtual) Lesbian and Gay Advisory Board meeting last Thursday night, I shared the news that I was stepping down as a member of the Board after five years of service. October marked half a decade serving the residents of this great city. It has truly been the honor of my life to work with some of the fine advocates and public servants that have served with me on LGAB since I joined in 2015.
Given the election results both nationally and on the local WeHo level, I thought this was the right time for a new beginning for me as well. I thought about seeking re-appointment from one of the other councilmembers, but just felt that this was a good moment for a transition and also to allow for someone else to have an opportunity to serve and lead.
I intend to continue fighting for our community, and am even open to serving on another advisory board or commission in the future. As I said after my campaign for City Council ended last year, this is just the beginning in terms of my public service and involvement in politics. After all, I'm not even 30 yet, so I'm excited to see what possibilities lie ahead.
I will always be grateful to Councilmember John Heilman for believing in me and giving me the chance to serve on LGAB. I am very sad and disappointed that he lost re-election after giving almost his entire adult life to serving us selflessly, but I am grateful for all the incredible contributions he has made to this city and to the gay rights movement as a whole. It is no exaggeration to say that West Hollywood would not be the great city it is without him.
I congratulate the new councilmembers, Sepi Shyne and John Erickson, on their victories and wish them success in their new roles leading our city. I hope, while I'm sure they will have many of their own proposals and priorities, that they will embrace some of the strengths of their predecessors and the issues that they led on, namely rent control, affordable housing, and supporting small businesses (especially LGBTQ ones).
During her campaign, Sepi said the city was too "male focused", which was a deeply concerning comment to me as it showed a lack of understanding about what makes West Hollywood unique and special. Just like during the debate years ago when some said having a rainbow flag on City Hall would send a message of exclusion to straight people, I said then and I say now that there is enough room for everyone. We can celebrate the culture and heritage of gay men while also celebrating lesbians, trans people, the vibrant Russian community and all residents of our diverse, creative city.
I wanted to end simply by saying that the last 5 years have been an amazing experience that I will always treasure. West Hollywood is the place I was born and continue to love. I believe so strongly in the values and principles it stands for. I will always do what I can to protect it. That will never change.
Thank you.