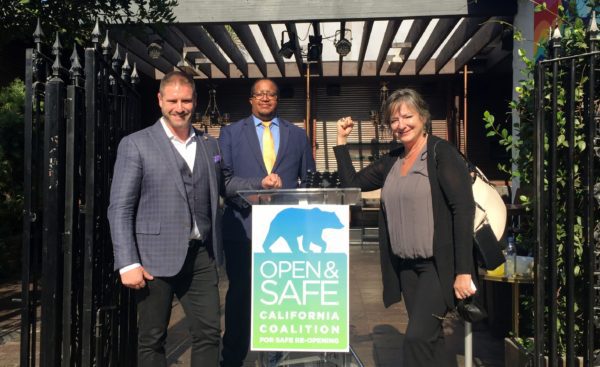 Area businesses are fighting back against the ban on in-person dining in Los Angeles County restaurants which goes into effect Wednesday night.
The recently formed California Coalition for Safe Reopening blasted the Los Angeles County Board of Supervisors 3-2 decision on Tuesday to implement the ban in an effort to stem the surge of COVID-19 cases.
In the past week, Los Angeles County has averaged over 4,381 new cases a day, while hospitalizations have more than doubled in the past month to 1,682 people hospitalized on Wednesday with 25% of these people in the ICU. 
During a press conference held Wednesday at WeHo's The Abbey, Coalition co-founder Genevieve Morrill said this temporary closure order could wind up closing restaurants permanently and put their workers on the unemployment line.
"We are frustrated with the lack of coordination of reopening and arbitrariness of most recent closure orders with no real scientific data behind it, only assumptions," said Morrill, who is also the president of the West Hollywood Chamber of Commerce.
She called the Supervisors action "cruel" no matter how well intentioned it was.
"While we mourn the lives lost, we cannot forget the living who are literally struggling to survive," said Morrill. "Our county and state government has abandoned us. Our economy is now a public health issue as well."
Colin Diaz, the Coalition's other co-founder, criticized the Supervisors saying they should have had a plan in place to help business owners and displaced workers who will be laid off before approving the in-person dining ban.
"A lot of these business will not be able to make it through yet another closure, leading to a loss of more than 10,000 jobs," said Diaz who is also president of the Culver City Chamber of Commerce. "Job loss that will hit individuals, families, households during the holidays with no financial aid in sight."
West Hollywood City Councilmember John D'Amico echoed those sentiments.
"The Board of Supervisors just laid off tens of thousands of people including many West Hollywood residents based on junk science and a need to look like they are doing something," said D'Amico. "All of this one month before Christmas. To that I say 'Bah, Humbug'."
D'Amico proposed that instead of closing businesses, the county should be expanding business hours with strong regulations and careful code compliance supervision.
The Coalition called on the state to create a Safe Reopening Task Force to identify sustainable, long-term solutions for reopening.  It also wants greater resources and empowerment of local authorities to make decisions on a local level.
Finally, the Coalition called for the creation of a California COVID-19 Emergency Business Interruption Fund to provide grants to businesses for any future unanticipated closures.
The Coalition, which is made up of 50 Southern California chambers of commerce and business organizations, plans a protest march on Dec. 12 at 12 noon at a yet to be determined location. All business employees and employers impacted by layoffs are invited to participate.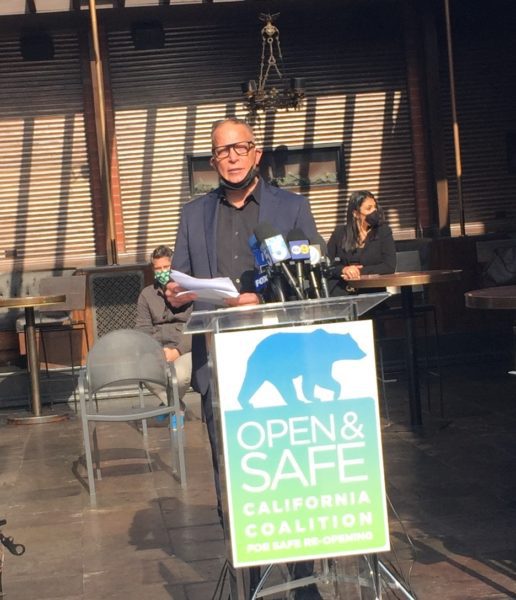 Abbey owner David Cooley discussed the difficulty of adapting to the ever-changing re-opening rules the county and state have put into place in the past five months, saying each new rule proved costly to him.
He fought back tears saying this latest closure order would likely put him out of business permanently. He noted shuttering The Abbey not only affects his employees, but also affects the companies which supply him, the janitorial service he uses, etc.  
Cooley noted recent studies show only 10% to 15% of virus transmission occurs at restaurants. West Hollywood City Councilmember Lauren Meister noted that transmission occurring at recent marches, protests and celebrations apparently isn't even being considered as a possible cause for the virus spike.
West Hollywood Chamber of Commerce chair and La Peer Hotel general manager Nick Rimedio stated, "We're asking our cities and counties to publicly join their small businesses in this call for a return to common sense that protects communities from well-intentioned but economically devasting public policy."
Rimedio urged California Governor Gavin Newsom to find alternatives to shutting down businesses as a way to control spread of the virus and to create reopening standards that other states can then emulate.
Greg Horos, who is a co-owner of the LoCali restaurants (the West Hollywood branch shut its doors a few months ago due to the earlier shutdown), called for county authorities to reveal the exact metrics being used to determine decisions that affect whether a business can operate and whether people can earn a living.
Horos said small businesses must be allowed to survive and thrive.
"Amazon and Facebook will not be the last ones standing," said Horos. "We will fight because small businesses are the engines that drive this economy."