This week the We Know WeHo team has a special Thanksgiving edition focused on supporting local businesses as holiday shopping is in full swing with Black Friday deals and the annual American Express Small Business Saturday event. This other half of this week's episode is dedicated to Giving Tuesday, which follows the aftermath of Black Friday and encourages people to help support non-profits by making a donation of any size.
Kicked off the episode with new restrictions in place – patio dining suspended for a few weeks – that will impact Thanksgiving plans al fresco. As Lauren says "basically everybody will be offering Thanksgiving dinner to go, which means you can take your favorite local West Hollywood eats home, with a special mention of lobster pot pies from Connie & Ted's that seemed to be where the three might be leaning if taking out dinner on Thursday.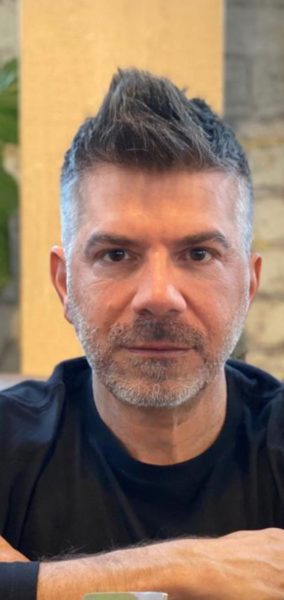 This episode features two guests, and kicks off Anthony Carro, the owner and founder of the fabulous  Candle Delirium  which just celebrated its 17th business anniversary this past October. 
Anthony is a native New Yorker who always wanted to own his own business and had the desire to offer the best candle lines from New York to Paris in an enchanting shopping experience.
He transitioned his career from the entertainment business and fulfilled his dream by opening Candle Delirium in a 3,400 square-foot building in October 2003 at 7980 Santa Monica Blvd. in West Hollywood. The space is gorgeous and exactly what Anthony envisioned with an eclectic forest-fantasy-themed interior he personally designed. Walking through the doors indeed leaves one in a state of delirium with over 75 brands of candles and over 1,000 scents tempting your senses.
You are sure to find your favorites (Diptyque, Malin & Goetz, Jonathan Adler) on the shelves, as well as locally produced brands such as Bodewell Home, FVITH, and P.F. Candle Co. Anthony is proud of his very own Delirium line of candles he created and the very unique scents offered in the line-up including top seller Suede & Smoke and seasonal favorite Firewood & Whiskey.
Anthony, like many long-time West Hollywood business owners is fully integrated into the business community and has designed signature candle scents for Laurel Hardware, Ysabel and a few soon to be opened hotels in the WeHo neighborhood.
Don't miss the once-a-year sales event already in progress for Black Friday, 15% off in-store and online. They will even deliver within ten miles if you don't want to pop in for a stroll in this magical scented paradise or do curbside pick-up.
Maxine, Lauren and Tracy give a good rundown of their picks for the holidays to support the local business community and declare:
Let the Shopping Games Begin …
Cannabis: Calma, Artist tree
Pets: Healthy Spot
Candles: Candle Delirium
Fashion: Maxfield, The Real Real, Fred Segal, All Saints, Rent the Runway, Polka Dots and Moonbeams
Sweet Treats: Sweet Lady Lane, Bottega Louie, Cake Monkey, Lady M, Magnolia, Joan's on Third
Beauty: bluMercury, Dr. Refresh, Vanity Girl Hollywood; Frederic Malle, Violet Grey, Le Labo
Books: Mystery Pier Books, Book Soup
Champagne & Wine: John and Pete's, Gil Turner's, Sweetzer Cellars
Playtime: Hustler Hollywood, Pleasure Chest
Merch: The Formosa Cafe, Rainbow Bar & Grill, Whisky
Flowers: Empty Vase, Trader Joe's, Flowers Wholesale
Jewelry: The Real Real
Home: Attacama Home, Robertson House, Hollywood Glam Furniture
Outdoor Night Market by Employees Only: an outdoor night market focused on take out and curated goods by local chefs and shops – slated to launch Dec. 4 (watch for guidelines).

The second guest this week is local West Hollywood artist Marisabel Bazan who has created a custom curated collection of beautifully handmade and hand-painted butterfly ornaments, The Joy Holiday Collection, she is selling with a percentage of proceeds going to help her home country of Panama through the Panamanian Childhood Association. 
Marisabel is a Panamanian artist living and working in WeHo, known for her colorful organic artwork and public commissions. Bazan's work has been exhibited internationally including at the United Nations (Geneva), the Lancaster Museum of Art (Lancaster, CA), Imagen Galeria (Panama City) and Audrey Love Gallery (Miami), as well as public commissions including The Dream Big Collection at Times Square (New York), Dance of the Butterflies commissioned by the Arts and Cultural Affairs Commission of West Hollywood and ll Cammino Della Farfalla on the famous La Cresta stairs in Panama City.
Bazan is a vocal mental health campaigner, raising awareness of issues within Panama and beyond. She is known for her humanitarian partnerships, which has included the seven-foot-tall butterfly sculpture Ananda, commissioned to support the 2016 HIV/AIDS (UNAIDS) Zero Discrimination Campaign from the United Nations, and her Vida mural addressing the topic of homelessness, commissioned by the Lancaster Museum of Art & History in Lancaster, Cal.
Marisabel is involved locally with WeHo Arts where she was awarded a large painted wall mural – The Dance of the Butterflies. There is a limited supply of ornaments (200) available in two different sizes and Marisabel is also offering a Black Friday special on unique hand painted scarves with her signature butterfly art.
Giving Tuesday Suggestions
Tracy's non-profit picks are centered around food insecurity, that has been highly impacted by the pandemic with growing numbers of people being impacted.  Lauren's pick is around hospitality to help out-of-work bartenders and other employees. Maxine's is for the American Lung Association to help in the COVID fight.
Happy Thanksgiving everybody and we will be back next week with another episode of We Know WeHo!  Be sure to follow us on Instagram @weknowweho for daily tips and subscribe for weekly downloads on Apple Podcasts.
CLICK HERE to listen to the podcast.