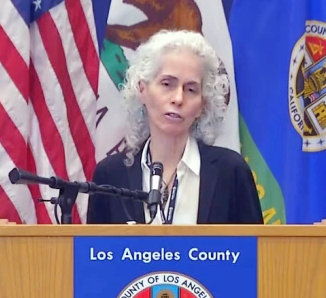 About 50 people chanted and waved signs outside the Echo Park home of Los Angeles County Department of Public Health Director Barbara Ferrer on Sunday to protest the tighter COVID-19 restrictions which started on Monday morning.
They chanted "No Science, no data, no shutdown," and few wore protective face masks, according to the Los Angeles Times.
A video posted on Twitter showed a handful of protesters arguing with one of Ferrer's neighbors. One waived a flag reading "Trump Train," and another held a homemade sign, saying, "Only we the people can save the USA."
The demonstration lasted about an hour and was reported to have broken up about 5 p.m.
The Safer at Home order that took effect on Monday morning and continues through Dec. 20 prohibits public and private gatherings between people of different households. Protests and faith-based services are exempt due to constitutional protections.
The new Safer at Home restrictions allow for retail stores to remain open, but at reduced capacity. Essential businesses like grocery stores must now operate at 35% capacity (down from the previously allowed 50%) and non-essential businesses must now operate at 20% capacity (down from the previously allowed 25%).
The order allows beaches, trails, parks, golf courses and community gardens to remain open, but people must wear facial masks at all time.
A separate health order closed Los Angeles County restaurants to all in-person dining. However, the restaurants are allowed to continue offering take-out orders and deliveries. That order went into effect on Nov. 25 amid protests form business owners and residents.
These health orders are intended to slow the skyrocketing spread of COVID-19. Los Angeles County is averaging over 4,200 new cases per day. As of Sunday, there were 2,049 people hospitalized with coronavirus in LA County, with 24% of them in the ICU.
That 2,049 people hospitalized on Sunday is a 46% increase in a week. On. Nov. 22, there were 1,401 people hospitalized.